I last rode Box Hill in 2012, a few days before the London Olympics. It was a memorable time for British sport and cycling in particular. I'd been looking for an excuse to go back. Simon Warren's guide of S.E. England climbs showed quite a lot of climbs around Dorking I haven't done before. After Yorkshire hills last week I was on a roll for finding new climbs so  good weather encouraged me to drive an hour from Oxford to Mickleham to try and range of different climbs on the Surrey downs.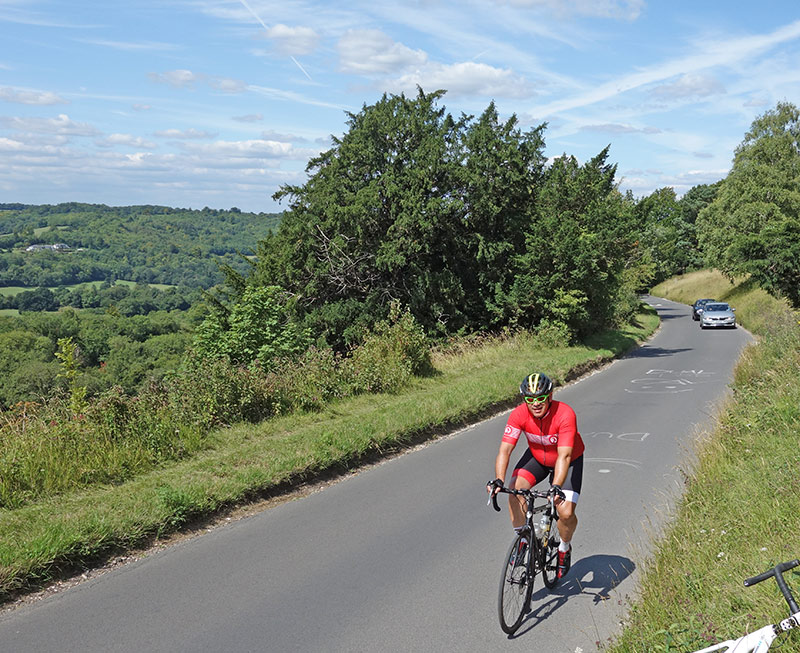 First climb of the day was Box Hill. Everyone knows Box Hill now. 2 miles @ 5% It's a beautiful climb, it's iconic, it's wonderfully engineered and a delight to ride. Yet, there's the Yorkshire Hill climber in me who sees this wonderful natural hill and thinks – wouldn't it be better just to throw a few cobbles up this surface and make a hill that goes straight from bottom to top?
Having said all that, I was worried by a  sign at the bottom of Box Hill – warning of loose chipping – max 20mph, but fortunately, they haven't chucked a load of gravel on the smooth surface of Box Hill yet!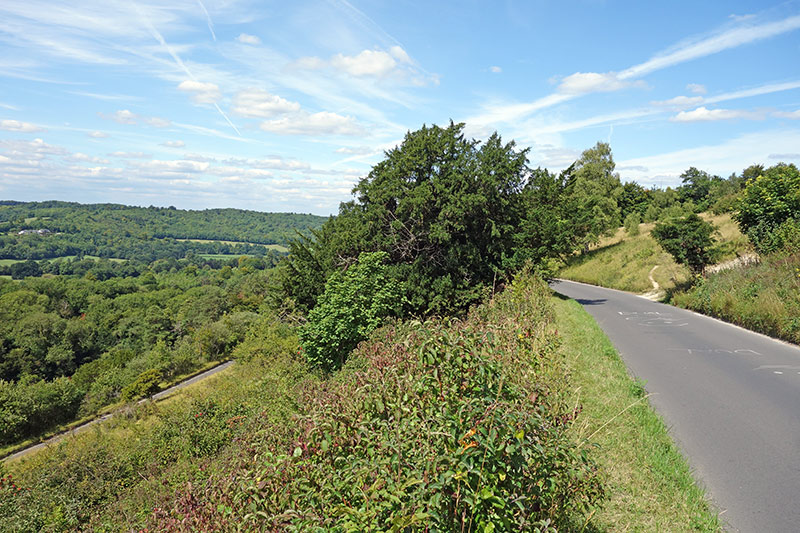 After Box Hill, it was over Ranmore Common and up the long climb of Coldharbour Lane from Dorking. It took quite a while to find the start of the climb because of Dorking's one way system. But, it is a good climb, with varying degrees of steepness. It's a long old drag to the top of Leith Hill
Coldharbour Lane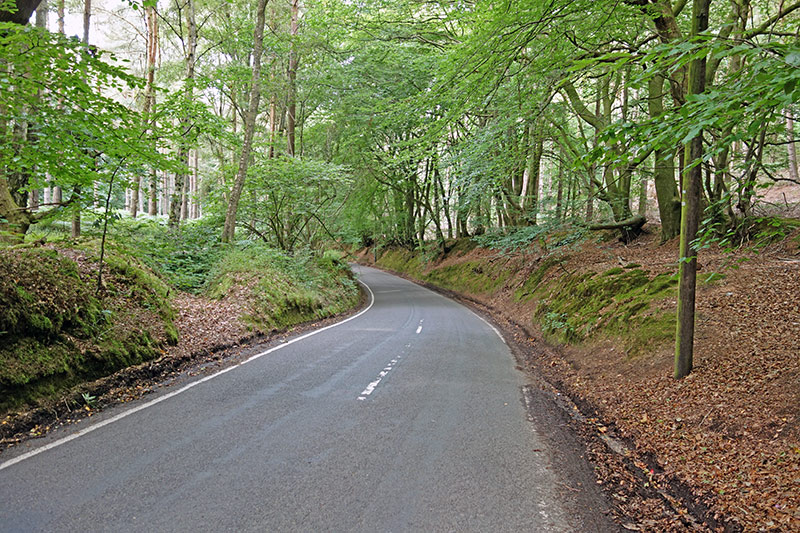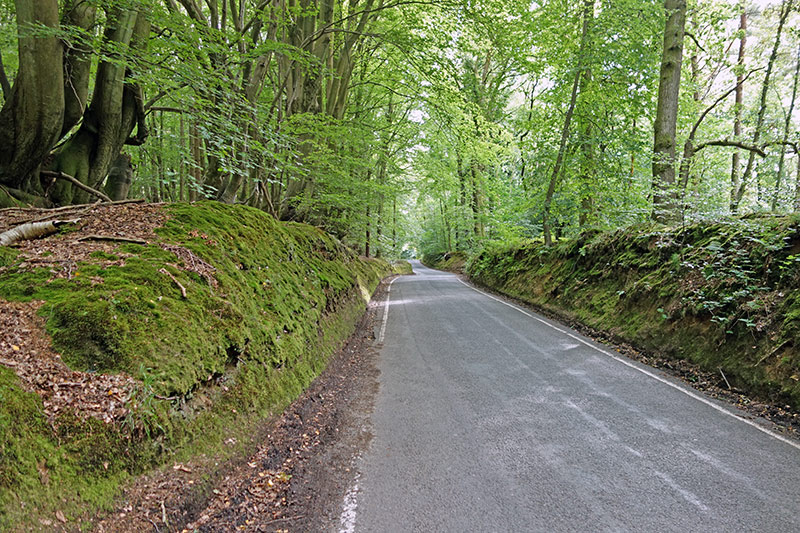 Distance: 2 miles
Average gradient: 4%
Height gain: 125m (132m total climbing because there is some descent near top)
From Leith Hill I made my way to Cranleigh and Barhatch Lane, which is said to be the toughest climb in Surrey. A long drag then a real sting in the tail with a 21% gradient to finish.
Barhatch Lane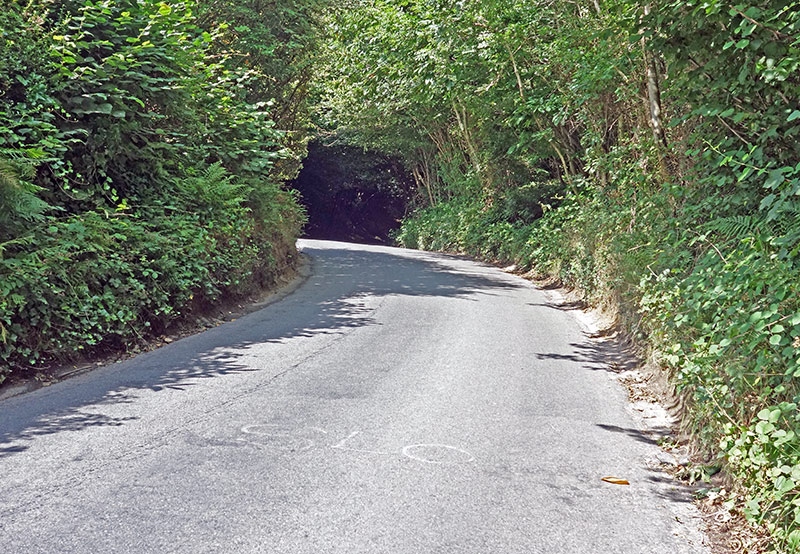 After Barhatch Lane I went to the climbs of Combe Lane and White Downs. Before a last couple ascents up Leith Hill. A climb I know well from racing in the Kingston Wheelers Hill Climb.
After racing up quite a few hills of Surrey. I took a sandwich and pedalled nice and slow one last time up Box Hill. At that time of the day, I was glad no idiot had made it into a 20% climb, but appreciated the nice steady uphill climb.
Cycling in Surrey
Cycling in Surrey was great. You do hear quite a lot of media articles about the problems of congested roads and conflict between motorists and cyclists. But, I found the roads quite quiet and apart from the odd close pass, it was all quite peaceful. But, perhaps I'm lucky to be able to ride on a weekday, rather than in the middle of a sportive on a weekend.
Box Hill is the most popular climb, and I can understand why. But, it's popularity means it is the busiest road in terms of cars. In a way I preferred the other less well known climbs like Barhatch lane and Combe Lane. Once you get into the Surrey lanes, it really is good cycling country. Quite atmospheric riding under all the trees and leaves.
Surrey hill climb events
If you like racing up the Surrey Hills, don't forget the Kingston Wheelers Hill Climb, late September. And also a little further East the famous Cat and Bec hill climbs. In mid October. List of hill climbs here.