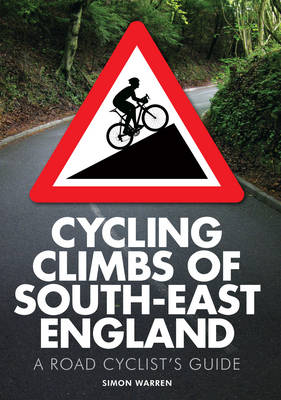 Cycling Climbs of South East England is the first of the regional guides to road cycling hill climbs in England. It follows the same format as the best-selling 100 climbs. In fact the regional guide includes 50% of the hills in the first two volumes. It means for owners of the original books, there is repetition, but also all the climbs in one place with quite a few new ones too.
The South East includes Oxfordshire and some of the Chiltern hills I know and ride so often – climbs like Chinnor Hill, Muswell Hill and Whiteleaf. The South East also includes the south coast of Sussex and Kent – somewhere I very rarely cycle. Probably the last time I rode near the south coast was the Brighton Mitre hill climb on Steyning Bostal in 2006.
The regional guide didn't give the same thrill as the first 100 climb book. Because many of the climbs are now well known. But, there are still a few new climbs, I'd not done before. Last week, I checked out Whitchurch Hill- from Pangbourne I'd never ridden around there before, despite being a mere 25 miles south of Oxford. I nice little 3 minute climb with good road surface. Oxford is certainly spoilt for climbs. I will probably end up buying the South West, because Oxford is as close to the Cotswolds as the Chilterns.
The South East doesn't have all the big climbs of Yorkshire or Wales, but there's certainly enough interesting climbs to make a good edition out of. It also features many climbs which feature in the London Olympics and Surrey classic (e.g. Box Hill, Leith Hill) And if you watch the Prudential Ride London classic, it shows you don't need a col du Tourmalet to make an exciting race.
Box Hill
I rode up Box Hill in July 2012 – just a week before the Olympic road race. For the past few years, I've had it in the back of my mind to go back. But, can never summon the effort to go down to Dorking. I thought the New book – Cycling climbs of South East England would be the perfect excuse – not just for Box Hill, but tick off all the climbs in the North Downs area. Climbs like Barhatch Road, White Downs, Coldharbour Lane, Leith Hill e.t.c. You could easily make up a very good route to include all six climbs in the Dorking area. Similarly east of Reigate and you have about 15 climbs on the North Down ridge – climbs like York's Hill and White Hill – immortalised by the Cat and Bec hill climbs.
I was all set last Thursday for going doing to Dorking. There was even a rare tailwind up Boxhill, which would have made it interesting. But, Thurs morning – my car had flat battery, I had a cold. The cycling gods said "No!" So that was Box hill shelved for another year.
If you read the 100 climbs books on their own, they are interesting, but nothing particularly amazing. I think what explains the success and popularity of the book is their interactivity. (That's a modern buzz word if ever there was). Read through 100 climbs and you actually want to go and ride up the climb for yourself. Once you cycle up a few, you want to do a few more – and also go back and read about what you just climbed. In planning to go down to Box Hill, I spent considerable time using both the new Cycling Climbs of S.E and my OS 1:50,000 map to plan the hilliest routes possible in and around the North Downs. That's another element of interactivity. An OS map makes a very good compliment to the 100 climbs. (Mind you I was also watching the Prudential Ride London Classic on tv by following it on an OS map so I knew where they were going…)
In the past few weeks, I watched the Cycle Show on ITV4. I thought by far the most interesting features was Simon Warren's clips on going up hills. The camera work and description were great TV, I've never seen Fleet Moss from that perspective, and I've been checking out Trooper Climb – a 19% cobbled climb in Halifax.
Cycling uphills, has became a major aspect of the cycling boom. It's impressive to do a 100 mile ride, but it's the number, severity and gradient of the hills, which really sparks interest. So this kind of pocket book of climbs has really hit a growing niche market – at just the right time. I suppose, as the owner of cyclinguphill.com, I have an inevitable bias towards anything with regard to cycling uphill. But, I don't think I'm the only one who likes cycling uphill.
One thing about the books is that it has brought a new dimension to cycling. Rather than just do intervals up the same hill every week, there is an added impetus to travelling further afield and finding some new climbs to check out. With a parental B&B in Yorkshire, a one hour drive, gives a surprisingly large radius of climbs to check out. It's only really the north east, Cornwall and Scotland which have remained inaccessible.
South East climbs is the first of a regional guide. It will hit the nail on the had for most cyclists who want to concentrate on the areas around them.  London and Surrey cyclists will have lots of fun from this book.
I can't wait for the Yorkshire edition!