The British time trial championship has been held annually since 1997. Originally a joint CTT / BC promotion, it was for a while it was also called the Circuit championship (to distinguish with long standing CTT championships of 25 miles, 50 miles e.t.c) In the past few years, it has been run solely by British Cycling to ensure the best spot in the calender so that Pro riders can make sure they can enter, and pick up any precious UCI points on offer.
In the domestic time triallist calender, this is the big one. A chance to compete against all the pros.
This year there was a certain logic to me not entering the British Time Trial Championship in Wales this July – My bike is of dubious UCI legality; I sold my only UCI compliant tribars, and it's a hassle to get another pair. Then there is the cost of BC license, new tribars e.t.c., and I'm up in Yorkshire that week e.t.c., e.t.c. Yet, although there is a logic in not entering, I still feel a pang of regret when I see the startsheet.  – especially after learning how hilly the course is.
The startsheet shows the strength in depth of British cycling; even in the absence of Chris Froome, it's probably one of the strongest time trial line ups in Europe.
It also shows the unique nature of the sport of cycling, that you can still rock up alongside people who you watch and admire on tv and get to partake in the same race as them.
These are some past experiences of riding the British Time Trial Championships, now organised by British Cycling under UCI rules.
2005
In 2005, I finished 14th, five minutes behind the winner Stuart Dangerfield in Penistone, Yorkshire. It was very hilly race and my first season of racing. After the first lap, I was in a ridiculously high position after storming up the hill as if it was a 5 mile prologue. I blew up spectacularly, but for one lap out of three I was riding with the best. In the absence of any expectation, I enjoyed it all tremendously. It was the first race my mother came to watch and she said unlike everyone else, I never braked to go around a corner she was watching from. I'm not sure whether she said this as criticism or as a complement.
2006
I finished near last in that race. I wasn't in good form, and not racing much that year. I also got lost and took a wrong turn at a roundabout; at least it was a good excuse for a dismal performance. The only thing I remember about that championship was that I even turned up on the wrong day (arrived on Sat, to learn it was on the next day Sunday). Fortunately, it wasn't too far from Oxford.
2009
The third championship was on local roads near Buckinghamshire. Bradley Wiggins, after finishing 4th in the Tour de France in July, stormed around the course to win in 1.02. I was a good nine minutes behind in 28th place; it was one of the few races I managed that year, but it was still good to participate.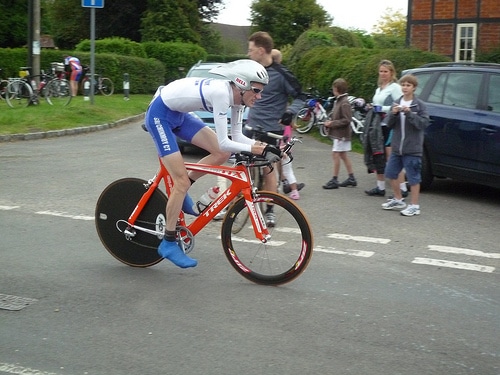 2010