The Circuit of the Dales, promoted by Nelson Wheelers, is an early season classic around the roads of the Yorkshire Dales. Starting off in Ingleton, the course heads West towards Kirby Lonsdale, then north up to Sedbergh. From Sedbergh, it climbs up towards Gardsale, before the descent into Hawes. At Hawes, there is the hardest climb of the race, as you go up onto the exposed moors around Ribblehead. This moor road takes you past Ribblehead Viaduct before finishing just outside Ingleton. This year there was a full field with 153 entrants. This entry included quite a few road riders, and a big turnout from Velosure-Giordana Racing Team. There was a good prize list to celebrate Nelson Wheeler's Centenary anniversary; and the 66th running of the Circuit of the Dales.
With Rapha Condor JLT racing in Japan / Asia, last year's winner Richard Handley was absent. The organiser mentioned the only previous winner in the race was Martin Brass (1991).This year James Gullen of Velosure-Giordana Racing Team won in a very good time of 2.02.37.   I finished second in 2.03.33. 3rd was Pete Williams (Haribo Beacon) 2:05:19
1st lady was Nina Benson Ilkley (CC) with  2-46-56.
1st Tricycle: Geoff Booker (Oxonians CC) 2-58
1st Vet: Simon Bridge Manchester Wheelers 2-06
My Race
In the past 8 days, I've ridden over 400 miles in an unusual burst of getting the miles in. It was helped by finishing teaching and a period of good weather. With so many miles in the legs (including a 120 mile TDF stage on Tues) I wasn't sure whether I would come to race with great fitness – or tiredness and overtraining. I think it was a bit of both, but riding a lot does seem to make you fitter.
I spent quite a bit of time in the preceding days nervously checking the weather forecast. I always get cold doing the Circuit of the Dales, and that's with dry weather! With the predicted rain, I spent a lot of time trying to weigh up how much clothes I should take. Should I take a spare rain jacket in case of puncture? Is the aerodynamic cost worth the greater piece of mind? In the end, the weather was much better than predicted. Apart from a few showers, it mercifully stayed dry.
The first half of the course felt quite fast. You start off with a descent into Ingleton, then a fairly fast undulating road heading West. After several miles, you take a right turn, and head due north to Kirby Lonsdale. It's then that you felt the full force of the southerly tailwind pushing you along. At Kirby Lonsdale, you again turn right on a road towards Sedbergh. I was pleasantly surprised to see a lot of the road surface had been redone, giving a nice smooth road (I temporarily wondered if the TDF was coming this way). At Sedbergh, you turn East, and the course begins to get more testing. Firstly, the road surface is more patchy, but there's also the long uneven drag up towards Gardsale head. If you were a tourist, you could take your time and admire the scenery. But, we had our work cut out with a  stiff crosswind making handling difficult. I still felt fairly fast and I passed the 30 miles mark, in a time of just 1 hour 7 minutes. But, as I entered into Hawes, I knew my average speed was about to take a real battering. At Hawes, there is a right turn, and you hit quite a steep climb. But, it's not so much the gradient as the strong headwind, which made life difficult.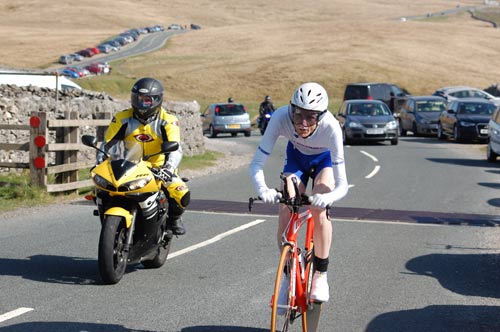 There's nothing else but to grin and bear it as you grovel into the headwind. Sometimes it feels like you're treading treacle, the speed is so slow.
Another difficulty is that up on the moor around Ribblehead the gusts of winds picked up. It was a cross / tailwind and it made handling the TT bike quite hard. On the last section, quite a few times, I had to get off the tribars to help hold onto the bike better. My visor was also misting up, which made life hard. Fortunately, I had drunk most of my bottle before Hawes, – I knew it would be much harder to take a drink on last section.
Photo: Bob Muir – Note to self- must buy aero gloves/ aero socks.
At 40 miles, I saw 1.33 on the clock. Someday,  I would really like to do a sub 2 hour ride on this course. And on paper, the last 10 miles in 27 minutes, should be quite achievable. But, this wasn't an ordinary 10 miles. It was painfully slow. Also, according to my garmin the course was 50.8 miles.
Riding on Power
This is the third time I've ridden the Circuit of the Dales. Last year I did 2.06. This year, I went a little faster and did 2.03.33 – whether it was a faster day, I'm not sure. It was a little warmer this year (which always makes a big difference for me), but the wind was perhaps stronger than in 2013.
It was the first time, I've ridden with power, rather than just speed. On the last section, it was good to be riding on power, if even for psychological reasons. There's nothing worse than seeing your speed fall to a miserable 8mph on the flat. But, when you're looking at your power and not speed, at least you know you're making a good effort. I was quite pleased to be able to keep most of the last 18 miles above 300 watts.
It was interesting to see on a hilly course like this you're power is all over the place. On the many hills, it went up to 350 watts quite easily. You had to work hard on the fast descents and flat to keep it up towards 280. If nothing else, a power meter has taught me to pedal faster on the flat, descents and tailwind sections.
1st 10 miles @ 275 watts av 29.3mph
last 10 miles @284 watts av 20.8mph
My average (un-weighted) power said 282 watts at the end. It kept creeping up as the race went on.
Just a quick mention to Chevin Cycles in Otley, I went in with a wonky chain on Sat afternoon. They fixed it for free, which was much appreciated.
Thanks to all the Nelson Wheelers for putting on a great event.
Photos by Bob Muir are available here.
Results
I'm off to NY on Mon, so I wanted to get back home to pack and watch the Tour of Flanders.
1 James Gullen Velosure-Giordana Racing Team 02:02:37
2 Tejvan Pettinger Sri Chinmoy Cycling Team 02:03:33
3 Pete Williams Haribo-Beacon RT 02:05:19
4 Brad Morgan Velosure-Giordana Racing Team 02:06:16
5 Simon Bridge Manchester Wheelers Club 02:06:48
6 Rob Partridge Velosure-Giordana Racing Team 02:07:25
7 Alastair Kay York Cycleworks 02:10:05
8 James Moss Velosure-Giordana Racing Team 02:11:17
9 Ian Cox North Lancs RC 02:11:33
10 Nathan Edmondson Velosure-Giordana Racing Team 02:12:04
11 Harry Springall Richmond Tri Kudu 02:12:23
12 Simon Dale Nottingham Clarion CC 02:13:14
13 Kevin Allerton Stone Wheelers CC 02:15:23
14 Matthew Pilkington Cleveleys RC 02:16:04
15 Tony Cullen Total Tri Training 02:16:22
16 Doug Hart Ilkley CC 02:17:09
17 Tom Bustard Velosure-Giordana Racing Team 02:17:15
18 Paul Hawkins Knutsford Triclub 02:19:11
19 Duncan Mullier Harrogate Nova CC 02:19:17
20 Nathan Hesslewood Ellis Briggs RT 02:20:00
21 Chris Rainford GMC Fire Service 02:20:06
22 Chris Anderson Lakes Road Club 02:20:43
23 Colin Mckenna Barrow Central Wheelers 02:20:45
24 Chris Hopkinson API-Metrow 02:22:04
25 Thomas Canaway Settle World Wide Wheelers 02:22:04
26 Duncan Orme Kent Valley RC 02:22:13
27 Andy Peace Jedi Cycle Sport 02:22:19
28 Scot Easter Lune RCC 02:22:50
29 Gordon Leicester Coveryourcar.co.uk RT 02:23:09
30 David Gleave East Kilbride Road Club – SCU 02:23:15
31 Richard Bickley Border City Whs CC 02:23:25
32 Adrian Dalgleish Lune RCC 02:23:43
33 Andy Ashurst Manchester Wheelers Club 02:25:01
34 Dougi Hall Border City Whs CC 02:25:03
35 Tom Broadbent Huddersfield Star Whs 02:25:11
36 Mark Haydock North Lancs RC 02:25:23
37 Richard Knell-Moore Albarosa CC 02:26:08
38 Richard Harrison Triangle RT 02:26:24
39 Chris Lee Clitheroe Bike Club 02:26:32
40 John Bellamy Total Tri Training 02:27:00
41 Randle Shenton Team Swift 02:27:17
42 Tony lowe Lancashire RC 02:27:46
43 David Cullen Total Tri Training 02:28:32
44 Bob Murdoch Teesdale CRC 02:28:46
45 Richard Pyatt Richmond CC 02:29:13
46 Christian Henderson Allen Valley Velo 02:29:33
47 Peter Leonard Southport CC 02:30:29
48 Geoff Ayers Velo Club Cumbria 02:31:25
49 Paul Ray Ribble Valley CRC 02:31:29
50 Ian Wilcock Nelson Whs CC 02:32:06
51 William Belcher Clayton Velo 02:32:09
52 Chris Smedley Nelson Whs CC 02:32:10
53 Adrian Stott Yorkshire Road Club 02:32:49
54 David Leckenby Ilkley CC 02:33:08
55 Paul Braithwaite Pendle Forest CC 02:33:13
56 Paul Matthew Kirk Albarosa CC 02:34:01
57 Paul Roberts Hambleton RC 02:34:10
58 Philip Bradshaw Wigan Whs CC 02:34:18
59 Austin Foy North Lancs RC 02:34:19
60 David Clark Richmond CC 02:35:06
61 Kev Shand West Pennine RC 02:35:17
62 Glenn Rhodes Barrow Central Wheelers 02:35:37
63 Duncan Smith Team Hoppers Rollers 02:36:07
64 Simon Dowson Settle World Wide Wheelers 02:36:11
65 David Clarke Eagle Road Club 02:36:43
66 Stuart Timmins North Lancs RC 02:38:36
67 David Trotter Lancaster CC 02:38:39
68 Mike Westmorland Border City Whs CC 02:38:43
69 Tim Norton Lancaster CC 02:38:54
70 Paul Targett Pendle Forest CC 02:39:07
71 Benedict Elliott Velo Club St Raphael 02:39:11
72 Eamonn Quinn Lakes Road Club 02:41:01
73 Andy Porter Horwich CC 02:41:56
74 Paul Brierley Huddersfield Road Club 02:42:16
75 Stewart Mounsey Kent Valley RC 02:42:57
76 Mark Stickland Settle World Wide Wheelers 02:43:04
77 Martin Welsh Pendle Forest CC 02:43:24
78 John Penman Richmond CC 02:43:33
79 Steven Lyons Team Wheelguru 02:44:25
80 Steve McCall Huddersfield Star Whs 02:44:28
81 David Ferguson Skipton CC 02:44:34
82 Nathan Turnbull Leigh Premier RC 02:45:09
83 Michael Kelly Nottingham Clarion CC 02:45:26
84 Nina Benson Ilkley CC 02:46:56
85 Nik Avraam Ashurst Bike Club 02:47:08
86 Dean McGarry North Lancs RC 02:47:09
87 Stephen Moorhouse Nelson Whs CC 02:47:20
88 John Swallow Jackpot Racing 02:48:39
89 CraigColeman Team Burnmachine 02:49:53
90 Graham Pitcher Barrow Central Wheelers 02:50:10
91 Robert Barnard Team Cystic Fibrosis 02:50:29
92 Darren Swales Albarosa CC 02:51:14
93 Rob Holden Kingston Wheelers CC 02:51:38
94 Antony Gummersal Team Wheelguru 02:52:58
95 Edward Sarmiento Harrogate Nova CC 02:53:24
96 Martin Brass Pendle Forest CC 02:54:05
97 Jack Pilkington GMC Fire Service 02:54:42
98 Roger Haydock North Lancs RC 02:55:50
99 Geoff Booker Oxonian CC 02:58:09
100 Dave Horton Lancaster CC 02:58:25
101 Dave Bateson Horwich CC 02:59:01
102 Craig Wilson Nelson Whs CC 02:59:06
103 Barry Rimmer Wigan Whs CC 02:59:19
104 John S Leach Rossendale RC 03:00:55
105 Tony Shaw Nelson Whs CC 03:01:17
106 Sue Cheetham North Lancs RC 03:03:53
107 John Tiffany Harrogate Nova CC 03:05:19
108 David Bottomley Huddersfield Star Whs 03:05:58
109 Steve Hughes Manchester Tri Club 03:06:50
110 Edwin Hargreaves North Shropshire Whs 03:07:49
111 Michael Shaw Wigan Whs 03:11:11
112 John Appleby API-Metrow 03:11:16
113 Danny Davies Pendle Forest CC 03:13:16
114 Jim Hopper Derby Mercury 03:21:05
115 Adrian Dobson Rossington Whs 03:24:27
116 Ian W Mackenzie Southend Whs 03:36:45
117 Mick Phillips Drighlington BC 03:37:11
118 David Joynson Lyme Racing Club 03:37:46
119 David Tinker Clayton Velo 03:48:18
120 Malcolm Waters Hampshire RC 03:55:40
Simon Lester Team Jewson – MI Racing DNF
Mark Tickle Leigh Premier RC DNF
Tony Pilkington Cleveleys RC DNF
Neil Hornett Eagle Road Club DNF
Rob Dickinson Clitheroe Bike Club DNF
Past results for me
2012 – 4th – 01:59:09 (shorter course, 48 miles)
2013 – 4th  -02:06:24
2014 – 2nd – 2:03:33
Past winners of Circuit of the Dales
| | | | |
| --- | --- | --- | --- |
| 1947 | G Thomas | Yorkshire RC | 2:19:07 |
| 1948 | No Promotion | | |
| 1949 | LH Murgatroyd | Yorkshire Century RC | 2:33:37 |
| 1950 | S Haslam | Lancashire RC | 2:24:31 |
| 1951 | P Whitehead | Otley CC | 2:35:46 |
| 1952 | J Pilling | Cheshire RC | 2:24:11 |
| 1953 | MJ Wall | Preston Whs | 2:22:13 |
| 1954 | A Grisedale | Wigan Whs | 2:20:16 |
| 1955 | AS Britain | Phoenix CC | 2:24:53 |
| 1956 | AS Britain | Phoenix CC | 2:26:06 |
| 1957 | B Bradley | Southport RCC | 2:16:35 |
| 1958 | VA Denson | Yorkshire RC | 2:14:16 |
| 1959 | J Geddes | Army CC | 2:13:14 |
| 1960 | A Ramsbottom | N Lancs Clarion | 2:12:11 |
| 1961 | MJ Cowley | Derwent Valley Whs | 2:13:13 |
| 1962 | MJ Cowley | Derwent Valley Whs | 2:17:01 |
| 1963 | EG Valentine | Oldham Century | 2:35:15 |
| 1964 | R Smith | Bolton Clarion | 2:13:26 |
| 1965 | R Miller | Preston Whs | 2:18:11 |
| 1966 | EG Valentine | Oldham Century | 2:22:35 |
| 1967 | KW Stacey | Seamons CC | 2:16:25 |
| 1968 | EJ Watson | Clifton CC | 2:10:11 |
| 1969 | P Smith | Clifton CC | 2:10:38 |
| 1970 | H Armstrong | Tyne RC | 2:20:13 |
| 1971 | DC Lloyd | Kirby CC | 2:11:04 |
| 1972 | V Smith | Hull Thursday RC | 2:11:35 |
| 1973 | H Wilkinson | Warrington RC | 2:12:14 |
| 1974 | R Allsop | Cleveleys RC | 2:12:57 |
| 1975 | MJ Gadd | Cleveleys RC | 2:18:22 |
| 1976 | F Lyon | Kirby CC | 2:15:26 |
| 1977 | IL Greenalgh | West Pennine RC | 2:13:27 |
| 1978 | V Smith | CC Orpington Sabe | 2:15:05 |
| 1979 | R Swailes | Kent Valley RC | 2:24:16 |
| 1980 | DC Lloyd | Birkenhead NE | 2:09:22 |
| 1981 | DC Lloyd | Manchester Whs | 2:02:42 |
| 1982 | DC Lloyd | Manchester Whs | 2:01:13 |
| 1983 | DC Lloyd | Manchester Whs | 2:08:30 |
| 1984 | DC Lloyd | Manchester Whs | 2:06:23 |
| 1985 | DJ Smith | Horwich CC | 2:10:06 |
| 1986 | DJ Smith | Horwich CC | 2:13:20 |
| 1987 | C Boardman | Manchester Whs | 2:08:25 |
| 1988 | G Pickford | CC Bowland | 2:20:10 |
| 1989 | C Boardman | Manchester Whs | 2:10:29 |
| 1990 * | P Greenwood | Clayton Velo | 2:10:50 |
| 1991 | M Brass | Craven CC | 2:29:35 |
| 1992 | M Bowes | Cleveleys RC | 2:10:36 |
| 1993 | G Butler | RT Italia | 2:05:32 |
| 1994 | G Butler | RT Italia | 2:02:13 |
| 1995 | G Butler | Norwood Paragon | 2:05:53 |
| 1996 | G Butler | Norwood Paragon | 2:02:09 |
| 1997 | G Butler | Norwood Paragon | 1:58:52 |
| 1998 | G Butler | Norwood Paragon | 1:57:51 |
| 1999 * | P Smith | Border City Whs | 2:06:31 |
| 2000 * | K Dawson | Pete Read Racing | 1:52:02 |
| 2001 | No Promotion | Foot and Mouth | |
| 2002 | Dave Cook | Middridge CRT | 2:02:56 |
| 2003 | G Butler | Preston Whs | 2:00:18 |
| 2004 | C Saint | Yorkshire RC | 2:13:54 |
| 2005 | G Butler | Preston Whs | 2:02:49 |
| 2006 | G Butler | Preston Whs | 1:59:59 |
| 2007 * | G Butler | Preston Whs | 1:58:39 |
| 2008 | M Holton | ProBikeKit.com | 2:03:25 |
| 2009 * | M Holton | Shorter Rochford RT | 1:57:25 |
| 2010 # | M Holton | www.drag2zero.com | 1:56:52 |
| 2011 | A Wilkinson | Port Sunlight Whs | 2:05:00 |
| 2012 * | R Handley | Rapha Condor Sharp | 1:55:38 |
| 2013 | R Handley | Rapha Condor JLT | 2:01:54 |
| 2014 | J. Gullen |  Velosure-Giordana |  2:02:37 |
| | | | |
* Short course
# course record