The Kask Bambino helmet is an expensive aero helmet. Despite its price (£299) it has become quite popular, probably because of its use by Sky procycling team. The logic is that Sky must have spent quite a bit of money on wind tunnel tests. If it's good enough for the likes of Froome and Wiggins, it must be good enough for me. I noticed Michael Hutchinson used a Kask Bambino in the 2013 10 mile TT championship. (but, I also noticed he didn't use it in the 25, and I haven't seen him use it since.) I'm surprised how many people are turning up to TT with a Kask in the past couple of years. I think a big reason is that they look good and much less geeky than the typical long tail pointy thing. They are also very comfortable to wear.
But, if we are a real time trial aeroweenie, should we really be basing our decisions on aesthetics and comfort? Probably not.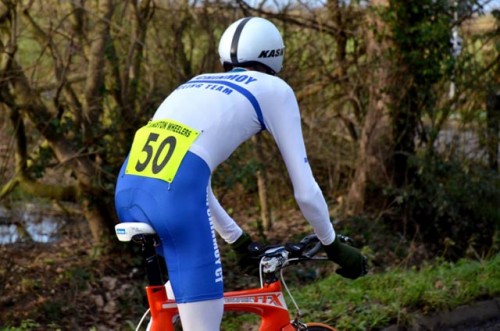 Aerodynamics
Aero-helmets can make a big difference to improving aerodynamics in time trials. They probably offer one of the best 'bang for your buck' in terms of watts saved to cost.
When I went in the wind tunnel, I tested two helmets, and as a result ended up getting a Giro advantage. The Giro Advantage  However, although it came out of wind tunnel with relatively good results, I wasn't happy with the helmet because it was uncomfortable, and I couldn't get a proper visor to fit. I ended up gluing a visor on, which was all messy and un-aerodynamic. I liked the look and simplicity of the Kask Bambino helmet and decided to get one.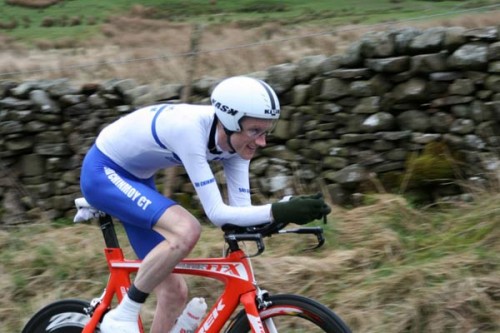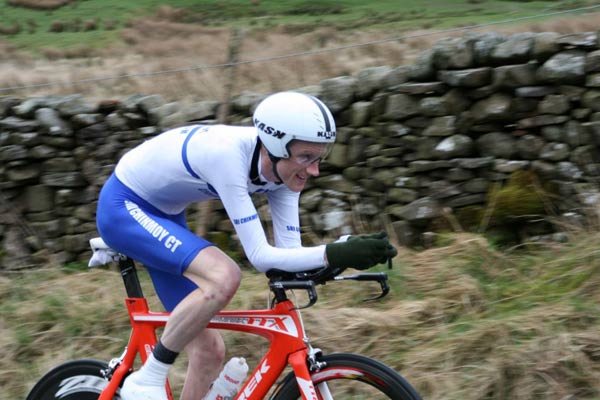 The advantage of small tail helmets is that they are said to be better in crosswinds when the wind is coming from the side. Long tails provide more surface area in a cross wind. The short tail helmet like the Kask Bambino is said to be good whatever the wind direction. This is something wind tunnels can't replicate – they generally measure efficiency with wind coming straight on or at 7 degrees yaw angle. The second advantage of small tail helmets is that you don't have to worry about the tail sticking up in the air. With my last long-tail helmet, I was often repositioning the helmet trying to get the tail to touch my back.
It is hard to evaluate the aerodynamic benefits of aero helmets – even if you can go to a wind tunnel. The aero benefits of a helmet depend on the riders position, body shape, wind direction. With so many variables, it is hard to ascertain exactly how much benefit this helmet is.
However, I've heard quite a few rumours that in wind tunnel tests, the Kask Bambino is not as good as other aero helmets. I heard someone 'on the grapevine' say you lose 5 watts wearing a Kask Bambino. I've certainly not seen any drag 2 zero rider wear a Kask Bambino. Quite a few TT riders who test aero equipment seriously don't seem to rate the Kask Bambino.
I feel a bit bad for spending all the money on a wind tunnel and not using the most aero helmet (Giro advantage)  but choosing something which looks better. I feel the Kask Bambino may be wasting watts, so I've made another effort to get a visor for the Giro (from Bob Heath Visors) and I will have another go at using. However, for last two races, I still chose the Kask Bambino.
Sat, there was a 16mph crosswind for a 10 mile TT, this is the conditions where a Kask should be most benefit
Sun. For hilly time trial, I preferred to have comfort and not worry about long tail because in a hilly TT, you're moving about all over the place.
However, for flat fast 10s, 25s and 50s with heading, I will probably revert to the Giro. I will save Kask for crosswinds and really hilly events.
Type of rider who benefits from short tail Kask Bambino
According to this article, short tail helmets are becoming more common in recent years. The logic is that short tail helmets are likely to be good for a wider range of athletes, even if they are not the best individual choice. It also states that short tail helmets are best for riders who can ride with low back and low head in 'turtle' position.
In general, "riders that don't or can't shrug or 'turtle' their head as much benefit more from a longer tail, assuming, and this is the big caveat, that they can hold their head steady in the optimal position the entire time," Yu said. "Riders that bury their head or turtle really well tend to benefit from shorter-tail helmets."
In a similar vein, the New Giro Selector, offers two different tails –
It offers a short stubby tail for tall riders who can ride with flat back.
It offers a longer tail for riders, who are shorter and can't keep flat back.
This suggests that the Kask Bambino is more likely to favour a tall rider like me, who can ride with a flat back in the turtle position.
Weight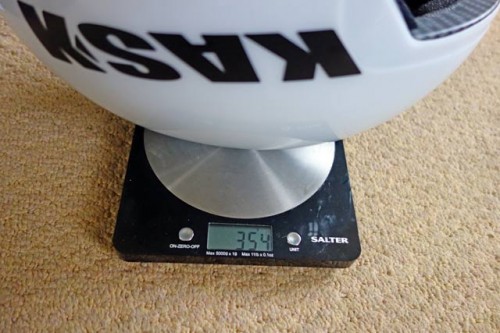 Without visor, the Kask Bambino is 354 grams
With visor (and magnest) Kask Bambino is 395 grams
Kask Comparison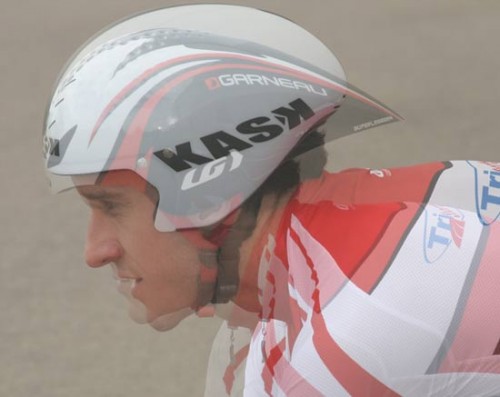 Interesting comparison. Bit bulkier at the back of the head.
Fitting

The Kask Bambino fits very well. There is a nice leather strap and inside the helmet you can adjust the inner strap. It is close fitting, but doesn't box in the ears like my old helmet. Very easy to wear. Though like any helmet, fitting is a very personal thing. I'd advise trying to test before buying. I use a size Medium. Perhaps it is too comfortable. If it did squash your ears, perhaps it would be making you more aerodynamic. If I did a long time trial, I might favour the Kask Bambino just for comforts sake. I certainly couldn't face a Giro Advantage for 12 hours.
Those pesky magnets
The last thing you expect from a helmet costing £300 is poor workmanship. But, everyone I know who bought a Kask Bambino has had the experience of magnets falling off. I thought about trying to contact Kask, but thought it would be too much hassle. In the end I bought some small magnets from www.first4magnets.com. Just annoying.
Those magnets didn't really work, so I contacted Kask, they told me to send vizor back to
Velobrands
Unit 8 Flight Way business Park
Dunkeswell
Devon
EX144RD
and I got a free replacement. This was good though it doesn't fit as snug as it might.
Value
The main drawback of the Kask Helmet is the price. I was looking into getting another visor (with sun shade, the visor they give you is clear). But, just an extra visor is £79.99. That really is taking the mickey mouse. You could buy a new helmet for that. It remind me of Mac charging me £400 to replace a cracked screen. Despite taking the mickey on price, they have poor workmanship, with no obvious place to get free magnet replacements. I have heard Kask are improving the glue for future models, so you may be better off if you buy in the future.
Conclusion
I don't think Sky are wearing Kask Bambinos because they all went in the wind tunnel and found the Kask to be the most aerodynamic for them. It's a commercial decision and sponsorship. For pro teams, whose helmet choice has to fit all in the team, the short tail is perhaps the best common denominator. But, the amateur time triallist free to choose whatever he wants, could actually be more aero than pros.
I think the Kask Bambino is a good helmet if you have no intention of going in a wind tunnel to find the optimum helmet for you. It's good in the sense that you don't have to worry about a tail sticking in air.
I kind of like it, but at the same time, I have a nagging feeling that it may not be as aerodynamic as some other helmet. Would I recommend buying it? That's a tough one. If you want aerodynamics for low cost, there may be many better value aero-helmets. I have a nagging feeling you are asked to pay a premium for a product well marketed. Nevertheless, there are certain benefits, which mean I'm kind of glad to have it. It is good for hilly time trials, where you're in and out of the saddle. A short tail seems to be better for a rider with profile like me, especially in crosswinds. However, I'm sure if I go in the wind tunnel, I would come out with a Kask not getting very good results.
Related
I initially reviewed this on my old cycling blog, last year. But have updated review, after another year of using.