Wrynose Pass is one of the most spectacular climbs in England. In terms of difficulty, it is slightly overshadowed by its more boisterous neighbour – Hardknott Pass. But, from the East, it's difficulty should never be under-estimated. I speak from personal experience, once dragging the bike up into a headwind and over-geared (39*25) – the 20% plus gradient never seemed to ease all the way to the top. (Such an incident inspired a recent post – about walking up hills.)
If you get chance to look back from where you came, it's one of the most memorable views you will get from a road in England. Whilst climbing you probably won't get chance to appreciate, so it's worth coming down Wrynose Pass too. It's a great natural amphitheatre.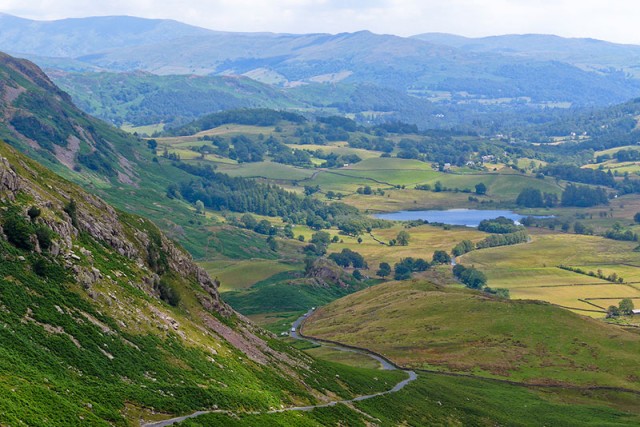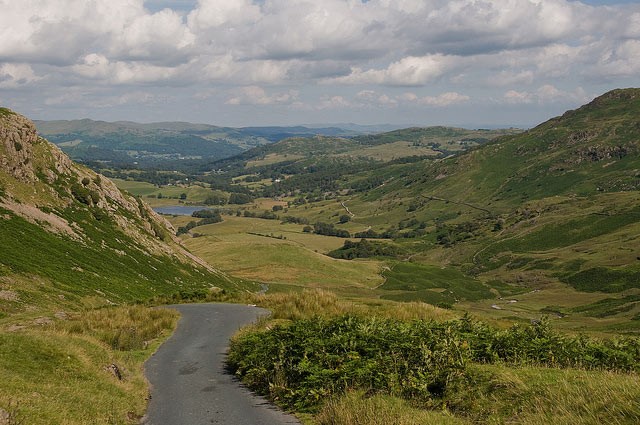 I've been up Wrynose pass on a couple of occasions, whilst visiting the Lake District. Often it involves going up Hardknott Pass as well.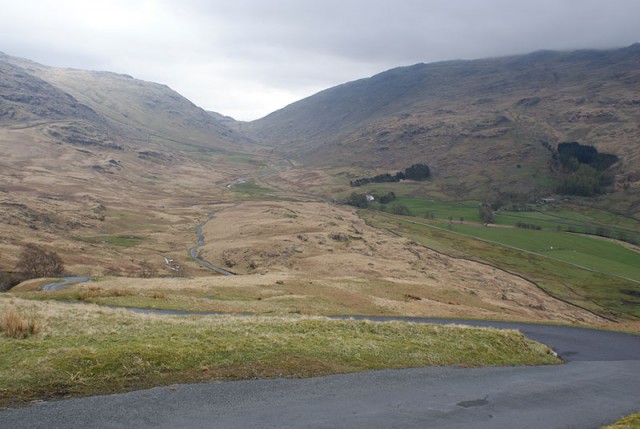 Wrynose Pass East to West

Location: West Lake District
Distance: 1.6 miles
Avg grade 11.0%
Max Grade: 25.0%
Elev Gain: 915ft / 279m
Cat: 3
Everesting? 32*3.2 miles = 102 miles
Interesting trivia about Wrynose Pass
Locals often pronounce it "Wreynuss", much like its older form "Wrenosse Hill"
At the top of the Wrynose Pass is the Three Shire Stone, marking the meeting point of the historic counties of Cumberland, Lancashire and Westmorland.
Coming from Ambleside, the road comes to a choice. Straight on is Wrynose, to the right takes you over Langdale Chase.
Veloviewer

Strava
Last chance to take a trip to Wrynose.
Extreme Caution! Severe bends! Always something to set the hill climbers heart thumping.
Lots of water coming off the hills.
A photo I took of famous view.
Wrynose in the distance.
Wrynose pass can be climbed from both directions. But from West to East it is not quite as tough. There isn't as much climbing because the base of the climb is higher up. It is only towards the end of the climb, that it gets really steep, upwards of 20%. However, if you are climbing Wrynose this direction, you may have just come over Hardknott Pass so your legs will be pretty tired.
Wrynose Pass West to East

Location: West Lake District
Distance: 1.8 miles
Avg grade 6.0%
Max Grade: 25.0%
Elev Gain: 580ft / 176m
Cat: 3
Purchase 100 Climbs
100 Greatest Cycling Climbs at Amazon.co.uk
100 Greatest Cycling Climbs at Waterstones