The last post on the traditional British club run made me want to look for a photo of the old Reynolds 501 I used to ride. In digging through photo albums, I found a few of my early bikes and my introduction into cycling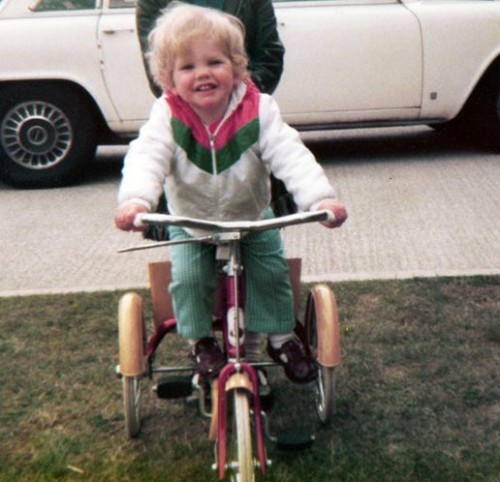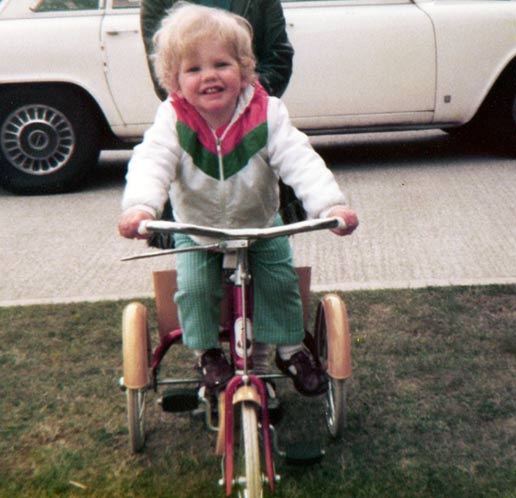 Apparantely, this is me, aged 3 (I guess it's all downhill from age 3) I don't remember this bike at all. I think I once rode this bike down the stairs by mistake. Fortunately, I don't remember that incident either; though my mother seems to think it is amusing to share that story with everyone who comes to visit.
My next bike was a bmx, though I can't find a photo. I think it was on a bmx I learnt to ride a bike. Funnily enough as a young child I didn't like cycling at all. I remember at school having an opportunity to get my cycling proficiency badge. But, I said I didn't want to do it because I didn't cycle. I think I was about the only one in the whole school who never passed their cycling proficiency test!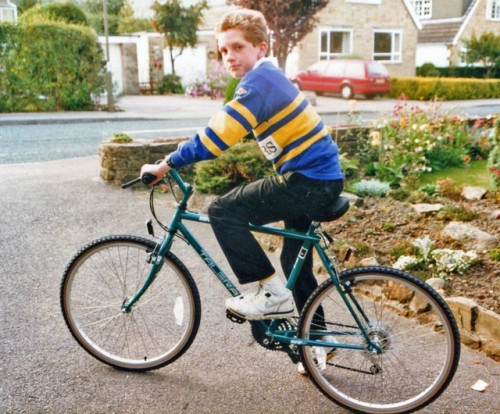 I didn't start cycling until I was maybe 13 or 14. My first 'proper bike' was this green mountain bike. When I first started to ride, it felt supremely exotic and magnificent. But, looking at it now, I don't think it would even be classed as a mountain bike. It looks more like a cheap hybrid with steel forks and steel frame. But, compared to riding a bmx, it literally flew along the road. In those days you evaluated a bike solely on the number of gears. The more gears the better. 'My bike has 20 gears' – 'well my bike has 30!' I think that's why, for a time, mountain bikes became more popular than road bikes.
Sadly, this bike got stolen when I was 18. I lent it to my sister, who lent it to a friend who forgot to lock it in Oxford city centre. But, I'd stopped riding it by then.
Anyway I did do quite a bit of riding on this bike. I once did 70 miles, and that got me hooked on road cycling. I hardly ever used the mountain bike for off-road cycling, so my next bike was a proper road bike.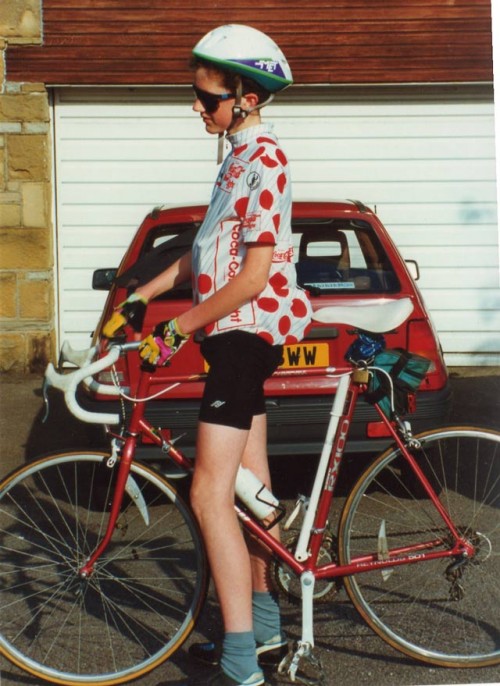 This bike cost £270 from Ellis Briggs in Shipley, and was probably several combined birthdays and Christmas presents rolled into one. It's funny that I remember the exact price after all those years. There's a few relatively interesting points about these photos.
I absolutely loved that King of the Mountains jersey and would take it on nearly every ride. Eventually it fell apart because I was always stuffing the kitchen sink down the front and back of my jersey.
I have no idea what I have stuffed down my jersey, I can only guarantee it wasn't a case of childhood obesity. It might have been a set of maps. In those days, I used to always carry about 2-3 ordnance survey maps for any bike ride. Bike rides were always great adventures when you went on roads, you'd never been on before.
I probably thought those wrap around shades were the coolest thing since lycra. It's amazing how your perspective on what is cool changes over the years.
The bike looks proper old school – gear levers on the down tube, cycling shoes and toe straps!
The gear ratios were old school too 52-42 and only about a 21 lowest on rear cassette.
I love the good old fashioned pumps that fitted in your seat tube.
The bike lasted a long time, though rather sadly a few years ago got chucked on the recycling skip after rusting away.
When I went to university, I spent my student loan on a new  white Ribble  – Columbus SL tubing and Shimano 105. Fortunately or unfortunately, I couldn't find the photo of me at Oxford University Cycling Club – we had a club photo on the steps of the Bodleian library and I had a two year afro haircut which looked a little bizarre on this stick insect frame.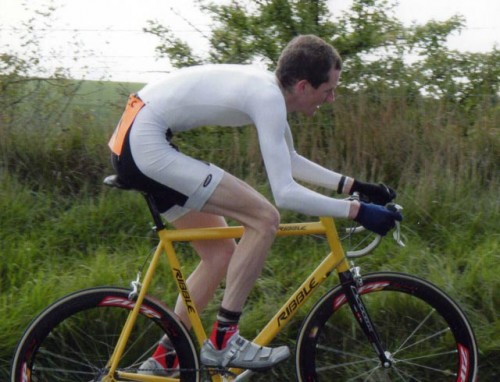 On my return to racing in 2004, I got this yellow ribble. A scandium frame I think. Very light. A step up from my first tricycle.