Early in the hill climb season, I did well in some Swindon R.C. short hill climbs. After doing well on a 1 minute and 2 minute climb, I was gaining confidence in my ability for short-distance hill climbs.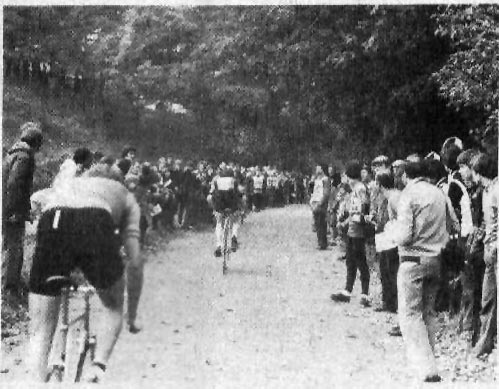 That week, I was training at Britwell Hill, near Watlington. I think the course record was about 2 and a half minutes.
Britwell hill
0.6 miles
Average gradient – 9%
85 metre of height gain
18% max
It makes a good climb for doing intervals (the only drawback is that the road is quite narrow, you don't want to meet a lorry coming down mid-interval). The climb starts with a gentle gradient, and gets steeper and steeper as you get nearer the top. By the end of the climb it is 18%. It is dead straight – almost  like a Ski jump and is a good place if you want to get a top max speed coming down
On this particular occasion there was a headwind, but I went full pelt right from the start. For the first minute I was averaging over 500 watts and flying up the hill. After a minute, the pain really kicked in. After 90 seconds, I was absolutely blown up and the climb just got steeper and steeper. It was torture to keep fighting up the steep climb, when you're muscles are shot.  It took over two minutes and a half. My recent pride at doing well in short hill climbs took a battering.