After being blown away by stage 1, we had the good fortune to have a second bite at the cherry. Yet again the world's biggest cycle race was passing over God's own County and straight over many of my old training roads. It felt too good to be true, a weekend of cycling heaven.
The French Gendarmes looked pretty serious. But, the British police were really enjoying themselves. It will remain an abiding memory watching a police car go up the climb with the theme tune to "Last of the Summer's Wine' blearing out of the windows with four policeman giving high fives!
Family and friends came from all over the country – they had a field day. If you want to be seen on TV bring a flag, like this Irish flat. I was on TV twice! though you can't see much of me. I was too busy taking photos. That's another dilemma of watching the tour do you concentrate on cheering and enjoying or do you try and capture something?
Back of peleton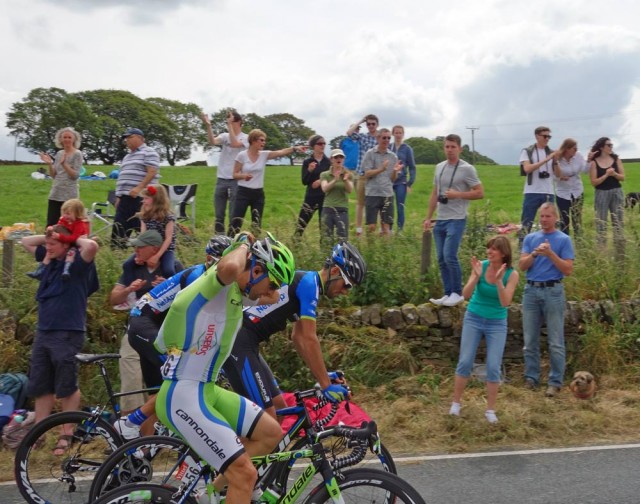 Water carriers – I wouldn't want to carry that weight going uphill.
Where's the best spot to watch the Tour?
When it comes to watching the Tour, where's the best place to watch? Today, I chose an 'uncategorised climb' from Addingham. 'Uncategorised' it may have been, but it would still have got most amateurs puffing and panting and feeling relieved to get to the top. I could have camped out on Holme Moss, and by the size of the crowd on TV, it seemed a good hundred thousand chose that. But, I prefer the relative calmness of a bit of space. A chance to get a good view, and a lower probability  to have your view spoiled by a buffoon running up the road, dressed up as a panda. (though compared to Alpine stages, I think Yorkshire crowds have been reasonably well behaved. Though I did wince a little when watching the TV replay – Ripponden Bank was packed to the rafters. Hardly room to breath.
The peleton in full flight.
A photo of me taking a photo of the tour. Photo by Lynne Pettinger / Andy
When to get there?
The Tour website says the average waiting time for the tour is 6 hours – 7 hours for big mountains. I prefer to chance my luck and get there an hour before (another advantage of not choosing the most popular spot). It seemed to work out OK. I think the publicity caravan where so overwhelmed with the number of spectators, that if you hoped to be going home with a good bag fully of free Yorkshire tea, you had pretty meagre pickings.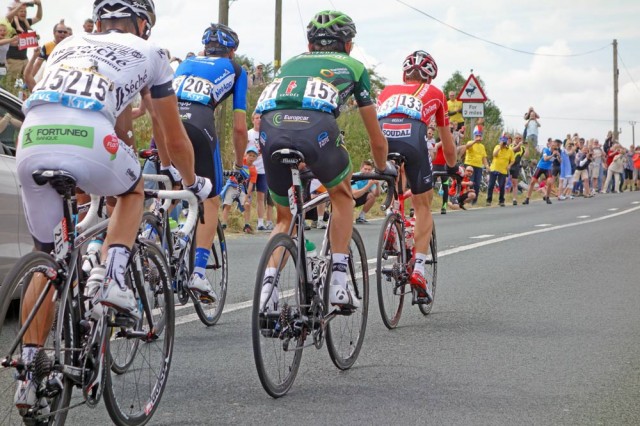 The hill was just enough to slow them down a little bit.
One of the nice things about the Tour has been chance encounters by the roadside, with strangers. Today, I bumped into Simon Warren (not the Simon Warren of 100 climbs fame) But, another keen cyclist who runs a custom cycle clothing business (used to own Shutt Velo Rapide, forgot name of new company). By the random hand of fate, I'd bumped into Simon earlier this week. I was riding up from Bolton Abbey, when I got a puncture, my pump didn't work so I stood by side of road and flagged down a passing cyclist. I didn't have to wait long, and Simon duly obliged and came back (despite going up a hill at a fare rate of knots. So it was a nice co-incidence to bump into Simon again. He may well do the greatest 100 descents of Britain!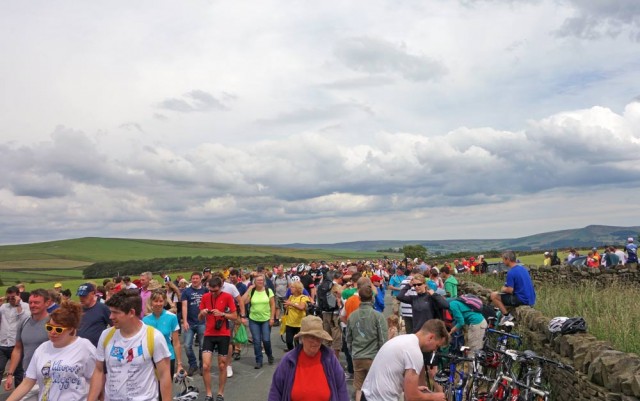 Addingham Moorside – Packed to the rafters
My cunning plan to sneak behind the Tour convoy and do an unofficial cyclo sportive all the way to Sheffield some came to an abrupt end pretty quick. It seems two million people on the roadside had a similar idea. I didn't really mind, it was just great to see so many people on the road, enjoying the carnival atmosphere.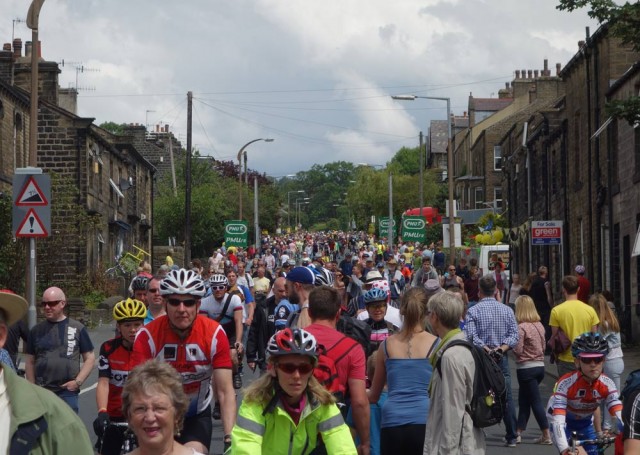 Silsden town centre. Believe it or not I've done five minute intervals up this hill on several occasions.
I'm from Yorkshire, and I don't understand this either!
Though Radio Yorkshire had this good sound-bite.
'When they get to the top of the hill it's really summat!' (do you get it ?)
Rather than take the tour route, I headed into Keighley and 'followed my nose' i.e I took random directions and hoped for the best. I got hopelessly lost and ended up cycling down dual carriageways in both the outskirts of Bradford and the centre of Halifax. Bizarrely I went past the Bronte's place of birth in Thornton (the tour was in Haworth where they wrote a few poems and novels)
It was a surreal ride – everything from nondescript Bradford housing estates to the beauty of Oxenhope Moor with roads closed to traffic.
Anyway, from Halifax I saw a sign to Hebden Bridge and I took that road – though I was half tempted to look for Shibden wall (a 25% cobbled climb). I was back in Mytholmroyd for the third time in 5 days (though I still can't remember how to spell it). The party was in full swing, though the riders were long gone.  At this point, I did wonder if the peleton would go up Cragg Vale quicker than the hill climb I did last week – Though on TV, the bottom of the Cragg Vale seemed to be the feed station. It's all a bit of a futile comparison trying to compare an individual time trial effort – compared to riding in a bunch half way through a 200km T de F stage – but I would still kind of prefer not to get beaten by some cyclists enjoying their mid morning snack.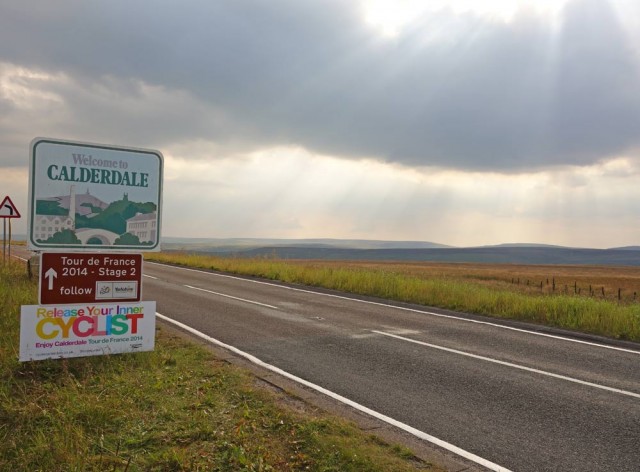 From Hebden Bridge I went up Oxenhope Moor – a really good climb in its own right – 300 metres of ascent on nice steady roads. From the top of Cock Hill, I descended into Haworth, where I took a little detour onto  the official tour route and back up to Oxenhope Moor. The peleton were long gone, though there was still an unofficial road closure. There were a few punters to cheer on anything that moved. I think by this time the beer was flowing freely which helped the enthusiasm.
At the top of Oxenholme moor I did a u-turn and headed back to Menston. A good 75 miles and 2,000m of climbing. Though I didn't particularly fancy another 30 miles and 1,000m of climbing which is what the stage 2 did.
What a weekend! words fail me. Well they don't because I've managed another 1,000. But, I do hope you get a glimpse of what it was like. Really fantastic atmosphere. A great weekend for Yorkshire, British cycling and all that.
Related