A training ride over Cragg Vale, Ripponden Bank and several other climbs which seem to proliferate around the Hebden Bridge area. Some of the climbs like Oxenhope Moor, Cragg Vale and Ripponden Bank feature in the TDF stage 2. Shame they didn't put Luddenden Moor in there.
After Friday's Buxton MTT, my legs were still a bit tired, but it was Easter Sunday, good weather and I was keen to check out some climbs in South Yorkshire, used in the upcoming TDF stage 2. I rarely go in this area, but it is great if you're looking for hills to cycle up. Despite frequently getting lost and not always knowing where I was going, it was a good ride.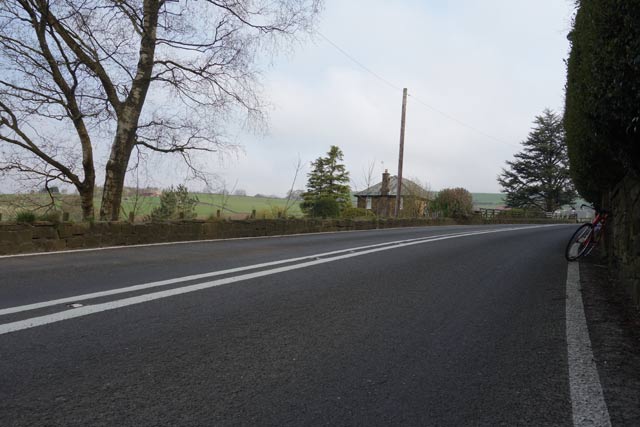 Over Bingley Moor, I went through Cullingworth to Oxenhope where I joined the TDF stage 2. There is a good steady climb from Oxenhope up to 'Cock Hill' on to the moors. At the top, it is quite high at 1,400ft, (400m) It is a fairly steady gradient, not too bad with the wind behind you. I was stopped at two sets of temporary traffic lights, as the council work furiously to get the road ready for the 'big race'
From the top of Oxenhope moor, there is a great sweeping descent into Hebden Bridge. Not too steep, just nice and long. It will make a good climb the other way, with quite a significant height gain of over 280 metres. At Hebden Bridge, I had a vague idea to look for Mytholm Steps, but my OS map didn't go that far. I ended up going miles past, ending up in Todmorden. I stopped to ask a kind elderly gentlemen, (he had a badge to say he was a veteran of the Normandy landings). He'd lived in Todmorden all his life, and told me I'd come 7 miles too far West. It would have been interesting to stop and talk to him more. But, I moved onto find some climbs.
I saw this Pexwood lane, looking suitably interesting – winding it's way up the edge of a moor. It was a great climb, with double switch backs – quite steep until it rather abruptly stopped at a 'Private rood' sign. I might have plodded on and tried my luck, but the road also deteriorated into an unmade surface. I turned around and went back  to Mytholmroyd for the Cragg Vale climb.
Cragg Vale
Distance 5.3mi
Avg Grade 3%
Cragg Vale proudly claims to be the longest continual ascent in England. 968 feet of climbing in 5.5 miles. There is nothing steep, it is a classic long drag or as Magnus Backstedt would say 'A big ring climb' Though I didn't use my big ring, despite an encouraging tailwind. But, it was possible to keep a nice steady speed, even at the steepest section halfway through.
Even at its steepest, it never seems to go over 7%, so you can do the whole climb seated down. It's a good 'easy' taster of long Alpine climbs. You can get into a good rhythm and enjoy the scenery. Someone has put helpful km markers, telling you have long you have left. Though for some reason, who ever put these helpful markers on the road, decided the top of the climb was after -0.5 km of downhill. It did seem to kind of diminish the 'longest continual ascent in England' tag.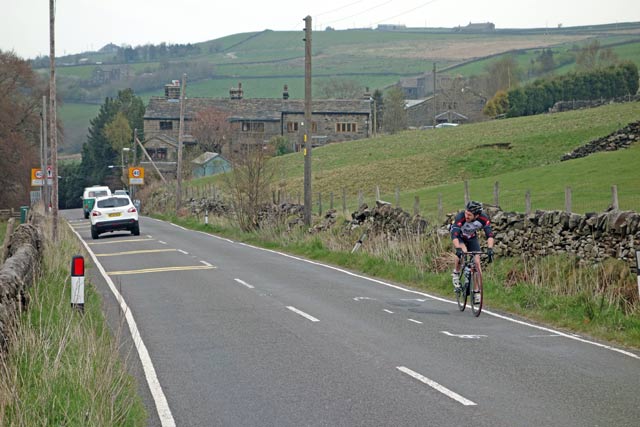 The climb was very popular, I both ascended and descended Cragg Vale and saw a lot of cyclists going up and down. I'm sure the Tour de France has encouraged more to try the climb – it is definitely worth a visit for any cyclist. At the top of Cragg Vale a strong wind was blowing, which made the descent to Ripponden almost as slow as the climb.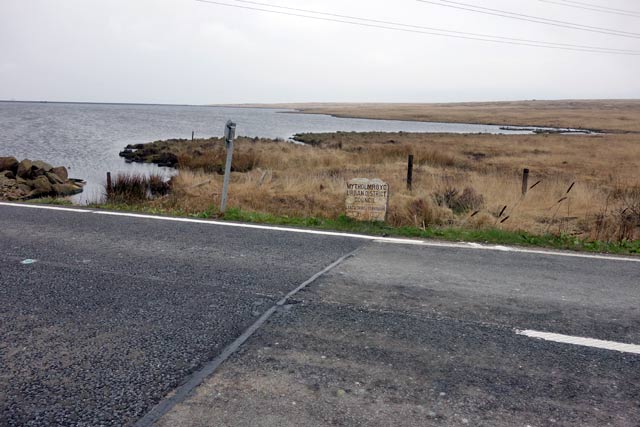 Ripponden Bank
Distance 0.8mi
Avg Grade 10%
Elevation gain: 398ft
max grade: 15%
A few years ago, I entered a hill climb on Ripponden Bank (run by Huddersfield R.C and hill climb enthusiast Paul Brierley) I'm glad the Tour is going up this climb, as it will help the prestige of the event.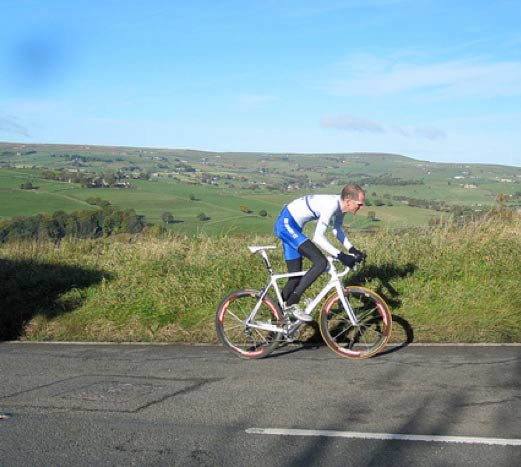 In the middle of the season, you often think of hill climbs and wonder how (and why) you go up the hills in those crazy times and efforts. Today I just settled for a nice steady effort. It's a tough climb, because it's quite steep, averaging 10% for the 0.9 miles, with a max gradient of 15% near the bottom; it never really relents all the way to the top. It's probably steep enough to create the first temporary cracks in the peleton. It will be a good spot to watch the tour.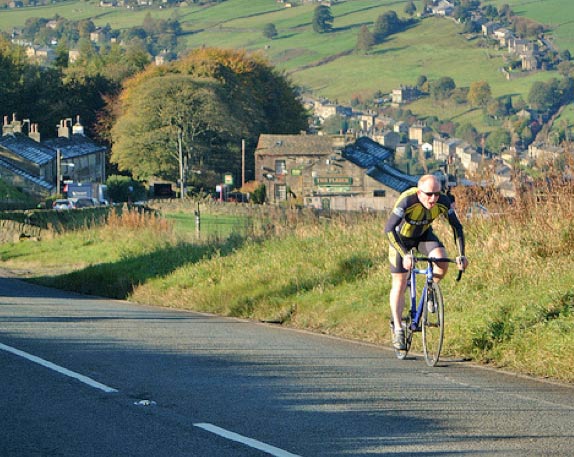 At the top of Ripponden bank, I turned left bank towards Sowerby Bridge. Again with a lack of a map, from Sowerby Bridge, I found myself on a road I wasn't entirely sure where it was going. The only thing I did know is that it was going up – for a long time. It took me up onto the moors overlooking the valley and eventually I found myself back at the top of Cragg Vale. There's a great labyrinth of twisty moor roads up here.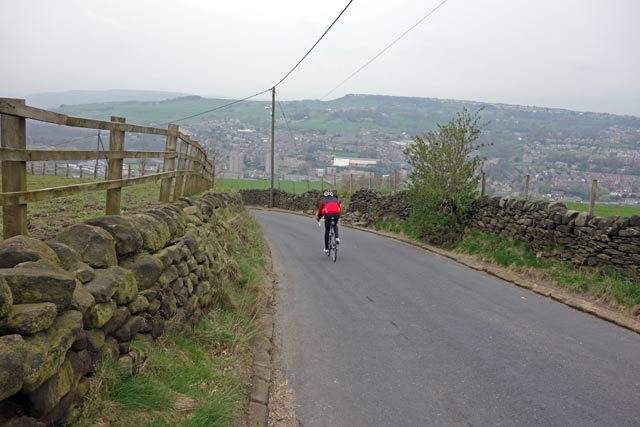 Halifax lane / Luddenden
Distance 1.0 miles
Avg Grade 11%
Max Gradient: 20%
Elevation gain: 621ft
Highest Elev 991ft
100 climbs: no. 44
I was using my time trial bike today, and it was useful for the descent of Cragg Vale into the headwind, though less useful for the steep climb out of Luddenden. At Mythmolroyd I turned right and went looking for Luddenden climb. If Cragg Vale was oversubscribed with cyclists, Luddenden is a hidden backwater, only for the brave (or foolish).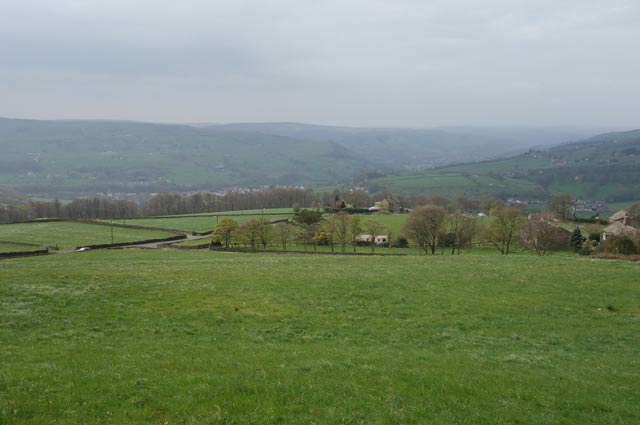 It is a steep and tough climb from Luddenden towards Halifax. The first section is on Halifax lane and steep from the start. The first 300 metres is 16%. Then you turn left into Birch Lane. This then climbs another 1km at an average of 12%. There are two hairpins, which are very steep at the apex. It definitely makes sense to go wide around these corners to avoid the steepest part. It is only in the last section, that the climb eases off, to just 5-7%. There is then a junction at the end of the Birch Lane. If you turn left, you can continue to climb a little more. But, this junction is considered the end of the Luddenden Climb.
Halifax Lane / Luddenden was used in the 2003 National Hill Climb, where Jim Henderson won in a time of 5.19.  (Jim Henderson's page) He was riding a 42*21 fixed. I was climbing in a 39*25 and 39*28
After Luddenden my legs had done enough climbing so it was the long moor roads back to Menston. For a total of 2,800 metres of climbing in 84 miles. It might have been more climbing if I hadn't got lost in Todmorden, but it was still all good training for next week's Bristol South CC Mega Hilly!
 Related