This weekend is the inaugural Tour de Yorkshire. I was lucky to be able to come up north and today I rode the last part of stage three. It is over roads which I have been cycling on for many years. They are also incredibly hilly, so hopefully it will be good training if nothing else!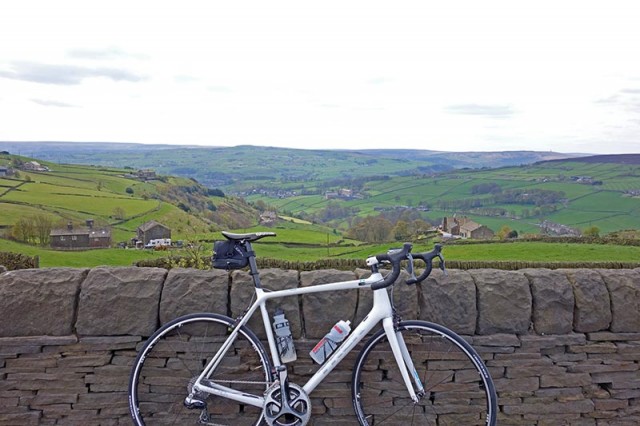 Firstly, I cycled from Menston to Hebden Bridge – this is over Bingley Moor and the roads out of Keighley towards Denholme and Mixenden. It was 1,100m of climbing before you had done 30 miles; I suppose this is what you call a warm up. At the top of Cragg Vale,  I joined the last half of Stage 3. Cragg Vale can claim to be the longest continual descent in England – it's good fun even with a headwind. But, when you reach the bottom at – Mytholmroyd the stage gets really tough. I spent all day being grateful I had a 28 sprocket.
The first climb on the route was:
Cote de Hebden Bridge
(Though if you look on the OS map it is called 'Cock Hill') I suppose you can take your pick.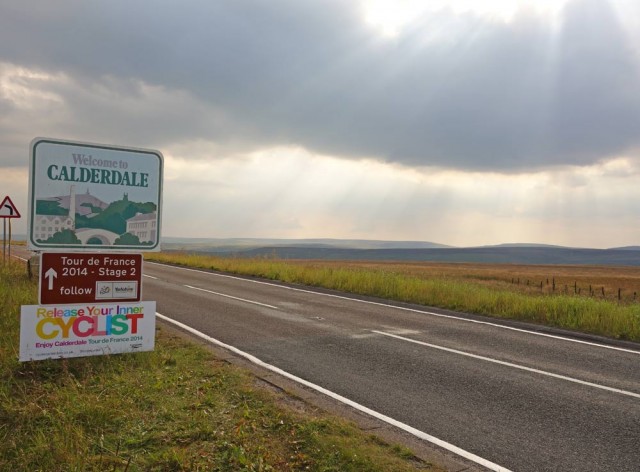 Hebden Bridge to Oxenhope (direction north)
Length – 3.5 miles
Average gradient: 5%
Height gain: 1,018ft (310m)
This is a good climb, which I like (though with a headwind, it's a bit more of a pain). It is testing as you climb out of Hebden Bridge, but nothing silly; the climb then gets in to a steady rhythm all the way to the top. It's quite exposed towards the top of the moor.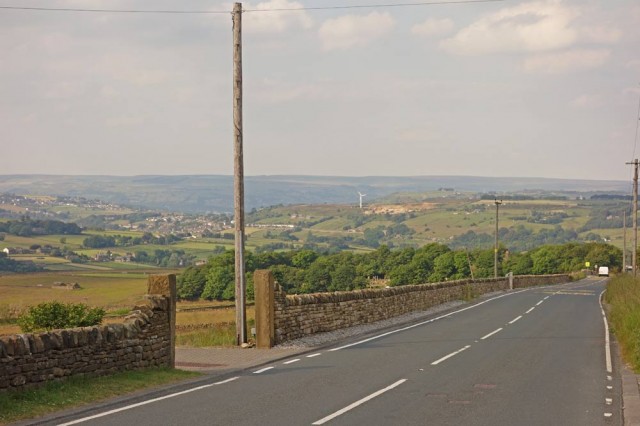 On the descent, tou get a good view towards the Worth Valley.
Haworth main street
A great place to take photos. This short cobbled climb is merely a foretaste of more hills to come. I enjoyed the short cobbled climb with a few local residents saying with great wit – 'you're a bit too early'
After Haworth, you turn right towards Oakworth and then take the road 'Cure Hill', Mackingstone lane, Holme House Lane and then left over a small beck on to Goose Eye. This funnels left on to Green Sykes Road which heads towards Sutton in Craven.
I spent hours trying to memorise the route from looking at a map. But, there seems to be an upcoming sportive which has been very well sign posted over the exact route of stage 3. Still at one point I went in the opposite direction to these signs. It's like you never want to trust your sat-nav – even though you know it's right. But, after 1 mile of heading towards Colne, I did a u-turn and looked for those very helpful red arrows.
I found out later, there will be a sportive – the Maserati Sportive. Presumably because it would be easier to do the route driving a Maserati, but not that much.
Cote de Goose Eye
Distance: 2.1 km
Elev Gain: 158 m
Avg Grade: 7.6 %
Max Grade: 25.5 %
Also known as Ellers Rd climb.
Cote de Goose Eye – I can't quite get my head around the name of this climb. It is a curious mix of French and the most Yorkshire sounding place name. Anyway the riders won't be worrying about how to pronounce the name, they will be trying to hang on. You come down a fast and twisty climb go over a beck and then the road ramps up to 25% almost straight away. There's a few corners on this very steep road. But, even when the 25% section ends, there's a long way to the top of the climb.
Descent in to Sutton in Craven. You can guarantee the riders will not be going slow!
The descents on this route are all steep and fast. No real time to recover.
Kildwick
Crossing the main A629 you go through the village of Kildwick, there is a another short and steep climb, then right towards Silsden.
Silsden to Addingham
In the Tour de France, the route went the other way. This time there will be a climb out of Silsden (average 7%) up to Addingham Moor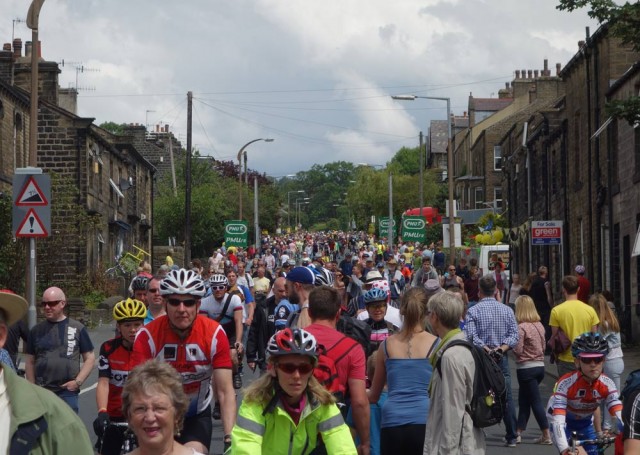 The route will go up this hill in Silsden. I don't think the crowds will be quite as big as 2014.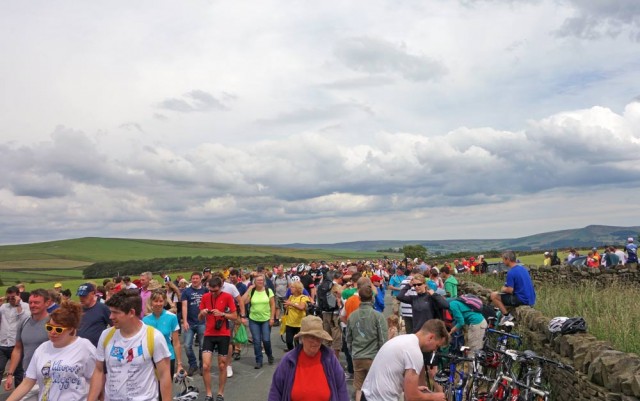 It's hard to believe this is a major A road, usually clogged with traffic. (Stage Two)
Cow and Calf
After the descent through the village of Addingham, the race passes through Ilkley and then up the famous Cow and Calf Climb.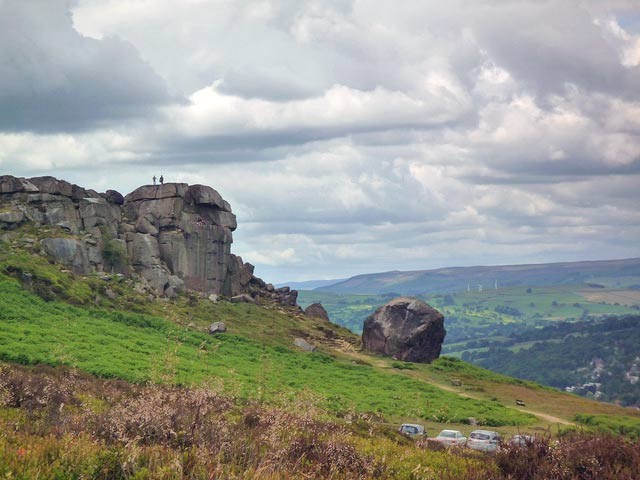 This is a climb I have done on innumerable times. It is also the place where I first watched a professional cycle race. (the now defunct Leeds Classic back in the pre-internet age) In the Gargrave cafe there used to be a memorable photo of Dave Rayner climbing up the Cow and Calf in a lone attack. Dave Rayner died tragically early, but the Dave Rayner fund continues to help young British riders race on the continent.
Menston
The race goes through Menston, my home village. Many, many years ago, I ran past this park in the 4 mile Menston fun run; that was my first sporting event.
I would have won the under 7 age category, but I stopped to take off my number and pin it on the back. Right on the line I got pipped by a school mate. I never made that mistake again.
East Chevin
Distance 1.1 mile
Average gradient 8%
East Chevin has another bit of cycling history. It was often used in the Otley CC hill climb event – in previous days, riders like Jeff Wright and Chris Boardman would fly up this climb on fixed wheel bikes in under 4 minutes. It was the location for my first ever hill climb in 1994.  Unfortunately, the road is too busy to race on now, but the riders will benefit from closed roads.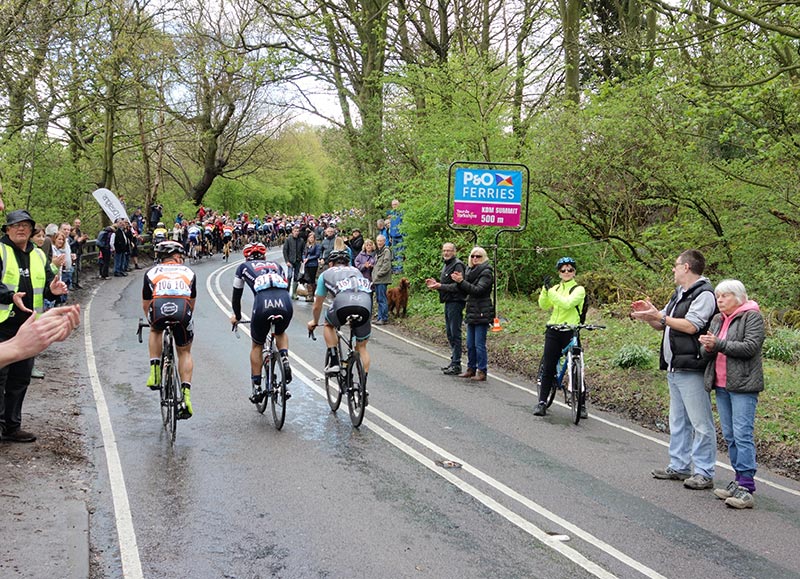 It is remorselessly steep, it feels like it is 15% all the way. When I was young, I used to be intimidated by this climb because it just feels dead straight and uphill for ages. If anyone has strength left, this would be a good place to go on the attack.
Arthington Bank
The last short climb of the day.
In all I rode 3,000m of elevation, 80 miles, at an average speed of about 16mph. A great day out.
Watching Stage One
A great aggressive race only marred by injuries to Eddie Dunbar and Ben Swift.
Great to see Erick Rowsell (GBr) Madison Genesis and Richard Handley (GBr) JLT Condor  in the top ten.
The full route of the Stage three
Related