Oxenhope Moor climb (Cock Hill) from Oxenhope – south towards Hebden Bridge.
Length 2.1 miles
average gradient – 6%
Max height – 432m
Height gain: 709ft (216m)
Category 3
Max gradient: 10%
Time: 9 mins
OS Map 104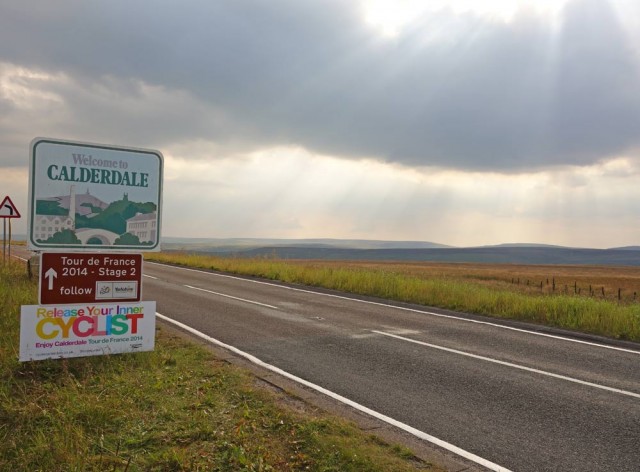 Oxenhope Moor is a long steady climb from the village of Oxenhope to the top of Oxenhope Moor. It sometimes goes by the less well known name 'Cock Hill'. Though when the Tour de France came through town, they decided Côte d' Oxenhope Moor had a better ring to it.
I've been up Oxenhope moor a few times. There is some great hills around the Keighley and Worth Valley (e.g. Thwaites Brow and Hainworth Lane). Keighley has some of the best cobbled climbs this side of Belgium. But, Oxenhope Moor is less strenuous than some of those short steep climbs, but at over 2 miles, it makes a good test, and if the wind is blowing in the wrong direction, it can be really hard work on the exposed slopes.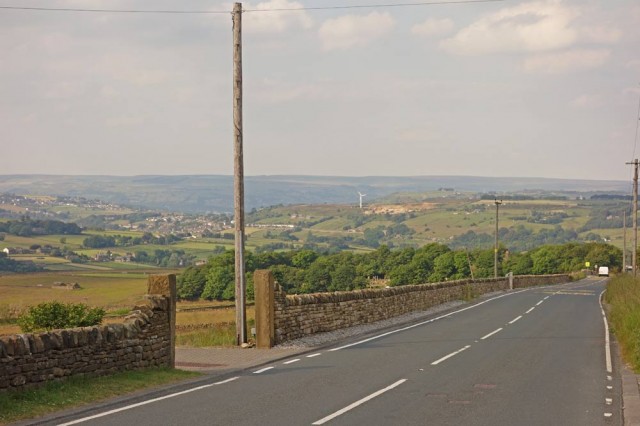 After leaving the village of Oxenhope (At the end of the Keighley and Worth Valley Railway) It passes the Wagon & Horses Inn on the left. Also after a few hairpins, you can take a left turn to take a harder and steeper minor road over the moor past the Holline Hill wind farm. This takes you down to Luddenden. By the main A 6033 is probably a better route to take – it doesn't get too busy.
The climb is hardest as you leave the village of Oxenhope, but eases off towards the top.
There is a great descent from the top of Oxenhope moor into Hebden Bridge. Long and sweeping, though parked cars on the road mean you have to take care. From Hebden Bridge you are spoilt for choice if you want to keep cycling uphill – you could take in Cragg Vale or if you want something very steep try Mytholm Steepes or Halifax Lane from Luddenden.
Oxenhope Moor Tour de France 2014
Oxenhope Moor is one of the many climbs on stage 2 of the Tour de France
Hebden Bridge to Oxenhope Moor (north to south)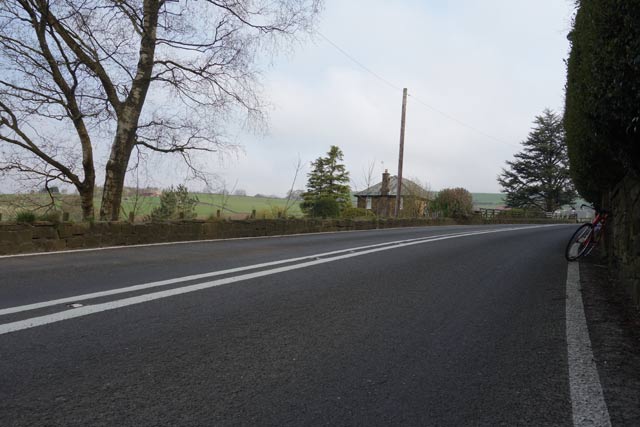 From Hebden Bridge to Oxenhope Moor, the climb is even longer, with over 300 metres of climbing. It is steep at the bottom as you come out of Hebden Bridge but gets less steep the further up you go.
Length – 3.5mi
Average gradient: 5%
Height gain: 1,018ft (310m)