Mytholmroyd near Hebden Bridge has to have a good shout for being the best location for finding a large quantity and variety of hill climbs. From Mytholmroyd you can take any number of hill climbs – from the famous Cragg Vale (3%) and longest ascent into England, to more esoteric climbs like Mytholm Steeps and Halifax/Luddenden Lane.
I returned to Mytholmroyd and met up with Nathan who rode the Cragg Vale hill climb last Tues. We started off with a gentle ascent of Cragg Vale before plunging down into Ripponden. From Ripponden we followed the Tour route and climb up Ripponden Bank. I've done it a couple of times including during a hill climb event organised by Paul Brierly of the Huddersfield R.C. We were lucky with the lights and were able to get a smooth run up the climb.
I've never seen the council so busy – Council workers were everywhere – filling in the smallest potholes, picking up litter, dropping off 'Road Closed signs' – even cleaning 'undesirable graffiti' on Cragg Vale hill climb. Some local wag, thought it amusing to paint the names of Tom, Dick and Harry on the road. It might bemuse the French to see Wendy for Craig –  but that's what's been painted on Cragg Vale. At least no-one's drawn a big needle on the road.
At Ripponden Bank we did a u-turn and went all the way down to Littleborough. The ascent from Littleborough (Blackstone Edge) is a great climb – although an A road, it's not too busy – there's even a cycle path. We went up the gradual ascent at a good pace, helped by a strong tailwind from the West.
Blackstone Edge
Blackstone Edge
Length – 2.5 miles
Average gradient – 6%
Max gradient – 10%
Height gain – 757ft (230m)
After descending Cragg Vale, Nathan headed off home via Halifax, I went searching for one or two steeper climbs. Mytholm Steeps has been on my 'to do list' for quite a while. Last time I came this way, I kept cycling past, and never found it. But, this time I took Church Lane, just as you are leaving Hebden Bridge and soon knew this is the climb people like to talk about.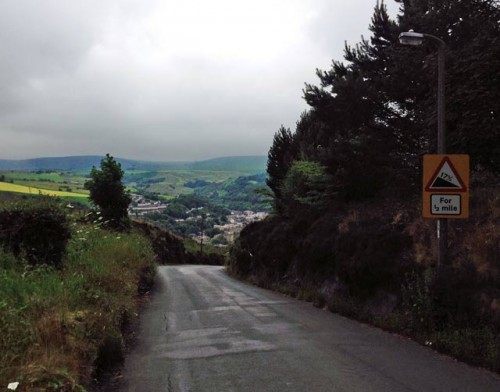 Mytholm Steeps
Distance – 1.2 miles
Average Gradient – 10%
Height gain – 661ft (201 m)
Cragg Vale is literally full of cyclists. And drinking in the atmosphere of the Tour, who can blame them. Mytholm Steeps is a completely different kettle of fish, and correspondingly pretty quiet. It is really steep, hard and quite long. Several hairpins make it a real classic. I had a few climbs in the legs already, but it was just about manageable with a 39*28. I was on my TT bike, though the tribars weren't much use on these gradients! From Mytholm Steeps there is a long descent to Todmorden where I decided to head over to Littleborough for another ascent of Blackstone Edge.
60 miles in all, but plenty of climbing. Another great day on the bike, you can really feel the excitement of the Tour building up. We even saw the Saxo Tinkoff team car. No riders though – I would imagine they were taking a video of stage 2, to show over breakfast.
Related