Today was another two-stage hill climb, organised by Solihull CC on Dover's Edge and Saintbury. Both climbs have been venues for the national hill climb championship in previous years. I have done this two-stage combination in 2008, 2010 and 2011. So after a gap of nine years, it was back to Weston on the Edge.
At this time of the year, it is an attractive part of the world, especially in autumn. Back in the day, I could just about ride out here from Oxford, making a good 100 mile round trip. But, I haven't done that kind of mileage for a long time.
The weather was very good, by the second climb, it felt quite hot. There was a fairly helpful tailwind up both climbs.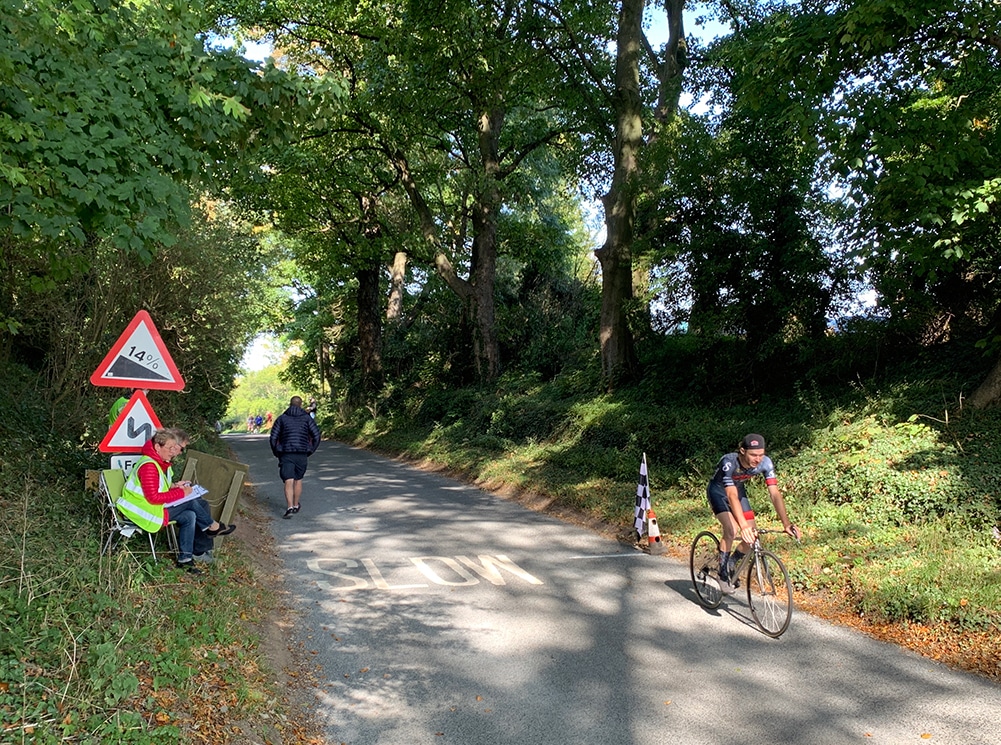 Saintbury is the longer of the two climbs. There is a steeper section near the bottom and then it keeps dragging up. I went quite hard on the steep bit and perhaps paid for it a little bit towards the end.
---
Saintbury power
The segment was missing a bit I did 5.55 at 406 watts. My ride was OK until halfway when my power starts dipping below 400 watts, towards the end it fell to 250 watts. It was a very good pacing strategy if I had been 5-10% fitter!
The best way to ride a climb is to keep a constant power, but if anything try to raise it a little towards the end, though this is complicated by wanting to put more power in the steep section. I seem to remember getting out of saddle a bit to try and make more effort.
I think I finished around 5th place. I believe there were 4 other riders below six minutes, with some very good times by the top riders.
---
Dover's hill
After Saintbury, there was a two hour gap before Dover's. The time went quite quickly. I decided to ride up Saintbury again, so I could take some photos of riders finishing on Dover's just further down the valley.
I made a big effort from start and hoped to make a stronger finish. But, like Saintbury, vision and reality were not quite in tune. By the way, I recommend reading Jim Henderson's blog from the 1998 National hill climb title. It lays claim to be one of first cycling blogs. (Unfortunately, the web page is now defunct, but I have saved a few page from the Internet Archive). When I got into cycling back in 2005, there were very few pages about hills, and I really devoured Jim's short accounts of his national championships. Perhaps unconsciously it inspired me to document my own cycle races and hill climb races. In particular, I will highlight this passage from 1998.
"…A clubmate gave me a time split on Jeff Wright as four seconds down about a hundred yards further on, so thinking I had nothing to lose I let rip like I had never done before or since. The low gear really helped here because it made it easy to keep a rhythm going. The crowd was thick on sides of the road and only parted as I got to them, which was very good for my concentration because it gave me something other than the pain to think about. It was like a dream as I passed lots of familiar faces, all screaming at me but only seen for a second or two as they moved out of the way to let me pass. Anyway, this bizarre experience was mercifully short and very soon I had crossed the line and was lying on the tarmac." (Jim Henderson Blog from 1998. [Jim Henderson won in time of 3.24 (though I learnt today the course was marginally (60 yards shorter than current hill climb course). In 1998, the women's champion was a certain junior – Nicole Cooke 4.37 (Cardiff Ajax)]
– That's the kind of experience as hill climbers we are endeavouring to go for. Those rare times, when you can really let rip and just push past every warning signal. By the way, if that whet's your appetite for hill climb stories, don't forget Paul Jones' excellent A Corinthian Endeavour which features interviews with many champions from over the years.
Anyway, back to reality as a 43 year old vet, making a comeback.
I managed 419 watts for a 4.09, which is below my best for this year, but a second hill climb in one day always takes its toil. I seem to have made a big effort at the start. I'm still getting used to autostarting yourself with no pusher off. It's OK, but slightly tails off towards the end. A similar story to Saintbury – a perfect pacing strategy if I had a final kick. I tried a kind of sprint for the line but there wasn't much there.
I think I finished around 5th again. I enjoyed the day out. I even won my first-ever Veteran prize! I was grateful to David and Solihul CC for putting on a race in these testing times. It was nice to have reason to go to Cotswolds and race.
When I got home I watched the Tour de France on record. It was well worth watching an epic day. It has been a good edition of the Tour de France with some excellent stages and pieces of interest. The final day time trial where the lead changes is quite rare. But it made it a memorable time trial.
It was really interesting to see the expressions of the riders. Poglic looked like he knew he was defeated though he was very sanguine in defeat. The look on Tom Dumoulin's expression when he realised Pogocar and beaten him by 50 seconds and taken the yellow jersey of his team-mate Roglic was quite something. He looked deeply pained.
My friends once claimed that my doppelganger was Screech from Saved by the Bell. (this was in the day when I grew my hair for two years and had a big afro. I don't think it no longer applies) But, when I see Pogocar in that picture on the right, it reminded me of myself in a strange way.   I have some photos of TT where it looks quite similar.
At the moment, the main motivation for racing is seeing how close I can get to previous times and capacity. I was a little disappointed with Snap hill last weekend. But, this weekend was better in comparison.
Previous times on Dovers
2008 Dover's Hill  4.13.8 (4th) – winner Matt Clinton, 4.01)
2010 Dover's Hill 4.04 (4th) winner – Matt Clinton 3.59)
2010 National Hill climb – 3:56.4 – 4th overall
2011 Dover's Hill 4.03 (1st)
2020 Dover's Hill  4.09 (5th)  – winner Andrew Feather 3.49?
Previous times on Saintbury
2008 6.23  (3rd) (blog from 2008)
2010  5.53  – 1st (CR)
2011 5.52 – 1st (CR)
2020 5.55 – 5th