Saintbury hill is located in the Cotswolds near the town of Broadway. From the B4632 south
It is over a mile long and averages a good 9%. It is up to 18% at the steepest. It has been the venue for two national hill climb championships 1960 and 1951.
1960 – Eric Wilson
1951 – R Stringwell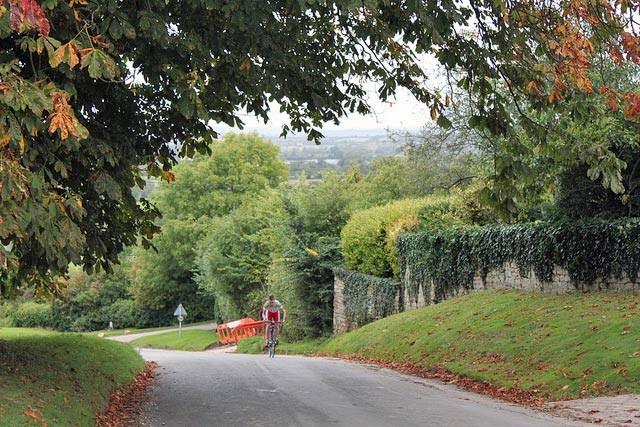 Location – Gloucestershire
Length: 1.2 miles / 1.9km
Average gradient 9%
Maximum gradient: 18%
Height gain: 162 m
Everesting? – 55 * 2.4 miles = 132 miles
Saintbury Hill Climb Course Description

SP 117 400  Start on road through Saintbury village 200 yards south of junction with B4632 (Stratford-upon-Avon – Broadway road) in line with Care Horses warning sign. Ride south up hill    0
 Pass crossroads
 SP 120 381 Finish at post EV7 about 250 yards before road junction.    2288
Over half way up.
Saintbury in Autumn
I took these photos in Autumn 2010 – I had been racing the National hill climb on Dover's Edge just a mile along the ridge. I finished 4th. Shame it wasn't on Saintbury that year!
Veloviewer

Strava
Races up Saintbury
2008 (6 October)

Matt Clinton 6.05
James Dobbin 6.09
Tejvan Pettinger 6.23 (blog from 2008)
2010 Warwickshire  RC (26 September)
Tejvan Pettinger 5.53 (CR)
2011 (25 September)
Tejvan Pettinger 5.52 (CR)
Related