Horseshoe pass (Bwlch yr Oernant) is a 4 mile climb in North Wales near Wrexham, averaging 5% – climbing 311 metres to finish at 1,200 ft (404m).  It's a challenging hill climb, with a few steeper sections of up to 12%. On a good day, it provides a beautiful backdrop for a hill climb.
As it name suggests, there is a 180 degree horseshoe curve towards the top. This means that you can see the road snaking up above you as you climb. It also means you're likely to face a mixture of headwinds and tailwinds on different parts of the climb.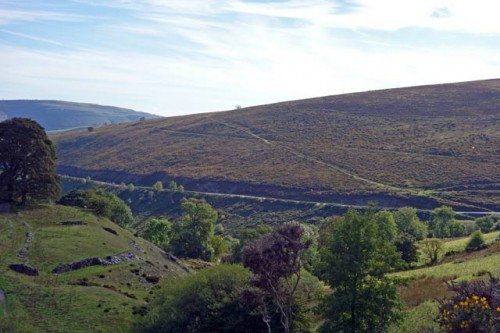 2013 race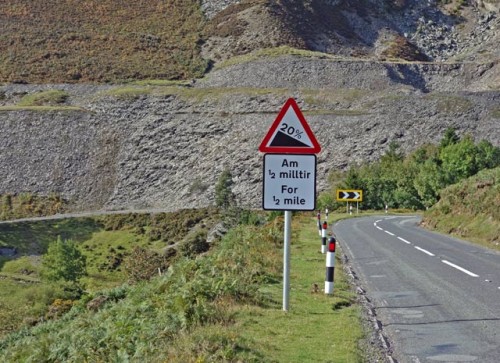 I'd been racing the previous day in Otley, and was grateful for a later start. It's a fair drive from Menston. But, I arrived in decent time and warmed up at the top of the climb, by the popular Ponderosa Cafe. Horseshoe pass and the cafe is also very popular with the motorbiking fraternity. There was no shortage of reviving engines to drown out the relatively quiet whir of the bicycle on the rollers. Often CTT ban rollers near houses because they are too noisy for residents. Motorbikes and the boy racers revving their Ford motor cars must annoy a few local residents.
Fortunately, it was a pleasant day. Quite warm, sunny, just a fresh breeze. But, I imagine you're not always greeted with this conditions up on top of horseshoe pass. Even though it was quite mild, I put on leg warmers and a winter jacket for the long descent. It's quite a fast descent, though there are some sweeping corners so you have to take care. The descent could be quite chilly on the wrong day.
The hill climb course doesn't start quite at the bottom. It misses out a few metres of climbing, starting just before the Britannia inn on your left, and it finishes before the top.
Distance 2.4 miles
average gradient 6.3 %
Max gradient – 12%
elev gain – 232 metres