The Knog Blinder R70 is a rear LED light unit with integrated USB recharge, peak lumens of 70 and only weighing 50 grams. It is easy to attach and comes with three different length straps for the ability to fit to seat posts of different sizes.
This summer I spent a lot of time trying to get a satisfactory light for my time trial bike, which has a large circumference aero seat post. (I felt the choice was pretty limited. See: rear light for aero seat post) Many people advise a light which can be put under the saddle – but there I often have a water bottle or saddle bag. What I really wanted was an clip on rear light which would go around the seat post. But, because it is so large (34cm circumference) many lights didn't fit.
When I say the new Knog light had an adaptation for aero seat post I asked a copy for review. Knog sent me a copy and I was happy to test.
Review
Firstly, it is quite similar to many other Knog lights that I have used in the past few years. I have both a Knog front light USB and a Knog 4V rear light. I have used them for other two years, and have had good experiences.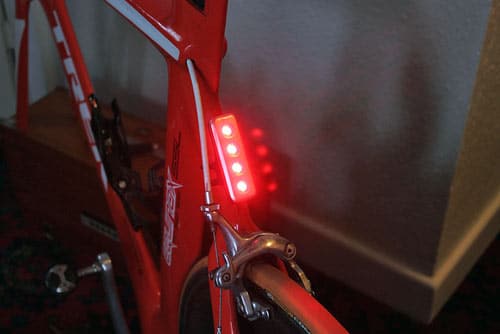 The only problem is that I broke the strap of the Knog 4V rear light trying to stretch it around an aero seat post.
The front Knog blinder light I have on winter training bike. It has been reliable for two years and never failed on the road. I haven't yet tested this Knog  R70 on the TT bike out on the road. This photo is from the bike shed.
Fitting
Firstly you need to put the desired length of strap into the light. This is relatively easy. Then the light is good to go. I put on my TT Speed Concept with Bontrager aero seat post. It was a good fit, the elastic was taught, though it could have gone around an even bigger seat post. Another good design is that at the back of the light, there was a thin indentation.
What it means is that there is just enough indentation so the light fits better against the thin edge of the seatpost. Often if you do get lights to fit behind an aero seat post – they slip around because the light is flat against this thin edge. But, once in place, it is held fairly securely. This is important because I've done time trials with lights held on with plastic cable ties and when I've finished I've found the light pointing nicely at 90 degrees to the hard shoulder.
Battery power
There are no batteries – only USB stick to recharge. There is also a small adapter to make it easier to fit into USB socket.
Overall
As a time trial light for a rear aero seat post, this ticks all the right boxes. Lightweight, relatively aero. But, most importantly will fit securely any aero seat post.
It is plenty bright enough for any dual carriageway where small lights can get lost. The sideways light is also important
Battery life will be interesting to test. For a 12 hour time trial, you may need to run in eco-mode to be on the safe side.
There is a battery life indicator, but it is fairly basic, like most USB rechargeables I will be erring on side of caution and recharging quite frequently. But, overall I still prefer quick recharges over having to buy new batteries.
A RRP price of £48.99 makes you think twice. Because that is quite a hefty price tag for a bike light, when you can get many other lights for a lower price. However, if you're not worried about price, it is a good product.
Time triallist looking for a bright light with good fitting and aerodynamics this is pretty good.
Specifications
Powered by CREE LEDS
Peak lumens: 70
Side illumination – 290 degrees
Modes – 3 flash, 2 steady
Waterproof – 100% (claimed)
20 hour run time (eco flash)
Battery indicator
Weight: 50 grams
Fitting – 3 different straps to fit post diameters 22m to 40mm
Buy online