The Knog Blinder R70 is a rear LED light unit with integrated USB recharge, peak lumens of 70 and only weighing 50 grams. It is easy to attach and comes with three different length straps for the ability to fit to seat posts of different sizes.
This summer I spent a lot of time trying to get a satisfactory light for my time trial bike, which has a large circumference aero seat post. (I felt the choice was pretty limited. See: rear light for aero seat post) Many people advise a light which can be put under the saddle – but there I often have a water bottle or saddle bag. What I really wanted was an clip on rear light which would go around the seat post. But, because it is so large (34cm circumference) many lights didn't fit.
When I say the new Knog light had an adaptation for aero seat post I asked a copy for review. Knog sent me a copy and I was happy to test.
Review
Firstly, it is quite similar to many other Knog lights that I have used in the past few years. I have both a Knog front light USB and a Knog 4V rear light. I have used them for other two years, and have had good experiences.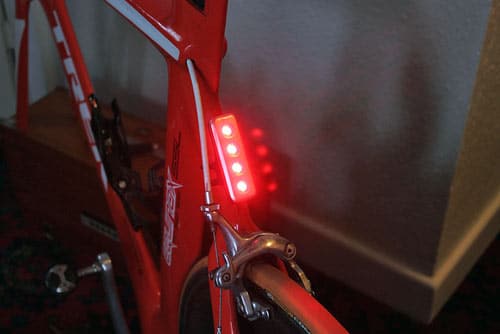 The only problem is that I broke the strap of the Knog 4V rear light trying to stretch it around an aero seat post.