A look at different average speeds in different types of cycling. All speeds are in km/h.
People often ask what is a good average speed for cycling? When I was in Otley CC, we used to have 'reliability rides' (think sportive which doesn't cost anything). Usually, the reliability rides involved riding 50 miles in 3 hours. – 16.6 mph, 26.8 km/h. It was a good test for the club-rider; it could still be done at a non-competitive, but 'brisk' pace. I don't know if people still do reliability rides.

Usually our old club runs would be done at around 14mph (23 km/h) and that didn't include the three tea stops during the day. Of course, the average speed of a club run will all depends who you go with. If it's a club run of more than 20mph, I think a chain gang is probably more important. When I went with a local Oxford chain-gang, the average speed was something like 23mph for a flattish course around Otmoor.
Good tool for calculating average speeds
A quick conversion for km/h to mph:
20 km/h = 12.4 mph
30 km/h = 18.6 mph
40 km/h = 24.85 mph
50 km/h = 31.06 mph
My personal average speeds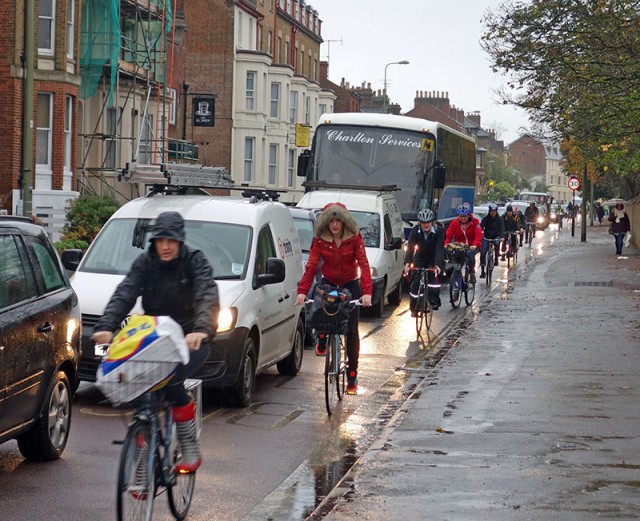 Commute into town, including stopping times at traffic lights – 12-16 km/h
Commute into town (slow) – 16-2o km/h
Commute into town (fast) – 20-28 km/h. (The average speed of motor traffic in Central London is said to be around 9mph.)
Training ride on winter training bike – 24-27 km/h
Training ride in summer – 28 – 30 km/h
Threshold training ride 32-33 km/h
Threshold training ride on time trial bike 34-37 km/h
Hilly time trial on road bike – 38 km/h
Hilly time trial on time trial bike – 40-42 km/h
Flat time trial TT bike, no traffic – 46-47 km/h
Fastest time trial on TT bike (fast course, + traffic)- 50km/h
Fastest downhill – 85 km/h
Factors that affect average speed:
A time trial bike in a very aero position can add an extra 3-4 km/h (see: difference between road bike and TT bike)
Passing traffic on dual carriageways can add an extra 2-3 km/h
A £1,000 road bike will be considerably faster (1-2km/h) than say a heavy hybrid bike.
Very smooth roads – smooth tarmac can add an extra 1 km/h
In a 10 mile time trial, with a tailwind of 20mph, I once averaged 56km/h. Into the headwind on the return, I averaged 36 km/h. Wind  is important
If you can average 32-34 km/h on the flat on a road bike, you may find you can get close to 40km/h on a time trial bike on a fast course.
If you cycle in the wheels – behind another rider, you can save 20-40% energy. In the middle of a large peleton, it is said you can save up to 50% of your energy. You can probably ride 3-9 km/h faster. Average speeds for team time trials are often 3-5 km/h faster than individual time trials.
Average speeds for hill climbs
A gradient of 3% (Long Hill) – average speed 36 km/h
A gradient of 5% (box hill) – average speed 31 km/h
A gradient of 10% (Dover's Hill) – average speed 22 km/h
Hardknott Pass (average 13%. Max 30%) – average speed – 12.7 km/h
Average speeds using gear ratios
You can calculate the slowest you will be able to ride up a hill using gear tables.
If you have a 36*25 and a cadence of 70rpm – your speed will be 7.9mph (12.7 km/h)
If you have a 34*28 and a cadence of 60rpm – your speed will be 5.7mph (9.1 km/h)
Average speeds for Road Records Association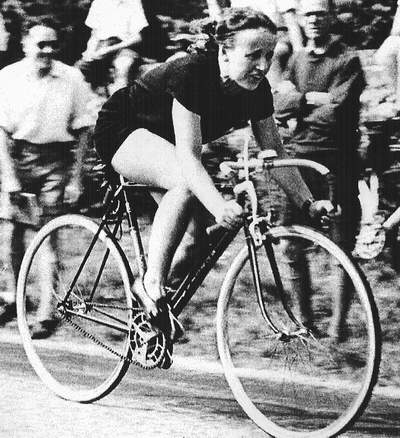 In the 'Good old days' Road records association (founded 1888) was a big thing. The top amateur riders (such as Eileen Sheridan) would often turn pro, just to break records for set distance or place to place.
These days very few go for these records, due to different priorities and heavier traffic. It's hard to imagine trying to break the London – Edinburgh record by riding up the A1.
The most prestigious existing record is Lands End to John 'O Groats. The current record for men Gethin Butler (2001) is 1 day 20 hours, 4 minutes, 20 seconds. That's 874 miles at an average speed of 19.8 mph / 31.9 kmh
World Hour Record (solo time trial on flat track)
The first official world hour record was set in 1893 by Henri Desgrange. He completed 35.3 Km in an hour. 100 years later, the average speed of the world hour record had increased to an incredible 56.37 Km. This was a reflection of improved training, improved aerodynamics and fitter athletes.
After Chris Boardman set a record of 56.375Km in 1996, the UCI change the rules. Using 1970s technology, Chris Boardman was just able to beat Eddy Merckx distance, covering 49.4 km/h. This shows the technology of Chris Boardman's super aero position, added an extra 6 km/h on to his speed.
1893 Henri Desgrange – 35.325 km/h
1914 Oscar Egg – 44.247 km/h
1942 Fausto Coppi – 45.871 km/h
1972 Eddy Merckx – 49.431 km/h
1992 Graeme Obree – 52.713 km/h (superman position)
1994 Miguel Indurain – 53.040 km/h
1996 Chris Boardman – 56.375 km/h (superman position)
New UCI 'unified' Hour record
The new UCI 'unified' hour record allows the same technology used in current pursuit events on the track. This allows tribars, but not extreme positions like Obree's 'Superman' or 'tuck' position.
Jens Voigt – 51.11 km
Matthias Brandle – 51.8 km
This record will almost certainly be broken in 2015. Alex Dowsett, Bradley Wiggins / Tony Martin / Fabian Cancellara could push – 55 km/h ?
Average speeds women
If you look at current times of professional riders, as a rough rule of thumb, women's average speed tend to be around 4-5 km/h less than men.
Women's Hour Record
2003 – Leontien Zijlaard-Van Moorsel (NED), 1 October 2003 – 46.065 km/h
1996 – Jeannie Longo – 48.159 km/h
Tour de France average speeds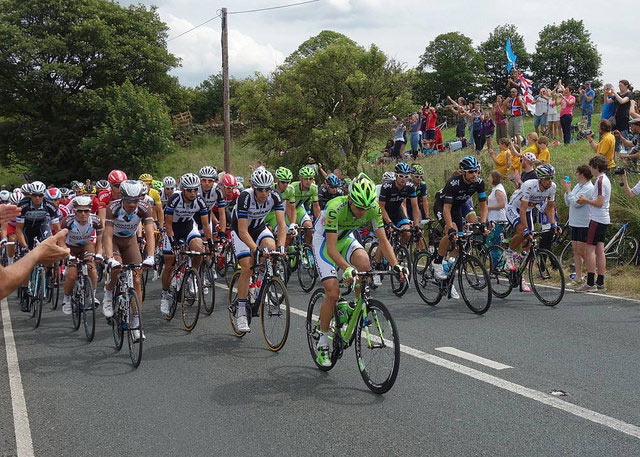 1903 – 25.5km/h
1919 – 24.0 km/h (slowest ever tour)
1937 – 31.768 km/h (first use of dérailleur gears)
1939 – 31.9 km/h
1956 – 36.2 km/h
1971 – 38.084 km/h
1981 – 38.960 km/h
1991 – 38.747 km/h
2001 – 40.02 km/h
2005 – 41.654 km/h (fastest tour)
2012 – 39.83 km/h
Tour de France Average speeds
See also more: Tour de France Facts
Fastest Ever Prologue Time Trial
1994, Chris Boardman – 7.2km time trial course of 55.152 km/h (youtube clip)
Olympic road race 2012
Women 140 km – 3.35 = average speed – 39.1 km/h
Men 250 km – 5.45 = average speed 43.5 km/h
Average Speeds Road Races
3/4th Cat – 32-38 km/h Most common would be around 36 km/h
Elite 1,2,3 – 36-44 km/h Most common around 41km/h
If you can average 30-32 km/h in training on your own, you should be fine to enter 3/4th cat road races.
Classics average speeds
2012 – Paris – Roubaix – Tom Boonen average 43.4 km/h (though in 2010, Fabian Cancellara won in an average time of 39.3 km/h)
2012 – Milan San Remo – average – 42.632 km/h
2011 – Paris Tours – average 42.988km/h (though in 2003, the average winning speed was 47. 5 km/h)
Audax Average Speeds
Audax events are not races, but long distance events where the rider has to complete a set route at a particular average speed, emphasising route finding, mechanical reliability and the ability to ride to a schedule. Usually, the average speed has to be between 15-30km/h. – You can get penalised for riding too quick!
Cyclo Sportives
What average speed might you expect for a Cyclo Sportive?
Etape du Tour
The Minimum average speed to finish in time limit – 12mph – 20 km/h
An average speed of 24 km/h would place you in around the top 1,000 out of 8,000 finishers.
The pros may average in the region of 32-34 km/h for a very mountainous stage
Fred Whitton Challenge
For the 113 miles through the Lake District major passes, average speeds vary from a fastest of 30km/h down towards 15 km/h (10 hour finishing time) Fred Whitton results
Rolling Cyclo Sportives
For less mountainous cyclo sportives, you will find higher average speed. A medium hilly cyclo sportive will be completed in average speeds of around 24-32 km/h.
What average speed for a 100 mile Ride?
For a fairly flat 100 miles
The record for a 100 mile time trial is close to 3 hours 20 – around 48 km/h. However, this is with passing traffic and aerodynamic equipment.
On a road bike, a fast time for a 100 mile training times, would be 5 hours – 32km/h.
A decent touring pace would be 6 hours – 27 km/h
Miscellaneous average speeds
In the Race Across America, Pete Penseyres, 1986, averaged 15.40 mph (24.8 km/h)
The fastest ever speed attained cycling downhill on snow or ice is 222 km/h (138 mph), by Eric Barone (France) at Les Arcs, France on 21 April 2000.
Most popular ways to increase average speed cycling
Ride with tailwind
Ride downhill
Ride an aerodynamic time trial bike
Wear aerodynamic clothes
Ride behind another rider (in a peleton)
Train! improve endurance, speed and get fitter.
Related