Readers Question: I'm a commuter/leisure cyclist and I'm looking to getting into race fitness for a few sportives next year. I've never raced before and would like to know the best training methods to start increasing my fitness and speed. When I go out for a ride it's usually only 20 miles and I ride just under my threshold to average 17mph. What should I do to start seeing that go up? I'm also going to start longer routes. Looking forward to your insight.
I remember when I started getting into cycling (quite a few years ago, I forget the number) every ride was just below at threshold, and I was obsessed with average speed. It was in the days before heart rate monitors and power meters. The only thing you had on your bike was speed, time, distance and average speed. I remember my first ever ride with a speedometer. Menston to Burnsall and back – average speed 13.5mph. Every time I went out, I always tried to get higher average speeds for my usual routes. I remember being very happy when I averaged 18 mph for a 35 mile ride from Menston to Burnsall and back.
Training for higher average speed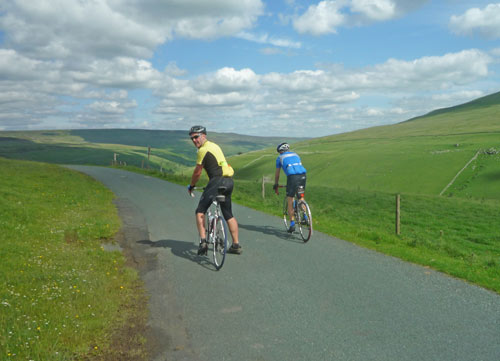 When you're just beginning to cycle, any kind of cycling will make you stronger and faster – the more you cycle you will see quite a quick increase in fitness. But, after a certain point, it becomes progressively harder to increase average speed.
If you've just done a few 20 mile rides, there is scope for some significant improvements in fitness and speed. Some tips which spring to mind.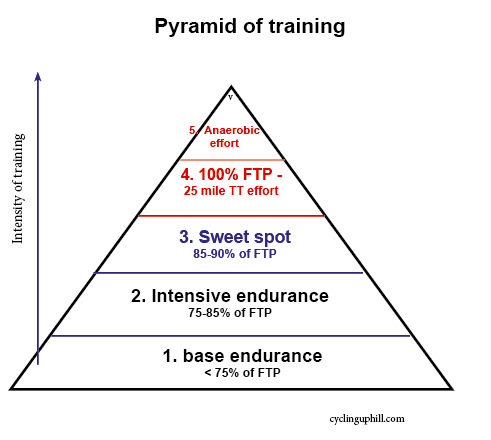 The pyramid of training basically states the majority of our training is endurance and steady work. This provides the base endurance, muscular strength and general conditions.
I quite like this model of pyramid training. It's a good rough guide for those getting into cycling. You have a base of endurance riding – steady miles, increasing aerobic capacity and building length strength.  The intensive endurance would correspond to the riding your doing just below threshold. The only comment I'd make about this pyramid, is that if time is short, cut out some of the base endurance. The most efficient way to improve cycling fitness is cycling at close to threshold. But, a mixture of endurance, threshold and intervals is important for any training plan.
Non-fitness related ways to increase average speed
Apart from increasing your fitness, there are other more sneaky ways to increase average speed.
Related