Review of new Zipp 808 Firecrest front wheel.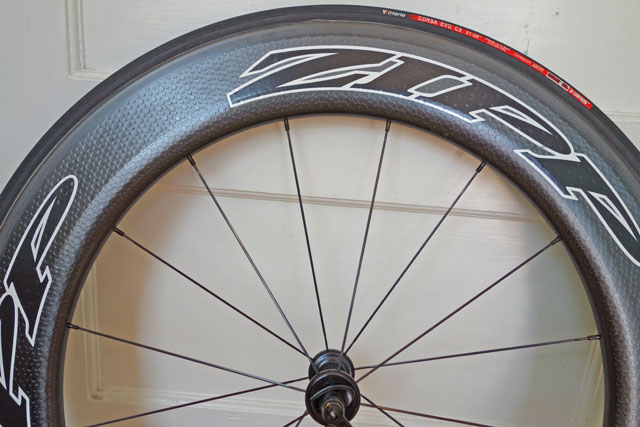 I've had a pair of Zipp 404 since 2006. They are a good versatile wheelset. They are lightweight 1,250 grams – so I was able to use in hillclimbs for several seasons (Until I got some Zipp 202s).The deep rim profile is also aerodynamic, making the 404s a good all rounder. The Firecrest 404s are said to be a significant improvement on the old 404s.
I decided to get a Zipp 808 Firecrest front wheel because:
Aero tests suggested there was less drag on a Zipp 808 Firecrest to my old Zipp 404 front wheel. Some aero tests suggest the front wheel can be as important if not more beneficial than a discwheel on the back.
 It's one potential marginal gain for quicker time trials.
I haven't bought a new front wheel for time trialling for seven years
It looks good. (the least important of course, but it does look good.
Amazingly I had the necessary £850 in the bank account
Front wheel 808 Firecrest
Weight: 745 g (including skewers). Note I've seen different weights advertised, but that's what it weighs on my scales!
Rim depth: 82mm
Max width: 27.5mm
Spokes: 16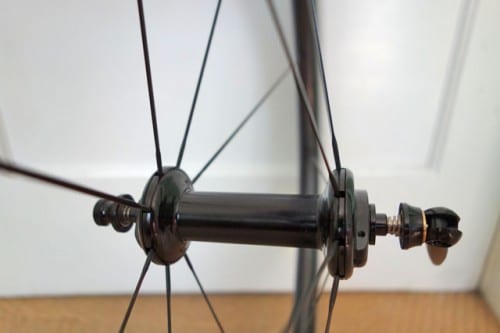 The first observation about the wheel was that I had to adjust the brakes. The rim is significantly wider than most standard wheels. The rim profile is (27.5mm) The wheel didn't actually fit into the brake blocks when I first tried to put it in. This was a bit irritating. I often swap wheels when training. I'm not keen on having to adjust brakes every time. Secondly, it seems counter-intuitive to improve aerodynamics by increasing size of wheel. But, this seems to be a recent development – finding that wider rims can actually give improved aerodynamics.
Zipp claim that Firecrest is the first aero profile that effectively controls airflow around the back half of the wheel. They do this by  maintaining a near constant width all the way to the spoke bed. I'll have to take their word for it.

Speed of Zipp 808
When I ride Zipp 808s, I tend to have very good time trials. But, this is partly because I only use it in good conditions. My first two rides with the Zipp 808 were new pbs at 50 and 100 miles.
2013 The YCF 50 (new pb of 1.45 (taking 6 minutes off pb)
Nat 100 (new pb of 3.46 – taking 6 minutes off pb)
BDCA 50 1.41
2014 – Hounslow 100 3.40- 4 mins off pb)
So it's a pretty good record. Whenever I've used it, I've tended to set a new pb. However, I'm not attributing all that to the new wheel. (I also bought a new Zipp discwheel at the same time– more on that later) Of course, it's really hard to say how much difference the wheel made. Another difficulty is that I put a different tub on the Zipp 808 (Vittoria Corsa) as opposed the rock solid (and slow) Continental Competition.
But, it does feel fast.
Zipp 808  Aerodynamics
The chart which got me to part with £800 for an 808. But, it is has to be pointed out this wind tunnel testing figures are produced by Zipp. Have you ever seen a manufacturer say their new product is not the most aerodynamic?
Impact on handling
A deep section on a front wheel has a big impact on bike handling. This is much greater than anything such as solid disc on the back.
I definitely notice that the Zipp 808 is a lot harder to control than a Zipp 404 (despite Zipp's claims that the handling quality of a zipp 808 is as good as the 404s)
Even when the wind is quite low, the front wheel can get caught in gusts. When you're doing 30mph, this is tough.
In the National 100, there was a dodgy moment when I got a blast of air from a  big lorry going the other direction on the single carriegeway, there was quite a bit of movement in front wheel, the loss of control took me by surprise. I've never had that kind of difficulty handling on a 404 in the past seven years. This wasn't isolated, I definitely felt the difference in handling between 808 and old 404. Zipp claim 808 Firecrest is as stable as old 404, but that's not my experience.
Fabian Cancellara is said to use Zipp 808s even in road races, so it shows other people might have different experience (Note Fabian Cancellara has about 20kgs more ballast than me) The handling quality is definitely affected by my low weight. If you weigh more, you may have a better experience.
Because of this, I didn't use the Zipp 808 in my first seven races of 2014. It was always too windy to use. It becomes a lot of money to sit in a cupboard. Apart from safety aspect, if you are working to keep bike in a straight line – you are not going to be quicker, even if it is more aerodynamic.
Braking
The front wheel surface has been improved for braking. There is a resin which helps resist heat It feels solid and gives nearly as good performance as aluminium surface. Zipp included a free brake pad. The downside is that (like most Zipp products) if you want to keep using Zipp brake blocks it's expensive to replace.
Zipp 808 Rear
I haven't tested the Zipp 808 rear wheel, but I'm sure it would be a good ride. With a rear wheel you don't need to worry about crosswinds. I nearly always use discwheel when time trialling. The reason I didn't bother buying a Zipp 808 rear is that in time trials I nearly always choose to use a discwheel. A disc wheel seems to have hardly no impact on handling, even in high winds
Zipp 404 vs Zipp 808
The Zipp 808s are heavier than the Zipp 404s by about 200gram a set,  so it is not as good for mountainous terrain. I would be wary of riding in strong crosswinds because of my experiences so far. However, I am pleased with raw speed of this front wheel, so it's good for time trials on float days
But, if I was buying one wheelset, I would definitely choose the 404s. They are a better all round performance. You can use them in any conditions. But, with 808s, I carefully weigh up the strength of the wind.

I'm a light rider (62 kgs) so don't have same bulk, but I would be wary of using the 808 front wheel on a windy day. It's taken several years to justify making the upgrade from 404 to 808. But, I'm not sure it was a good use of money, even if it is fast.
One question if the Firecrest dimples are so good, why do Zipp cover up 40% of them with big stickers? Do the stickers not slow down the effect – if so why put them on?
Alternatives to Zipp 808s
The Enve set of wheels, make strong claims to be more stable in gusts. I might even consider selling my Zipp 808 second hand and using money to try something like the Enve 8.9 front wheel.
Related