I bought a Specialized Allez in New York from Bellitte bike shop, Jamaica Avenue in New York. I was looking for a good value entry level training bike. My only specification was something that would replicate size and basic performance of my road bike home. The Specialized Allez is in a very different price bracket to my top of the range Dura Ace, Trek Madone – so it's interesting to be riding a bike at the other end of the spectrum.
I was a little surprised at how good this relatively cheap road bike was. It was an eye opener to the fact you can pay a lot of money for a top of the range road bike, but the improvement in quality is not as much as you might expect for the higher cost. Or looking at it the other way, you can get a pretty good road bike for close to £500.
The Specialized Allez replaced a very old 1980 steel Trek I had been riding in New York. It's was a big step up from that so I was really happy in that sense. It replicates the ride of my road bike back home reasonably well. For the money ($820), I'm very happy. It is an excellent value road bike.
It looks good and I like the smooth lines and integration of frame, fork and other components. Specialized certainly do smooth well – I real bonus on a £500 bike. No internal cable routing, but you can't expect that for this price. It looks like it might pass for a much more expensive bike.
When I went into the shop, I was determined to buy the cheapest road bike. The cheapest road bike was $500, but I really didn't like it. You could just tell by looking at it, that it wasn't going to lastThe Specialized Allez was standing out and looked like a proper road bike. That's the one I wanted to get. I ended up spending $820 (in UK RRP is £550). If you're lucky you may get the 2014 model for under £500.
I definitely I'm glad I spent that extra $300 (even if my  bank manager isn't). There is probably as much difference in ride quality  between a a £300 road bike and a £550 road bike – and the difference between a £500 and £5,000 road bike. I don't know if that makes sense. But, the absolute cheapest road bike didn't feel good at all.
The main thing is that it holds up reasonably well in terms of riding feel, against my Trek Madone 6.9 which is the same price, but with just an extra zero at the end.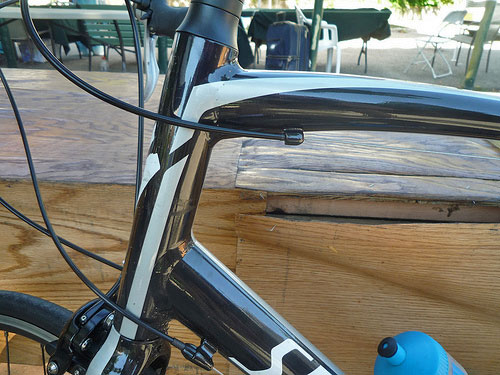 It is nice to ride, the steering is good and the bike accelerates reasonably well. It's not the lightest at over 10Kg, but it's good enough and I'm not too fussy for this bikes. In New York in April, I was doing lots of sprinting sessions around a velodrome which tested the flex and rigidity. Again performance is reasonable. There is some flex in the aluminium components, but it was good enough to do what I wanted to.
New York roads are very bumpy, but the bike handled them well. I wasn't too badly shaken up, given state of the road. On a ride out to Long Island, there were quite a few fast descents, and I felt reasonably confident at speed.
Compact Chainset
It comes with a compact chainring 50*34 will be the best choice for most people buying an entry level road bike. I did have the indignity of getting dropped on a descent by a riding partner who weighed 30 kg more than me. He's pretty strong and powerful, but at least I had the excuse of spinning out on the 50*12.  As it happens the compact is pretty useful in New York. I don't know why but in New York I always seem to come back with an average speed of 11-13mph. Compact is useful for short steep hills. Though when doing intervals up hill – you are kind of caught between inner and outer ring.
The good thing about this road bike, is that the geometry is geared towards a road bike. The geometry is the same as the pro-level Tarmac SL3, so it was an easy fit for me. The only difference is that the front end felt higher than what I'm used to, when I get the chance I will try dropping the handlebars.
The tyres, Specialized Espoir Sport, are new to me. But, the salesman assured me they have a puncture resistant belt and they felt reasonably grippy. I did puncture twice this August – with a rather innocuous little hole. I will get better tyres when they need replacing.
Handlebars
The bike came with handlebars sellotaped to handlebar. I'm not too fussy, but it hardly makes it a classy build when you end up using sellotape. The top tube, is pretty good to look at though.

Value for Money
The main selling point for this bike, is the value for money. For close to £500, you have a bike that will offer satisfactory performance in sportives and even 3rd cat road races. It has made a good training bike.
Specialized Allez Options
On the most recent model Specialized Allez C2 they have reverted to the aluminium fork, this is a shame, but part of the philosophy of keeping the bike cheap at £500. However, Specialized offer quite a few variations of this model. Variations which have slightly better equipment
Specialized Allez C2 Sport – £650
Comes with Carbon Fork and Shimano Sora
Specialized Allez C2 Elite – £800
Aluminimum frame, carbon fork
Shimano Tiagra groupset
The Specialized Allez Comp comes with Shimano 105.
Specialized Allez models at Evans Cycles
Specialized Allez Specifications 2014
FRAME – Specialized E5 Premium Aluminum, fully manipulated tubing w/ smooth welds, 1-1/8″ lower bearing
FORK – Specialized A1 Premium Aluminum
HEADSET – 1-1/8″ integrated sealed Cr-Mo cartridge bearings, 20mm alloy cone spacer, w/ 20mm of spacers
STEM – Specialized 3D forged alloy, 4-bolt, 6-degree rise
HANDLEBARS – Specialized, shallow drop, alloy, 125mm drop, 70mm short-reach
BRAKE – Tektro, caliper, dual pivot, cartridge pads
FRONT / REAR DERAILLEUR – Shimano Claris 2400
SHIFT LEVERS – Shimano Claris 2400 STI
CASSETTE – Sunrace, 8-speed, 11-32
CHAIN – KMC Z51, 8-speed
CRANKSET – Shimano Claris, 50/34
BOTTOM BRACKET – Shimano, Octalink spline
PEDALS – Nylon flat test ride, loose-ball, w/ reflectors
WHEELS – AXIS Classic
TYRES  – Specialized Espoir Sport, 60TPI, wire bead, double BlackBelt protection, 700x25c
SADDLE – Body Geometry Toupé Sport, hollow Cr-Mo rails, 143mm
SEATPOST – Specialized Sport, alloy, 2-bolt, 27.2mm
SEAT BINDER – Alloy, 31.8mm
weight: 10.4Kg
Related