Saddle sore is a common affliction for cyclists, especially when you spend increasing amounts of time in the saddle. To some extent they are inevitable and can't be avoided. But, it is worth trying to minimise their frequency and severity as much as possible, because they can become a real pain.
Many non cycling friends say that saddle sore is the biggest reason why they stopped cycling. It seems a real shame because they could probably make a big difference if they tried a few things. Some of the biggest names in pro-cycling have been afflicted with saddle sores – from Eddy Merckx (couldn't start 1976 tour) to Joop  Zoetemelk pulling down his shorts to show journalists a boil 'the size of an egg' on his inner thigh, to explain why he wasn't able to challenge the winner of the 1976 Tour, Lucien Van Impe (Guardian link).  Greg Le Mond abandoned the 1992 Tour de France on the l'Alpe d'Huez stage blaming unending torture from saddle sores. Fortunately, there is no need to despair as we can reduce the frequency and severity of sores.
Saddle sore typically has 3 stages:
Mild skin abrasion / chaffing
Red acne lumps, like acne (folliculitis)
Abscess
The third stage requires medical treatment, and not just self-medication.
Prevention of Saddle Sore
Prevention of saddle sore is the most important thing we can do.
Increase distance gradually. Firstly, if you are new to cycling, there is an element of getting used to cycling. If your posterior is sensitive at first, it will get less so, the more you cycle. If you start off with very long rides, you are not accustomed to – saddle sore is much more likely. I think I get less saddle sores than I did when I first started cycling. There is another reason. As your legs get stronger, they are able to take a bit more weight and less for your butt.
Stable position. Related to the first point, saddle sore is more likely if you are rocking around your saddle. If you have a stronger core and can keep a strong position on the bike, it will help reduce irritation.
Buy the best shorts you can afford. Always use a good non – seamed cycling short (just in case you were afraid to ask – you definitely don't want to wear underwear underneath cycling shorts!) A good quality chamois or synthetic chamois leather is important. From personal experience, I found some cycling shorts to be much better padded than others. The worse were some custom Impsport shorts, which were truly dreadful. In between were some Dhb Aeron Pro (£69.99) The best are unfortunately the most expensive. I strongly recommend the Assos F1 mile padded cycle shorts – I've found it really effective in giving the best comfort for long cycle rides. If you do regularly ride over 3 hours, it will be money well spent. There may be other shorts not as expensive which are still good. But, obviously I haven't  been able to test all varieties. 'Reassuringly expensive' is perhaps an apt description of Assos shorts.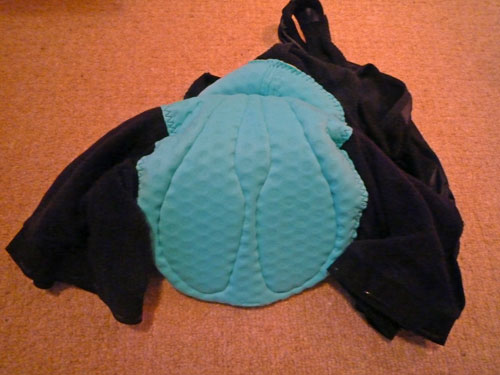 Use a good chamois cream. This can help reduce chaffing on the side of the saddle. My current Adamo saddle is a bit wide, so I've got into the habit of always putting chamois cream directly onto the skin, in the area where chaffing is likely to occur. (e.g. Assos Chamois Cream or other, such as Udderly Smooth which is a bit cheaper. As a last resort a bit of vaseline will reduce friction)
Move around. During a ride, take time to alter your position; give yourself time out of the saddle to relieve the pressure. Some kind of hilly rides will get you out of the saddle without having to think about it. But, other flatter rides, you may need to make sure you do relieve stress, every now and then. Note, you need to do this before your butt starts to feel numb or hurt. This is particularly important in time trials or when you are on the turbo because you're more likely to get stuck in the same position.
Make sure your position is correct. Awkward positions could lead to too much pressure being put on the saddle. The weight should be evenly spread over the bike. If your seat is too high, your hips wiggle around more.
Don't drive home in your sweaty shorts. Get clean and dry and soon as possible. It is essential to always wear clean shorts for every ride. I also find a bit of talcum powder with Daktarin (anti-fungal) added to be excellent for preventing any fungal problems. If it might be difficult to get a shower straight after a race, buy some antiseptic wipes to apply to groin area.
At night wear loose fitting pyjamas to reduce contact and allow air to circulate into the nether regions
Methods for dealing with existing saddle sore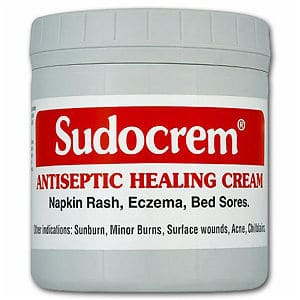 Check for first signs of abrasion, and keep wound clean and disinfected.
Apply Sudocrem (12% Zinc Oxide). This is designed for sores and abrasions, and works quite well. I tend to put on sudocrem as a matter of habit after a ride now.  (Sudocrem at Amazon)
Corn pads may provide cushioning and prevent you putting all your weight on a sore. I have never tested the practicality of these when cycling, but it might be worth ago. Corn pads
Some saddles are more comfortable than others. A traditional rolls leather saddle will give a comfortable ride if you get used to it. Therefore, if your current saddle is unpleasant then it is worth trying a saddle more comfortable. This may reduce chance of saddle sores developing.
Be wary of wide saddles. Some people assume that wide saddles will be more comfortable; but, if it is too wide it can chaff the thighs and make cycling uncomfortable.
Rest. Rest may be necessary for very bad saddle sores.
Homeopathic creams for saddle sores
If you want to try an alternative type of cream, you could try:
Tea tree oil acne pads
Witch hazel astringent, Aloe Vera extract
Riding Through Saddle Sores
Sometimes I've just ridden through saddle sores. It tends to be painful to start with, but, after a while it bursts excreting some pus and it was fine to ride. I guess the important thing is to make sure you apply anti-bacterial cream and keep the wound clean. But, I make no claim that this is always the best strategy.
Wear double cycling shorts. A friend Andy Sherwood was doing a 24 hour time trial. After 12 hours he was suffering from saddle sore, so he put on a second pair of cycling shorts – the extra protection made a big difference and he was able to complete the distance. Tour riders will use all kinds of padding to minimise pain from saddle sores.
You hear of pro cyclists cutting pieces out of their saddle to accommodate saddle sores, I've never tried this. But, you have to admire their determination.
Often you can ride through saddle sores, but if the abscess deepens or starts to smell infected, it is definitely advisable to seek medical attention.
Best Saddles for Saddle Sore
Adamo – I bought an Adam to reduce discomfort when doing time trials. It definitely avoid the 'numb nuts' situation. Since using the Adamo, I have had few red lumps. Though I'm not sure whether this is the saddle or a result of using the Assos shorts more. One thing about Adamo is that it has caused some mild abrasions / chaffing. The version I have is a bit wider around the nose of the saddle. Note, Adamo produce many different saddles with different widths, so you may have to experiment.
Quite a few saddles, such as this Selle Italia Flite Gel have a cut out in the centre of the saddle. This reduces pressure in the centre of the saddle, and keeps weight on part of the hips. I have ridden a Selle Italia gel on my old road bike it is probably better than my current Bontrager saddle for avoiding saddle sore.
This Bio Flex Ozone saddle has good reviews for comfortable long distance riding. I can only say it looks comfortable.
The Brooks B17 saddle  – an excellent saddle which rewards 'riding in'. Takes time to get used to it. Once accustomed a comfortable saddle, which may help minimise saddle sores
Old school treatments for saddle sore
I doubt this of much practical help, but some old school treatment for saddle sores include
Putting a piece of raw steak down the shorts. I'm reliably told this was a method in vogue during the 1930s.
Ice baths. Tom Simpson, used to swear by taking ice baths (and a cocaine lotion to deaden the nerves.
Cortiscoid creams. Cortiscoid creams can be used to treat severe saddle sores. Lance Armstrong failed a drug test for Cortiscoids during his first Tour de France win in 1999. At the time he successfully claimed it was for treating a saddle sore. The rest is history.
Sometime better than Sudocrem?
At a recent race (Circuit of Ingleborough) I overheard a conversation, where someone was talking about a cream that was much better than Sudocrem. I thought I'd better write that down or I'll forget. Well, I didn't write it down and I did forget. So if you know a cream much better than Sudocrem do let us know. (I found it it was Conotrane antiseptic cream.)
 Related