You have to be careful writing a cycling blog. A couple of weeks ago I was boasting about how – in 20 years of cycling – I have never had to get off the bike and walk up a steep hill. But, the curious hand of fate has meant that just a couple of weeks later, out of the blue, I'm forced to dismount on a climb I've never even heard of.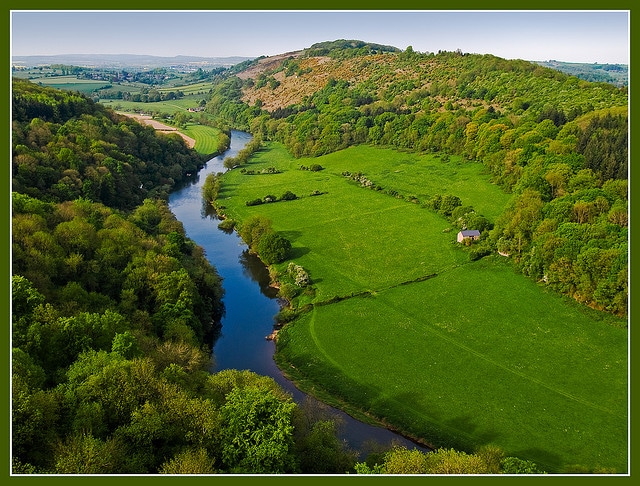 The day before, I had a good ride up the Tumble and the nearby Symonds Yat. The next day, I was riding around the Forest of Dean. I didn't have a map, so just followed my nose going whichever way I felt like going. The first climb of the day started off fairly innocuously – there was no gradient sign or anything to warn you of a difficult hill coming up. When I got round the first corner it was very steep and it took a big effort to get up. In the middle there was a little recovery, but I was turning a really low cadence even on this flattish section.
There was still no gradient sign, though rather ominously I saw a sign – 'Drivers IGNORE YOUR SATNAV' This was rather cryptic, which should have given a greater sense of foreboding. As I went around the corner, the road veered sharply upward. Like a good hill climber, I got on the hoods and started climbing as best I could. But, it soon became apparent I wasn't going to make it. I was heaving the winter bike up the hill, but my speed was getting slower and slower; the cadence was at a point where I was worried whether I was going to be able to turn the pedals over. If I really wanted, I could have kept trying a little more, but I really didn't have the stomach for it. I got off and walked up the last bit of the hill.
Like any good cyclist I had plenty of good excuses for getting off and walking. Not least, having a lowest gear of 39*23 which is far too high for winter training on steep hills. I didn't really know what I'd let myself in for cycling blind around the Forest of Dean lanes. But, even if knew what was coming it wouldn't have made any difference.
Perhaps sub-consciously I wanted to have the experience of having to get off and walk up a hill. Maybe, but I won't be doing it again in a rush. Getting off and walking up steep hills in cleated shoes is no fun. It is really slow and hard work. Yes, I know pro-cyclists often have to get off an walk up the Muur in the Tour of Flanders, but if God had designed man for walking up hills, he wouldn't have invented the bicycle and compact chainsets.
The hill is called Eddy's Lane, Lower Lydbrook in the Forest of Dean. It climbs 621ft / 190m in 1.3 miles at an average gradient of 9%, with a couple of sections of 20%. + According to Strava it has been climbed a massive 15 times by 12 people in five years. So obviously the locals know something I didn't.
Cycling in the Forest of Dean is great fun, if you're looking for climbs. I did 1,000m of climbing in 23 miles – so much for a recovery ride after 80 miles to the Tumble and back. But, after the Eddy's Lane fiasco I made sure I didn't end up any more really steep hills.
Tomorrow is Banbury Star hilly time trial up Sun-rising hill. I believe a great cycling champion once had to walk up Sunrising hill after trying to do the event on a fixed gear bike. I will have to make sure my 39 chain ring is working. I don't want to have to walk up a hill with people watching!
Related