This year we have the privilege of seeing a full stage in the Tour de France from start to finish – five hours of men pedalling bicycles. It can work both ways – on 'hilly stages' the start of a stage can be quite exciting as breaks form, break-up and new riders try to go across. On flat sprint stages, it's mostly a long procession of castles and vineyards – if you're lucky. The decision to go
The decision to go into the break on a 'Marcel Kittel sprint stage' seems to be about a few reluctant riders pulling the short-straw over breakfast. The main entertainment is seeing the faces of the odd rider who shoots off the front and despairingly looks behind to see if anyone else will come and share the workload for the inevitable doomed 190km breakaway. The Tour de France is the pinnacle of the sport, but there is no cycle race in the world where there is so little interest in going in a breakaway.
A few hills and the complexion of the race changes. The problem is the main competitors have had so many serious crashes, the Tour de France always seems to a race of staying upright as much as a standard race of speed. At this rate of attrition, we could lose even more big names. Hopefully, the main interest in the second half of the race will be meaningful attacks of people going up the road, rather than another name added to the list of abandons.
***
Last June, I cycled over 2,000km. This June maybe a few hundred. There hasn't been too much to write about as a result.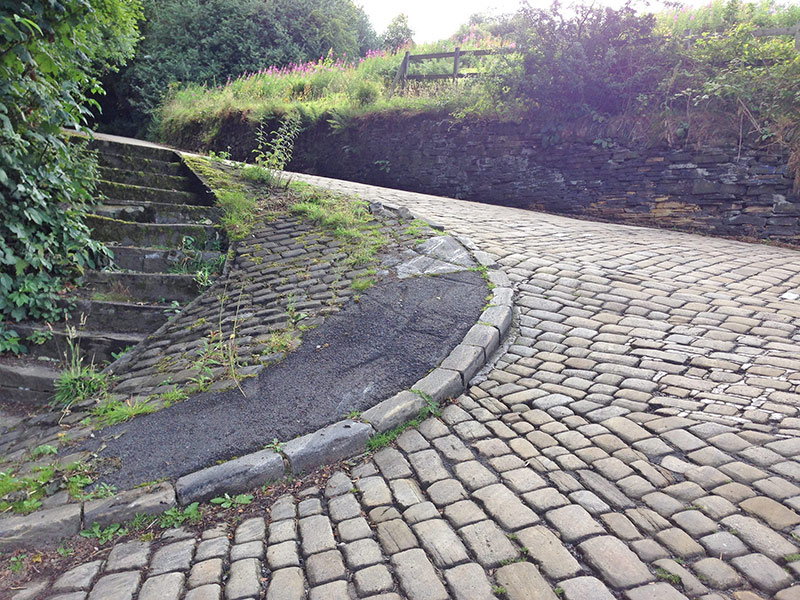 When I do go out, I try to do a few hill intervals. It can take a few days to get over the various aches in hip e.t.c. But I'd rather make a few big efforts rather than just plod around. Yesterday I went towards Halifax, a mecca for short steep hills. The main attraction was Shibden Wall – used in this year's Tour of Yorkshire. I'm not sure why I chose the hill, I don't really enjoy cobbled climbs, they are much harder to get the power out. But, then there's always that other part of you which likes the challenge!
Still, it was nice to do a hilly 47 miles before seeing the inevitable sprint procession on Eurosport. On the positive side, it's good flat stages are so boring, it stops you spending all day watching the telly.