This week I have been ill (again) so took advantage of the ability to watch some stages of the Tour de France on TV, from start to finish. I'm not sure whether it is actually a good thing to have the whole stage on TV, there are only so many French chateaux you want to see per day. Even the most ardent cycling fan can get bored of a few hours with the peloton plodding away.
At least this week, there were none of the completely flat 200km stages. Some individual stages were quite interesting and, even if the GC battle didn't completely fire on all cylinders, at least the small time gaps were sufficient to give hope.
Overall, I thought it was a good race. Compared to watching the tour 15 years ago, I like the cyclists involved. I haven't followed the recent furore of TUEs too closely, but it seems the peloton is very different to the bad old days of 'he must not be named.'
I like seeing French riders do well, and it was a good tour for the French, who have the most exciting crop of new cyclists. This year Froome showed fewer signs of invulnerability, and a future French winner in a few years looks a real possibility. Whether it is Bardet, Barguil, Lilian Calmejane or Pierre Latour – they have a lot to choose from.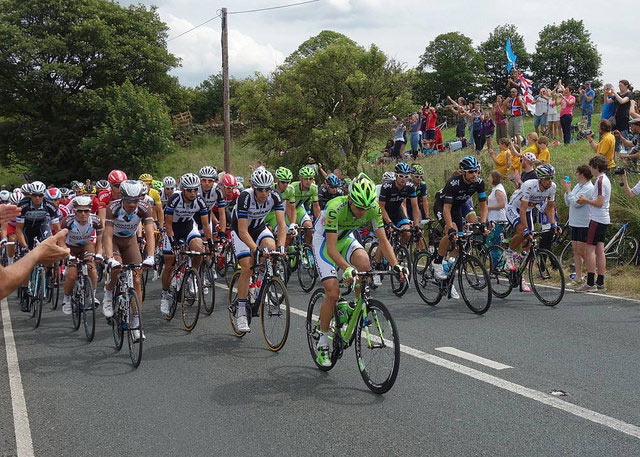 L'Equippe evaluated that if you only included the mountain stages, Froome would have finished 3rd. With the winner being Uran or Bardet (can't remember which). In the last time trial, Bardet did look completely out of place fighting his time trial bike up the steep hill; from my armchair, he looked more like a club rider doing the Buxton Mountain Time Trial – than a Grand Tour winner. Chris Froome went up the climb like he was completely in control. After the stage, Steve Cummings admitted he thought his team had got their gearing wrong and were over-geared making the climb too difficult. It seems such an elementary mistake of getting the wrong gearing is something that every team is capable of – every team – except Sky of course. Whatever you think of them, they always seem to be the best prepared. Though it does help when you have the talent to go with logistics. You could have had a pretty good Tour de France GC battle, just between members of Sky – Geraint Thomas, Mikel Landa, Michael Kwiatkowski all seem to have the capacity to win a Grand Tour.
In the end, Bardet's dire time trial (dire in relative terms, of course) was just enough to keep the podium place by one second. If Sky's Landa had pushed the Frenchman off the podium at the last minute, the atmosphere might have soured even more.
Not that it seemed to bother Froome. In responding to the challenges of a Brit riding in France, Froome frequently shows a degree of emotional intelligence and maturity which is rare in top sportsman. Another sportsman may have been peeved, but to his credit, Froome laughed it off as inconsequential. It is an attitude which gains the admiration of many – maybe even the French on the quiet. To put in perspective, Merckx and Anquetil (a Frenchman) both were booed – their crime to be the dominant rider of their generation.
I think Bardet should come over to the UK for a few months and learn how to ride time trials. A few times up and down the V718, getting beaten by 45-year old amateurs and he might learn to keep his head in the right place.
The other interesting thing is whether the organisers of the Tour de France would dare to remove all flat time trials and make it a tour for the French climbers?
Tour de France 2018
Looking forward to 2018, there is a bewildering range of possible challengers to Froome.
Tom Dumoulin (Giro winner and top TT)
Richie Porte (shame he crashed this year)
Nairo Quintana (who presumably will not do another four Grand Tours in succession.
Romain Bardet (if he can get better at TT's)
Rigoberto Uran (who crept up anonymously into second place, refinding the form of a few years ago
Warren Barguil. Whose ability to climb away from GC riders on the last stage was quite impressive.
Fabio Aru. (yellow jersey wearer who might need to practise riding in Chris Froome's wheels a little)
Mikel Landa (as long he doesn't stay at Sky)
Dan Martin (maybe doesn't quite have the legs, but he deserves to be up there for his attacking attitude.
Then there is the next generation of riders, who may or may not be able to make the next leap forward. From this list, you could pick from many of the Yates brothers, Pierre La Tour, or Louis Meintjes
There are even possibility of riders who won't be able to challenge because they are super-domestiques, a la Geraint Thomas and Kwiatkowski.