After two years with a Garmin 500, I upgraded to a Garmin 510 – is it any better? Is it worth the extra money?
The main selling point of the Garmin 510 over the Garmin 500 are that:
You can upload to the web wirelessly via a bluetooth 2.1 phone connection. After my Garmin 500 had problems connecting to the computer via USB cable, this seemed attractive.
With phone pairing, you can have live tracking – so people can watch you on a computer screen (in the old days, people used to go and watch people do time trials).
The Garmin 510 has a better battery life – up to 20 hours compared to 18 hours for a Garmin 500. To me the Garmin 510 lasts significantly longer than 500.
Bigger screen, more functions and updated quality.
Garmin 500 (released 2009). Garmin 510 (released 2013)
I didn't want to pay the money RRP £249, but I didn't really want to buy another Garmin 500 because I was annoyed it stopped working. Here is how I've been getting on.
Comparison of size and weight Garmin 500 vs Garmin 510
Garmin 500 weight 80g –  85 x 52 x 24mm
Garmin 510 weight 58g – 69 x 48 x 22mm
As a self-confessed weight-weenie and aero-weenie. This is a bad start. The Garmin 500 is generally well proportioned for a bike computer. The Garmin 510 starts to feel a bit like a brick. It's not that far off the Garmin 800.
22g of weight doesn't really matter (don't quote me on that in the hill climb season). But, I worry that the extra depth is going to cost seconds on the time trial bike. I don't like the bulky size of the Garmin 510.

510 bigger screen than Garmin 500.
(BTW: Every time I turn the Garmin 510 on, I get that error message software missing. I have to turn it off and turn it back on again. Then it works. I have downloaded all software from Garmin, so not sure what is going on then. )
Wireless uploads
Wireless uploads are a great idea. The problem is with the 510, you need to use a bluetooth connection in your phone. And upload via the Garmin connect App. (The Garmin Connect App has many negative reviews on Apple, scoring less than 50%) It doesn't take long to pair your Garmin to your phone. But, it's still an extra step and many report inconsistent ability to upload.
Also I just switched my phone contract from £40 a month unlimited downloads to £10 a month with limited data transfer and pay as you go. This makes me reluctant to start paying for data. I feel here, Garmin missed a trick. They should have produced a unit that could upload directly to the web / Strava e.t.c without using a phone. The technology is there, but I believe they didn't want to do it because of GPS upload protocols in countries like Brazil or something like that. They have left a gap in the market for someone to come in a provide cycle GPS units which go direct to your computer and small!
As it happens, I've been mainly using the usb wire to upload data so far – it seems simpler. I haven't got around to using the wireless bluetooth connection, which is ironic as this is supposed to be the main advantage of the Garmin 510.
Live Tracking
With a Garmin 510, you can have Live tracking so people can watch you going up and down the A40 on their computer. I have no interest in this feature. The only possible scenario when you might want to offer live tracking would be if you were doing a Lands End to John 'O Groats record attempt. But, if you're doing a 72 hour record attempt, you probably don't want your mobile phone battery to be drained after five hours, so wouldn't want to use it.
Switching between screens
The Garmin 510 has only three buttons – on/off. Lap button and start stop. The Garmin 510 also uses screen touch to move between screens.
In theory, it is easy to slide between your different screens by swiping across the screen. But, with big gloves (or even without) it doesn't always work properly and you have to hit some more buttons with your fat fingers.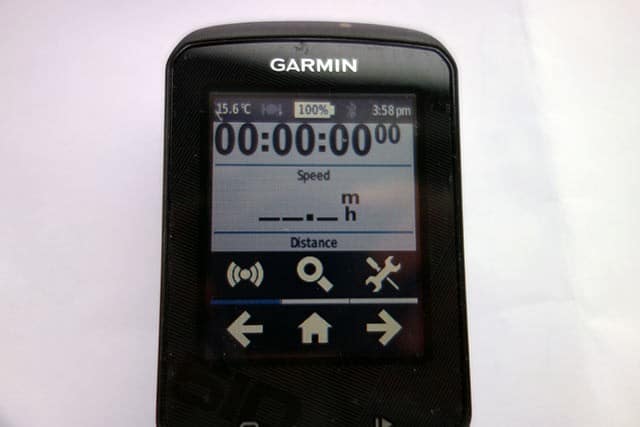 In a way I prefer the simplicity of Garmin 500 buttons which are more reassuring than the Garmin 510 touch screen.
Another thing to remember, is that if you are used to an Apple super-quick touch screen – the garmin has perhaps a second delay. This means you keep thinking your button press didn't work – but, you just have to wait a fraction longer. On the plus side it does work with gloves. Fortunately, the lap button and start/stop is still a good old fashioned button to press.
Touch screen – I could take it or leave it. It's not a big deal.
You can lock the touch screen, by pressing off button for a short time, and choosing the lock button.
Screen
The screen is bigger on the Garmin 510, but there is still a lot of wasted space – the border padding around the screen. It means although very chunky, the screen is not as good as it might be. With 10 items chosen you can have difficulty finding and seeing them. But, it is bigger than the 500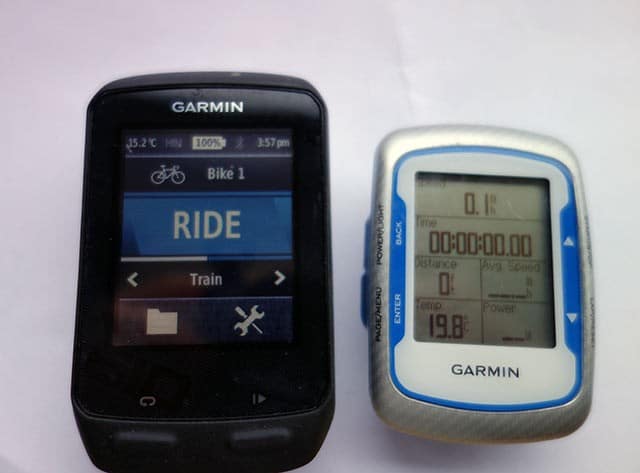 Other features I've not got around to using with my Garmin 510
Weight scale integration functionality – the Garmin can take your weight from an ANT scale
Route mapping. You can save favourite routes, these routes are then sent to your Garmin 510. Routes can also be downloaded from phone.
Live weather updates from your phone.
Good features about Garmin 510
You can have up to 10 stats on one page compared to max of 8 for Garmin 500
You can set different screens for racing / training to have different preferences.
You can choose different metrics for different factors, e.g. distance, elevation, temperature, weight. So you can have a mix of British miles and European metres for height gain.
You can define settings for up to 10 bikes, which is a big advantage over 500. For example, you can set up a Time Trial bike and have screens for power output e.t.c. But, when using winter training bike, I can leave out power screens. It also enables you to see mileage for different bikes, which is useful for changing chains.
Battery display is easy to find, unlike the Garmin 510
It uses the same mounts as Garmin 500.
The battery life is very good on the Garmin 510. I haven't tested to 20 hours, but it goes down much more slowly, and if not quite 20 hours, it will do most epic rides – I found Garmin 500 to be much less than the estimated 18 hours.
Like the Garmin 500, the 510 works fine with power meter (Quark) and HR (Garmin Mount)
510 uses a better satellite network than general GPS used on the 500.
The Edge 510 has about 9.5 MB of free space on it for workouts so you can ride for 95 hours without having to upload.
Not so good features
I find the screen on the Garmin 510 quite dark. The Garmin 500 is brighter.
It's a lot more expensive!
Overall
Part of the problems is that all I really wanted was is a Garmin 500 which works properly. The Garmin 510 is definitely a good piece of kit. When reviewing it's often easiest to pick up faults. The Garmin 510 isquicker to pick up GPS (and so far more accurate than my 500). This is a bonus. But:
I dislike the bigger size (though admit improved batter life is a big benefit)
I don't really value wireless uploads via Bluetooth as essential. Though at least it won't become useless if it stops working like the Garmin 500.
I won't use live tracking.
The Garmin 510 has a few nice features, but it is worth thinking more carefully, if you will really use them. I don't think the Garmin 510 is worth the extra money over a 500. Especially now that you can pick up a Garmin 500 for nearly half the cost.
But, I don't like being overwhelmed with options, and don't value some of the features of a Garmin 510 – which other users might.
If you're going for a really chunky screen and device, you might as well get a Garmin 800 with maps.
Related
Related reviews
External links