I've had the Garmin 500 for two and a half years. It has many good features and represents a huge step up in terms of cycle computer technology and possibilities. The ubiquity of the Garmin 500 within the cycling community is generally well deserved. However, it is not without its faults, which I will come to later.
This includes parts of the initial review from 2012, but more of the faults which have become apparent in using it.
Firstly, the Yorkshireman in me was always been reluctant to contemplate spending £170 on a glorified speedometer. But, when I took the plunge, I kind of regretted not buying it a few years ago, when it first came out.
The Garmin 500 is expensive, but it has made all my other speedometers redundant. The irony is over the years, I've bought so many speedometers that I've probably spent over £100 on them (I found old speedometers quite unreliable). The main thing about the Garmin is that it gives you a wealth of data, that can be easily downloaded to your computer. Data that previously had never been accessible.
The Garmin itself is very stylish and fits nicely onto my handlebar stem. Everything about it is easy to use. It clips on and off very easily and can be switched between bikes.

It is very easy to set up (unlike most cycle computers I had). For example, it was always difficult to set the time on my old cycle computers. The clocks were always very  unreliable and 'nearly impossible to change. When doing a race, I was always subtracting around 40 minutes to know my start time. GPS time is very accurate – and you never need to reset it. It does it automatically.
Other things I really like about the Garmin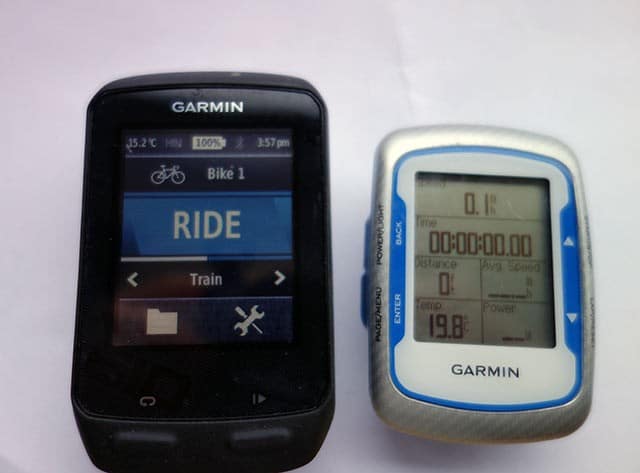 You can customise what shows up on the three display screens.
It looks really good. It's not too big and flashy, but a nice addition to your bike.
You can set auto lap functions, e.g. every 10 miles you get a note saying how long it took. This is useful for pacing in a 50 mile time trial
You only need one computer for several bikes, just buy a few more handlebar mounts.
It's great being able to see the gradient that you are climbing and the altitude that you are at.
Intelligent auto-start.
Functions
GPS tracking of speed, distance
Plus the usual elapsed time, time of day and average speed.
Climbing and and descent data, Altitude, gradient, changes in elevation Edge 500′s barometric altimeter pinpoints changes in elevation.
Temperature – though I find this pretty inaccurate.
Product Dimensions: 6.9 x 2.2 x 4.8 cm ; 59 g
Optional Functions
Power meters. All Edge 500 versions work with third-party ANT+-enabled power meters to display your power output in watts as you ride. I found it quite easy to use with Quark Power Meter (at least when Quark was working
Heart Rate – some models come with additional heart rate and cadence functions. I bought a Garmin heart rate strap, when I was measuring HR last year.
Cadence
Compared to iPhone
I used GPS tracking on iPhone for a while. I was pretty impressed at this feature, but:
You can't look at it during ride (I never bought iPhone mount)
GPS on iPhone was more likely to be unreliable at critical times.
The Garmin 500 is lighter and more dignified than stuffing an iPhone down your skin suit where it usually ends up in your nether regions.
The battery lasts up to 12 hours on a Garmin. When you switch GPS on an iPhone it can wear down battery very quickly.
Compared to Speedometers like Cateye Strada
You can have several functions on the same screen.
There are 3 screens to scroll through – giving a seemingly infinite range of indicators to choose from.
Easier to set up
No battery can be recharged from USB.
Compared to Garmin Edge 800
The Garmin Edge is a touch screen version with GPS mapping. It is particularly useful for offering all kinds of trails and off-road maps. It can be used with gloves. It's RRP is £399. The kind of price, which could buy you a new bike. You would really need to use the GPS mapping service frequently to make this worthwhile.
Problems of Garmin 500
There are problems with my Garmin 500.
1. Problems connecting to computer. You stick your Garmin 500 into a usb hole and the garmin doesn't show up. You're impatient to upload your data, at the end of a ride, and you end up messing around with a temperamental piece of equipment. I tried everything I could read on internet (including squirting WD-40) about this problem. It bugged me quite a lot, so I contacted Garmin Support. They were quite helpful and gave a way to force the Garmin to mount on the computer. The steps are:
Ensure the device is off and no cables are connected to it.
Press and hold the POWER button.
Connect the device to the computer at the same time as holding the POWER button.
However, recently, the Garmin 500 failed to connect to computer, even using this. After trying for a few days, I gave up and bought a new Garmin 510. Of course, as soon as I bought the Garmin 510, the Garmin 500 started working again (in its own temperamental fashion).
2. Takes a long time to pick up GPS signal. It can take a long time to pick up GPS signal and start (compared to new Garmin 510). To me, this is not a big problem though.
3. GPS is inaccurate. Comparing my times in official hill climbs to GPS segments, the Garmin 500 was always 2-4 seconds slower than it should have been. Often it didn't pick up segments because it takes time to get going. This is a bit irritating.
4. Often you would turn your Garmin on, and it would be the dreaded 2% battery level left. This isn't really a fault of Garmin – it's my fault for not turning it off properly. But you would have thought they could have had an auto-power off when not in use – rather than needlessly draining the battery. Also, it was very hard to check battery level, without turning it off and turning it back on.
Overall
When I first reviewed this in 2012, I wrote:
I am happy with purchase, despite wallet being £170 lighter. It's not every year I will spend this kind of money on a speedo, but hopefully, this will last several years.
Alas, it has dissappointed. Over time, I've become more dissappointed – despite the overall excellence. I ended up upgrading to the Garmin 510 because
It was unreliable in GPS signal.
It was a real pain in connecting to computer.
If these two things had been fixed and not a problem, I would have given the Garmin 500 a glowing review. But, I feel when you pay this kind of money, you should have better quality. So I'd give it 7/10 – which is very generous given I have more or less had to give up on it after 2 years.
Note, it's come down in price a lot since I bought it
I will review the Garmin 510 soon
Related