Today was the Redhill CC 'Sporting' 18 mile TT around Dorking, Forest Green and the Surrey Hills.  (Redhill CC, 18 mile TT) This year is the 70th Anniversary of the Redhill CC.
Robin Johnson of Brighton Mitre CC
The start area.
I've done it once before in 2012 – 42.24 – 2nd.
This year I finished 4th in 42.54. It's always good to get the first race out of the way. I have been quite comfortable getting the miles in. I've done a few hill efforts, but nothing like a long TT. I started quite conservatively, and probably finished a little stronger than I started. There are some fast downhills, and a few long drags. There is the odd section of 12% climb at the start, but it is not a real hilly TT.
I was quite relaxed about the whole thing. Afterwards, I rushed off to Whitedown Lane to do another 100 Climbs. The new TT bike was fine, though there is no super free speed with it.
1st was Chris Macnamara 42.17 ish
1st lady was Alice Lethbridge
It was quite tight at the top with just 40 seconds behind winner. It's unlike me but I can't think of anything else to write at moment. Time for a lie down and nice cup of tea.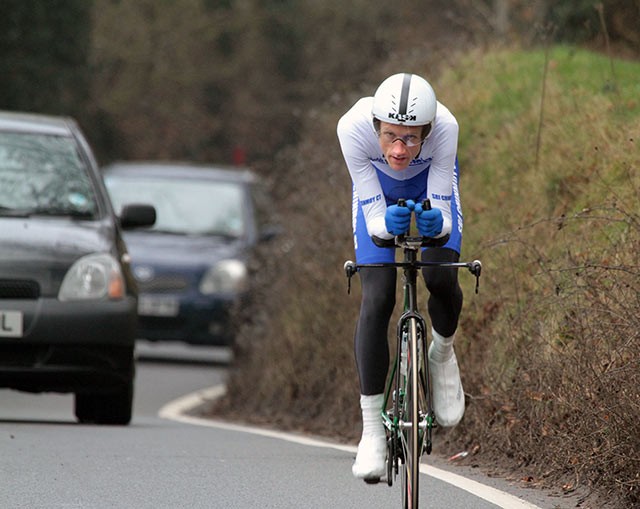 Finish Order 2014

| | | | | | | |
| --- | --- | --- | --- | --- | --- | --- |
| Pos | No | Rider | Club | Cat | Time | Notes |
| 1 | 70 | Chris Mcnamara | Pedal Heaven | S | 00:42:16 | |
| 2 | 60 | Rob Sharland | Paceline RT | S | 00:42:36 | |
| 3 | 85 | John Dewey | Dorking CC | S | 00:42:44 | |
| 4 | 80 | Tejvan Pettinger | Sri Chinmoy Cycling Team | S | 00:42:52 | |
| 5 | 25 | Jamie Pine | Pedal Heaven | S | 00:43:07 | |
| 6 | 50 | Liam Maybank | Twickenham CC | V | 00:43:12 | 1st on Vets Std |
| 7 | 30 | Keith Lea | Paceline RT | V | 00:43:36 | 2nd on Vets Std |
| 8 | 40 | Conall Yates | In-Gear Quickvit Trainsharp RT | S | 00:43:45 | |
| 9 | 100 | Wouter Sybrandy | Nuun-Sigma Sport-London RT | S | 00:43:47 | |
| 10 | 90 | Peter Tadros | In-Gear Quickvit Trainsharp RT | V | 00:44:13 | 3rd on Vets Std |
| 11 | 10 | Daniel Mccarthy | VC Meudon | S | 00:45:18 | |
| 12 | 65 | Charl Jordaan | Redhill CC | S | 00:45:42 | |
| 13 | 5 | James Wright | Charlotteville Cycling Club | V | 00:45:54 | |
| 14 | 22 | Craig Mclean | Nuun-Sigma Sport-London RT | V | 00:46:16 | |
| 15 | 26 | Dominic Clegg | Paceline RT | S | 00:46:25 | 1st Road |
| 16 | 49 | Pat Wright | Paceline RT | S | 00:46:34 | 2nd Road |
| 17 | 91 | Phil Ember | Paceline RT | V | 00:46:36 | |
| 18 | 76 | Christian Yates | East Grinstead CC | V | 00:46:46 | |
| 19 | 83 | Dan Cole | i-team Cyclists Club | V | 00:46:49 | |
| 20 | 3 | Simon Berogna | Velo Club St Raphael | V | 00:46:52 | |
| 21 | 32 | Ben Elliott | Paceline RT | S | 00:46:55 | * |
| 22 | 45 | Chris Herbert | Redhill CC | S | 00:47:07 | 3rd = Road |
| 22 | 55 | Gareth Thomas | Paceline RT | S | 00:47:07 | 3rd = Road |
| 24 | 19 | Jon Hughes | Velo Club Godalming & Haslemere | S | 00:47:46 | |
| 25 | 33 | Sam Humpheson | Look Mum No Hands! | S | 00:48:06 | |
| 26 | 56 | James Griffin | Kingston Wheelers CC | S | 00:48:20 | |
| 27 | 93 | Cameron Fraser | Nuun-Sigma Sport-London RT | S | 00:48:24 | |
| 28 | 21 | Adrian Blacker | Norwood Paragon CC | V | 00:48:25 | |
| 29 | 36 | Adam Bidwell | Kingston Wheelers CC | S | 00:48:27 | |
| 30 | 53 | David Emery | Dulwich Paragon CC | V | 00:48:28 | Road |
| 31 | 82 | Matt Peel | Redhill CC | S | 00:48:33 | Road |
| 32 | 71 | Damian Poulter | Hounslow & District Whs | V | 00:48:46 | |
| 33 | 95 | Les Liddiard | Team Jewson – MI Racing | V | 00:48:57 | |
| 34 | 6 | Edward Francis | Paceline RT | V | 00:49:10 | Road |
| 34 | 98 | Paul Hone | Addiscombe CC | V | 00:49:10 | Road |
| 36 | 59 | Ben Hopwood | Charlotteville Cycling Club | S | 00:49:13 | Road |
| 37 | 66 | Graham Giggs | Bath Road Club | S | 00:49:26 | |
| 38 | 39 | Michael Deen | Redmon CC | V | 00:49:33 | |
| 39 | 35 | Rob Pelham | Lewes Wanderers CC | S | 00:49:36 | Road |
| 40 | 41 | Andy Lack | Paceline RT | V | 00:49:43 | Road |
| 41 | 23 | Mark Van Niekerk | Dorking CC | V | 00:49:56 | |
| 42 | 2 | Brian Hennessey | Redhill CC | v | 00:50:12 | |
| 43 | 62 | Jonathan Pontin | Addiscombe CC | S | 00:50:35 | Road |
| 44 | 86 | David Churchill | Bigfoot CC | V | 00:50:40 | |
| 45 | 84 | Gregory Hunt | RT 316 | V | 00:50:41 | |
| 46 | 15 | Alice Lethbridge | gbcycles.co.uk | WS | 00:50:48 | 1st Woman |
| 47 | 4 | Dominic Lowe | Addiscombe CC | V | 00:51:00 | |
| 48 | 20 | Maryka Sennema | Kingston Wheelers CC | WV | 00:51:01 | 2nd W + 1st Rd |
| 48 | 11 | Suzetta Guerrini | London Dynamo | WV | 00:51:11 | 3rd Woman |
| 50 | 17 | Amy Forshaw | Trainsharp Racing Team | WS | 00:51:17 | |
| 51 | 7 | Chris Halls | Nuun-Sigma Sport-London RT | S | 00:51:21 | Road |
| 52 | 51 | Dave Warne | Old Portlians CC | V | 00:51:26 | |
| 53 | 24 | Henry Hunter | Redhill CC | V | 00:51:28 | Road |
| 54 | 64 | Cameron Stronge | Kingston Wheelers CC | Jun | 00:51:36 | Road |
| 55 | 28 | Michael Gates | Kingston Wheelers CC | S | 00:51:37 | Road |
| 56 | 44 | Daniel Pink | Bigfoot CC | S | 00:51:45 | Road |
| 57 | 57 | Geoff Smith | Eastbourne Rovers CC | V | 00:51:47 | Road |
| 58 | 8 | Sean McAuliffe | Redhill CC | V | 00:51:53 | Road |
| 59 | 13 | Sophie Household | Velo Club St Raphael | WS | 00:52:02 | |
| 60 | 72 | Jon Fry | Horsham Cycling | V | 00:52:06 | |
| 61 | 99 | Thomas Hampshire | Paceline RT | S | 00:52:14 | Road |
| 62 | 46 | Ian Bashford | Old Portlians CC | V | 00:52:27 | |
| 63 | 54 | David Edwards | Addiscombe CC | V | 00:52:55 | Road |
| 64 | 34 | Stuart Richards | Newcomers CC | S | 00:53:08 | Road |
| 65 | 29 | Roland Kitson | Redhill CC | V | 00:53:17 | |
| 66 | 27 | Alasdair Wylie | Redmon CC | S | 00:53:28 | |
| 67 | 79 | Tim Johnston | Southborough & Dist. Whs | V | 00:53:35 | |
| 68 | 37 | Jonathan Bradbourne | Redhill CC | S | 00:53:45 | Road |
| 68 | 63 | Maurice Joseph | Paceline RT | S | 00:53:45 | |
| 70 | 94 | Nathan Chamberlain | Redhill CC | V | 00:53:55 | |
| 71 | 73 | Mike Wingrave | Redhill CC | V | 00:54:31 | Road |
| 72 | 12 | Michelle Arthurs-Brennan | Redhill CC | WS | 00:54:45 | |
| 73 | 67 | Alan Lang | Hartlepool CC | V | 00:55:02 | Road |
| 74 | 74 | Neil Walters | Southborough & Dist. Whs | V | 00:55:13 | Road |
| 75 | 78 | William Henton | Redhill CC | S | 00:55:30 | Road |
| 76 | 43 | Rob Gardner | Kingston Wheelers CC | S | 00:55:45 | Road |
| 77 | 89 | David Eccles | Redmon CC | V | 00:58:24 | Road |
| 78 | 77 | Andrew Green | Old Portlians CC | V | 00:58:41 | Road |
| 79 | 18 | Morgan Pike | Newcomers CC | WS | 00:59:03 | |
| 80 | 14 | Valerie Place | 7 Oaks Triathlon Club | WV | 01:00:31 | Road |
| 81 | 48 | Robin Johnson | Brighton Mitre CC | V | 01:00:55 | |
| 82 | 31 | Jon Lewis | Charlotteville Cycling Club | V | 01:04:52 | |
| | 52 | Nick Davy | Redhill CC | V | D.N.F. | Puncture |
| | 16 | Katie Crowe | Dulwich Paragon CC | WS | D.N.S. (a) | |
| | 38 | James Graham | VC Meudon | S | D.N.S. (a) | |
| | 42 | Jon Saunders | Charlotteville Cycling Club | S | D.N.S. (a) | |
| | 47 | James Hewitt | Kingston Wheelers CC | S | D.N.S. (a) | |
| | 58 | Joseph Bertorelli | Kingston Phoenix RC | V | D.N.S. (a) | |
| | 61 | Christopher Bedson | Dulwich Paragon CC | S | D.N.S. (a) | |
| | 68 | Dominic Trevett | Kingston Wheelers CC | S | D.N.S. (a) | |
| | 69 | James Rix | Crawley Wheelers | S | D.N.S. (a) | |
| | 75 | Chris Birch | Hoops Velo | S | D.N.S. (a) | |
| | 96 | Frederick Schwarz | Dorking CC | V | D.N.S. (a) | |
| | 97 | Phil Booth | Medway Velo Club | V | D.N.S. (a) | |
| | 88 | Kieran Barber | Redhill CC | S | D.N.S. (a) | |
| | 81 | Andy Leatherbarrow | Kingston Wheelers CC | S | D.N.S. | |
| | 87 | George Welfare | Eastbourne Rovers CC | S | D.N.S. | |
| | 9 | Ray Matthews | Brighton Mitre CC | V | D.N.S. | |
| | 92 | Christopher Zappala | Look Mum No Hands! | S | D.N.S. | |