Some selected cycling statistics.
It would be interesting to go back further in time. Other includes cycling and walking.
Share of transport 2016
Source for many of graphs: 2016 National Travel Survey (released 27 July 2017)
An updated stat to show cycling accounts for just 2% of journeys in England.
Cycle rates by country
Britain still lags behind countries with similar weather, population density and geography.
According to this EU survey (2013) 4% of UK respondants say they cycle at least once a day. This compares to
Netherland – 43%
Denmark – 30%
Finland 28%
Hungary 25%
Though UK is higher than the US where the figure is more like 1%
China still has the most bicycles of any country with annual sales of around 60 million units (Statista)
Cost of motoring
I've written about this before, but the 'ever-rising' cost of motoring is a bit of a myth. Car travel is becoming relatively cheaper than other modes of transport and falling in real terms. This includes factors such as – improved fuel efficiency, lower maintenance cost, freezing of petrol duty.
Recent trends in cycling
An increase in miles cycled per person. Up 37% on 2002. Not sure whether official statistics count Zwift miles.
However, by measuring number of trips is less impressive – suggesting people are cycling further, but not necessarily more trips. The report did state statistics can be hard to collect because of small number of sample.
Cycling by age and gender
Men aged 40-49 make an average of 35 trips a year, compared to females aged 17-20 with barely 2 trips a year.
Late teens seem to really fall out of favour with the bicycle.
Where people cycle
This surprised me a little – that only 35% of people cycle mainly on the roads. It perhaps shows that there is great demand for segregate bicycle lanes – away from vehicular traffic.
Safety of cycling
Some things have definitely improved – not least a fall in the number killed from an unbelievable 8,000 in the late 1960s, to under 2,000. But will future generations look back in horror at the idea of 2,000 being killed on the roads every year?
However, while roads are becoming safer for car passengers, it is not necessarily the case for cyclists.
Safety in numbers
This is an old graph I have. It was from a CTC report on safety in numbers, but I'm afraid I can't locate the original source.
Dangers of cycling in perspective
Source: McPherson, Klim. (2002). Coronary heart disease: estimating the impact of changes in risk factors; Klim McPherson, Annie Britton and Louise Causer. – London
Despite cycling being perceived as a 'dangerous' exercise. Society is arguably ignoring hidden dangers of sedentary lifestyles.
Deaths from cycling in 2003 were 113
Deaths from cancer and CHD related to inactivity were 85,000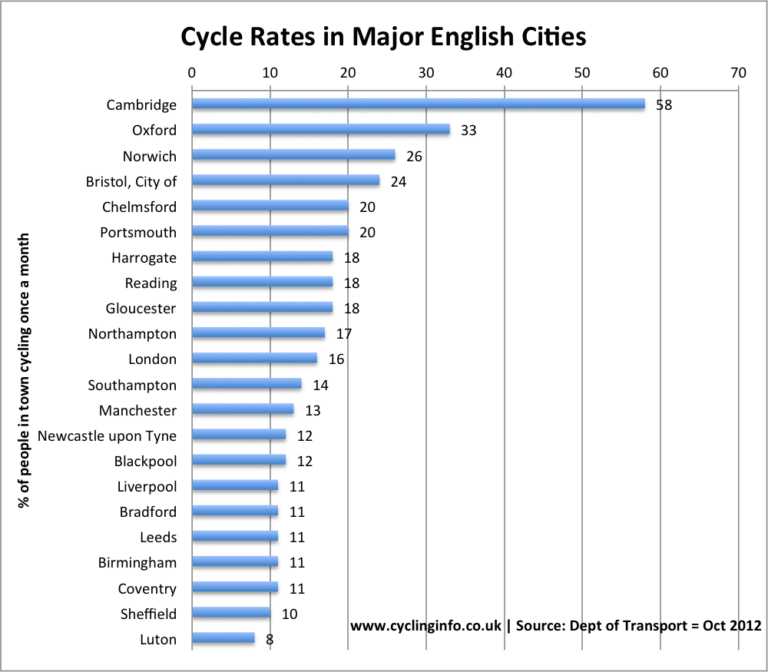 A huge variation in cycle rates suggests local infrastructure and a culture of cycling(or not) plays a large role.
Random cycling statistics
In 2017 for every 10 bike shops that closed down – only 3 opened – the worst  replacement rate since the 1960s (bike biz)
In 2005, membership of British Cycling stood at 15,000 people. By 2016, membership had passed the figure of 125,000 (BC)
Related