Rowsley Bar
After the revelation of visiting the Peak District last week, I made another stop on the way back from Yorkshire. This time top of my bucket list was Rowsley Bar – the venue of the 1997 National Hill Climb Championship. It is a tough, testing climb; in 1997 Stuart Dangerfield won his fifth title in a time of 5.12, with Jim Henderson in second place. I parked near the summit but saw 'Road closed' signs.
Often when roads are closed, you can still cycle through them, but this time it was not possible, so I took two photos and did a u-turn.
Fortunately, there are many climbs in this part of the world, so there were plenty of other choices. I rode over the top of the moors to Curbar Edge and had a go at that climb. I've seen quite a few photos of Curbar Edge because it is used for the national student championship, but I have never ridden it before. It is a tough climb because it is a little longer than many UK climbs and gains an impressive 185 m in a short space of time. It is a bit steeper at the bottom, but it doesn't feel like it gets any easier towards the top.
After Curbar Edge, it was grey and drizzly but I headed over to Monsal Head. Another climb I've heard and read a lot about but never ridden. Monsal Head is one of the most iconic hill climbs outside the National championship and attracts a big field of top riders. The course record of Malcolm Elliot has lasted since 1981, with a time of 1:14.2, but in recent years, Callum Brown has come agonizingly close with a 01:14.5 (2018)
There is part of me which wants to ride Monsal Head to get the full UK hill climb experience, but when I'm fit, other longer climbs always seem more appealing. The truth is I'm more suited to a 12 hour time trial than a one or two minute sprint up a hill.
Anyway, when I arrived I didn't have too much expectation but was genuinely moved by the view from the top of the hill. Even though it was grey and murky it does take your breath away. What a great amphitheatre for a hill climb!
I rode down the hill and did a u-turn. After riding up Curbar Edge I felt even less inclined for a big one minute effort than usual, so I just went up at fairly decent effort and before you know it, you're at the top and round the bend. I think my time for the hill climb course was around 1.51. I'm intrigued to know what time I could do if fresh, but wonder if I ever will do it in a race.
Monsal Head
The famous last corner.
From Monsal Head, I made my way back to the top of Rowsley Bar. I cycled through Chatsworth Estate to the village of Beeley.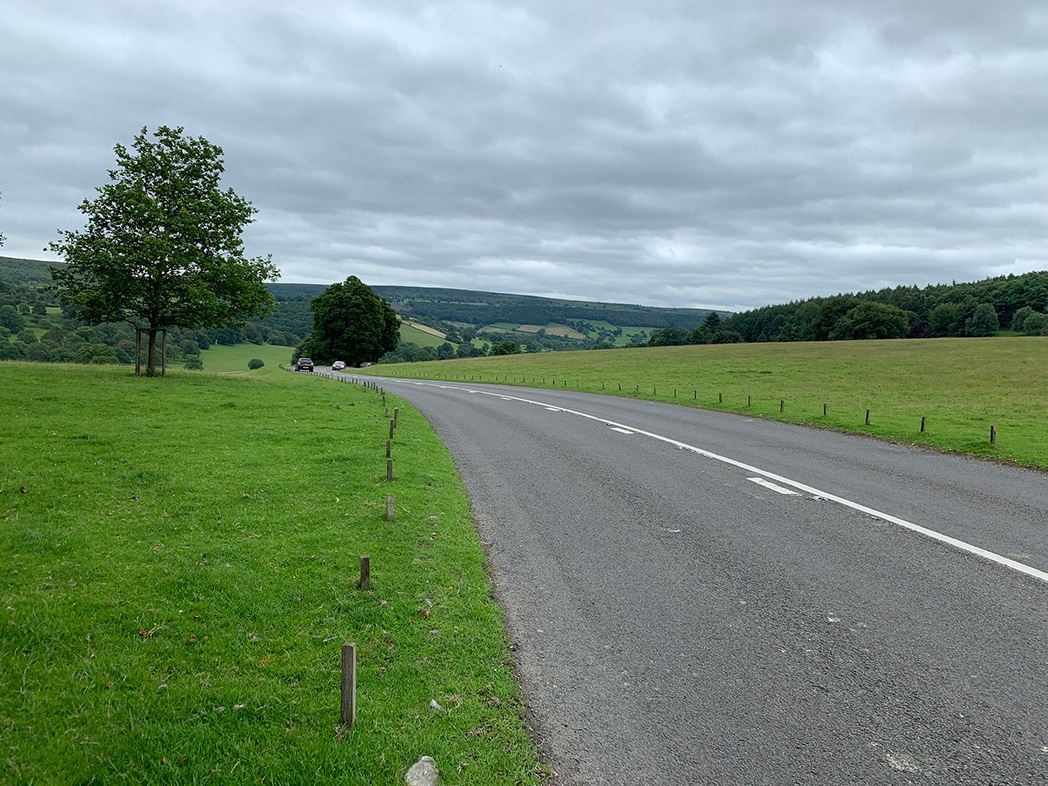 Then I went up Beeley Moor climb, which I did once at an open event in 2013. It is a good steady climb and, with a light tailwind, was a good experience to ride up. In all the ride was 35 hilly miles and 1,100m of climbing which is the most climbing in a day this year.