Trooper Lane is a short, steep cobbled climb in Halifax. It makes a good claim to be the toughest cobbled climb in the Yorkshire area – possibly the whole of England. With contenders like Thwaites Brow, this is tough competition.
I saw Trooper Lane on the Cycle Show a few weeks ago, with Simon Warren going up and describing the climb.
I have also been reading James Allen's 50 Classic Cycle Climbs in Yorkshire / Peak District, which includes Trooper Lane.
So it was definitely on my bucket list of stupidly hard climbs, that for some reason I feel a compulsion to seek out and ride up as fast as possible.
Trooper Lane
Distance: 0.4 miles
Average gradient: 18%
Height gain: 125 metres
My time: 4.09
Average speed: 6.5 mph
Gear used: 39*28.
Cadence 58 rpm
Location: Halifax
Strava
Look at the red!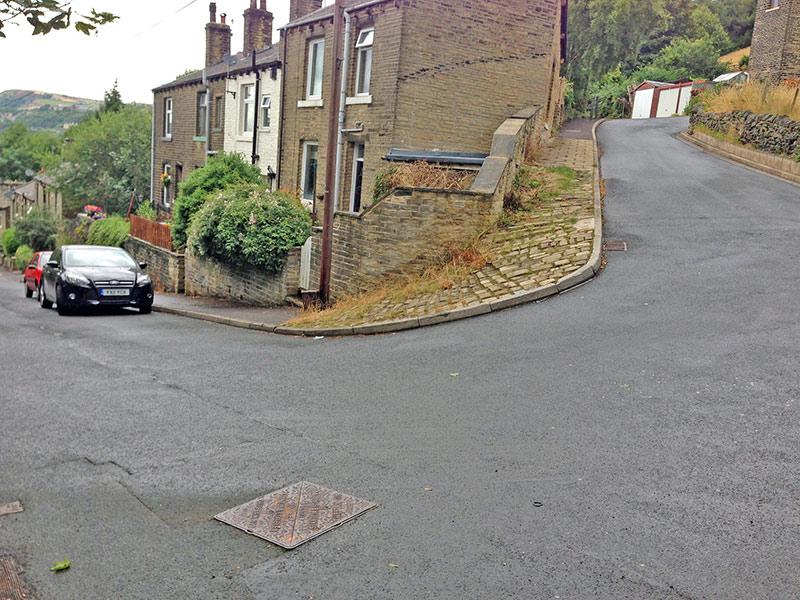 I started on Swan Bank Lane which is cobbled. After 150m you turn right onto Trooper Lane. At the start it is is paved road surface, but after a couple of corners, the cobbles start. The best thing that can be said about the climb is that the cobbles are well maintained. They don't have huge gaps like Thwaites Brow.
The climb is relentlessly steep. Though, the second half gets even steeper. Here it reaches 20-23%. Perhaps 25% at some apex.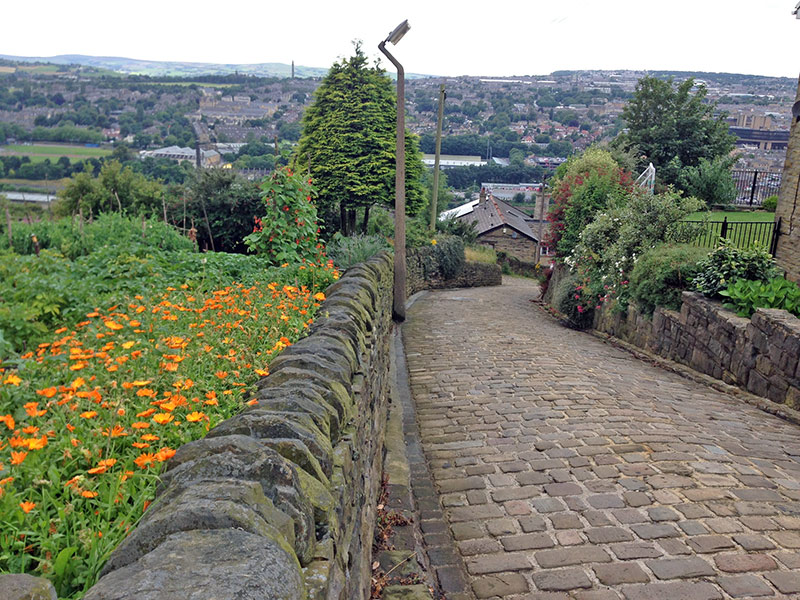 There was a little moisture on the road under the trees too.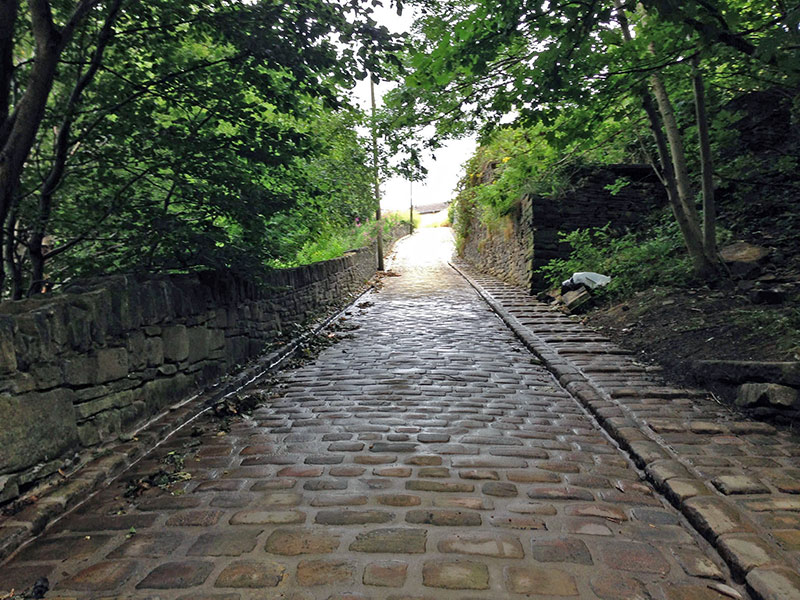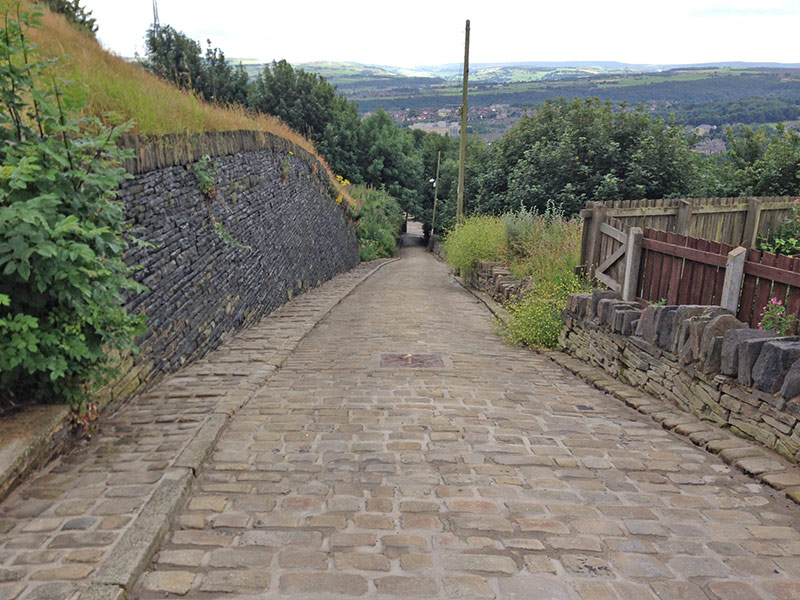 I approached the climb from the top. Which meant descending Trooper Lane. This was a tough experience. It's harder to descend on cobbles than ordinary roads. This 20% cobbled descent definitely made me somewhat nervous of coming back up. I did start to worry about coming to an abrupt halt and not making it all.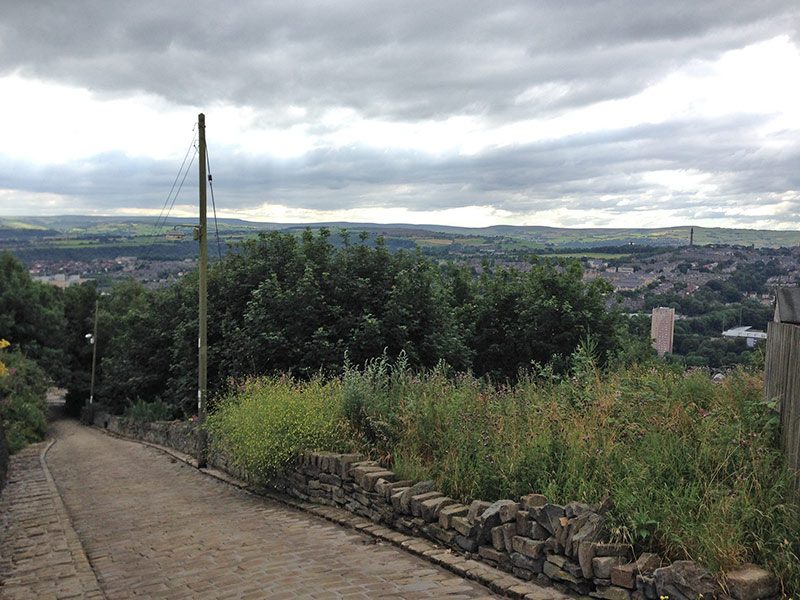 My only advice is don't get carried away on the lowest slopes. Stick it in your lowest gear at the bottom, you won't have to worry about changing once the climb has started.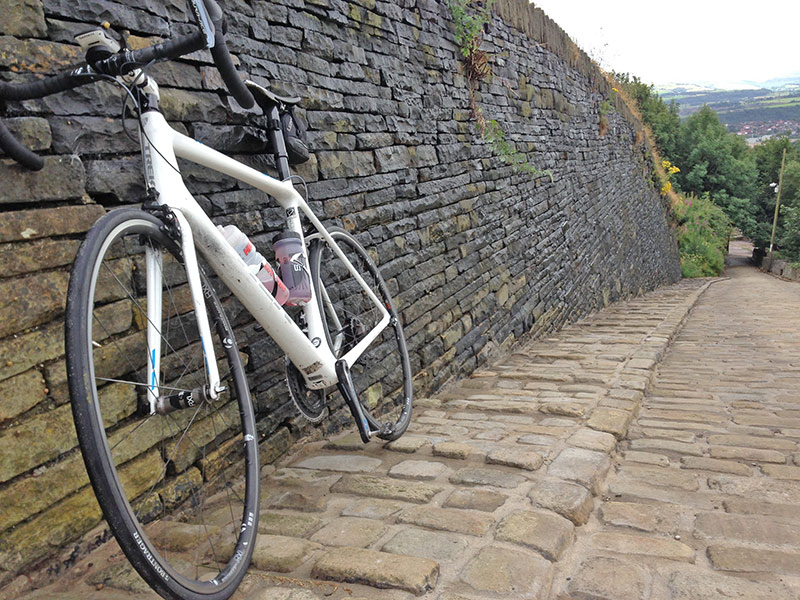 I did whole climb in 39*28 at 58 rpm cadence and 6.8 mph.
It was wonderfully difficult. I thought about a second go, but decided against it. Super-Trooper Lane is a real toughie. I might never go back, but it's good to have done it once!
Shibden Wall
After Trooper Lane, I was a glutton for punishment and went to find Shibden Wall, another 25% cobbled climb.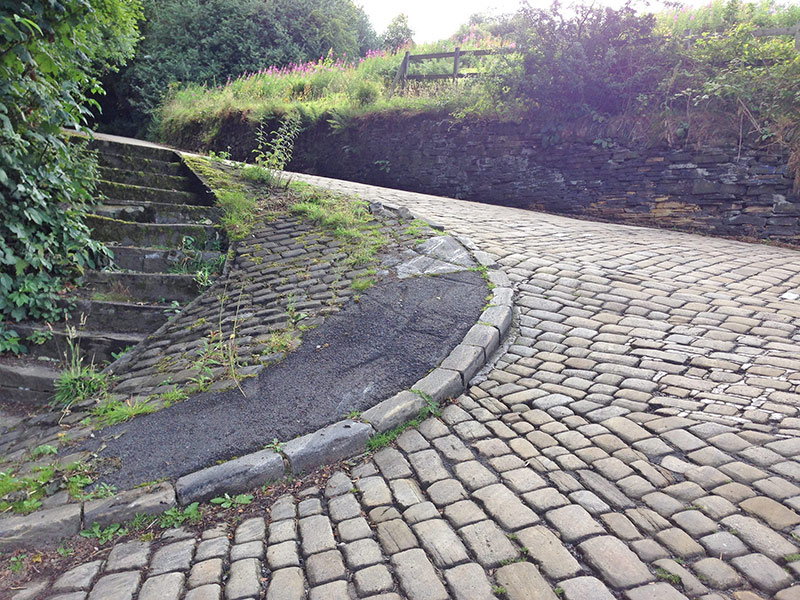 Shibden Wall is not quite as relentlessly steep, though after 1,300m of climbing it felt tough enough.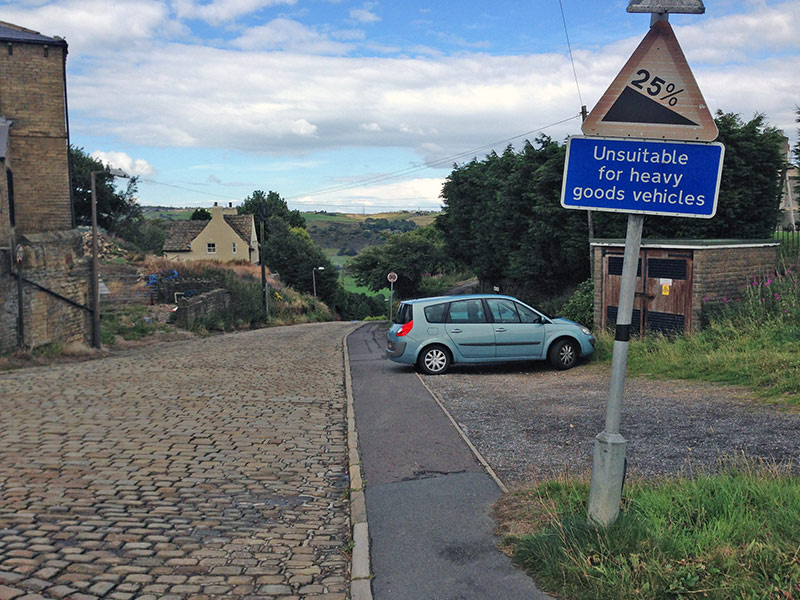 Shibden Wall
Distance: 0.5 miles
Average gradient: 15%
Height gain: 130m
100 climbs #40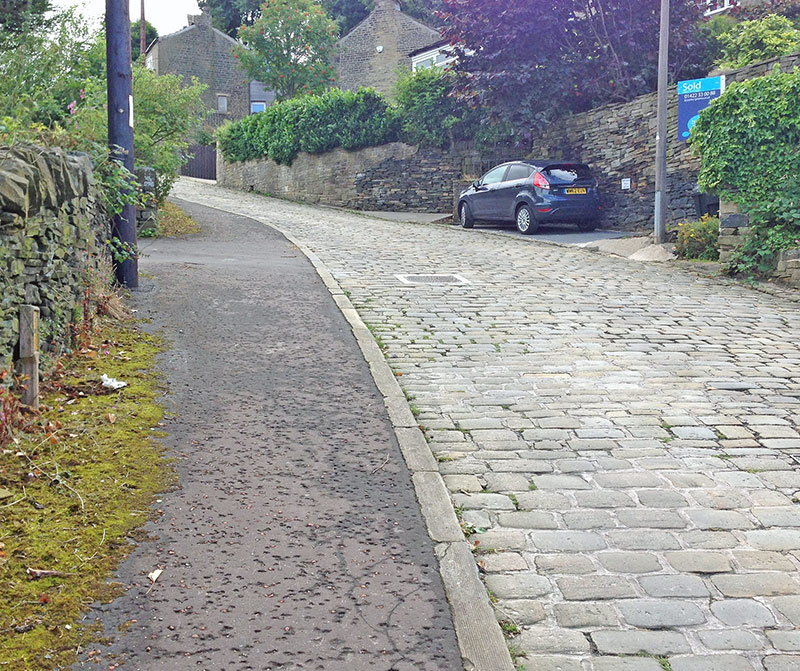 Overtaken by Electric bike
Despite all this excitement of 25% cobbled climbs, the best moment of the ride was on the last climb from Bingley towards Bingley Moor.
I already had done 2,000m of climbing, but I was going up this hill when I get overtaken by a fellow cyclist who was flying up this hill and pedalling furiously away. If you forgive the boasting – it's not too often I get overtaken whilst cycling uphill on a training ride, so I summoned every last ounce of strength and got on his wheel. I was absolutely killing myself to keep up with his unbelievable pace. I was putting out over 400 watts to stay on his wheel, and we were flying. I also couldn't believe how much aero benefits there were to going up a climb of 8% in someone's slipstream.
Although I'm grovelling into my handlebar to hold on, I start to twig that this bike looks decidedly chunky for a flying uphill bike. Then it all makes sense. It's a bike with an electric motor! I held on for two minutes at this ridiculous pace. And then like I was in a road race, I just blew up and came to a shuddering slowdown on the steepest part of this climb from Bingley. The fellow cyclist looked over his shoulder to check I had been dropped.
It was so much fun trying to hold his wheel. I just wish it had been at the start of the ride when I was fresh. I would have loved to have tried to stay on his wheel for the whole climb. I don't know why, but electric bikes going up hill are to me like a red rag to a bull.
If I was a professional cyclist, I would definitely pay someone to motor pace me around the countryside.
Related