Commuting by bike has several advantages, it can save money, get you there quicker, plus give a useful bit of exercise. I've been commuting into Oxford for the past 13 years. It's not a long commute  – only about 2.5 miles each way. Despite the stress of dodging Oxford buses and taxis,  commuting by bike is a great way to start the day. Even when I started working from home, I found in practise I preferred to keep commuting into a city centre cafe – rather than stay at home. More than anything a 10 minute cycle ride is a great way to get the brain working.
Over the past 13 years, the main change I've noticed is that I've become a slightly slower and more patient commuter, but as a result probably enjoy the experience more.
These are my top tips for commuting by bike.
1. Patience. Depending on the city, commuting by bike is likely to be significant faster than most other forms of transport. To a large extent, you can escape the traffic congestion and queues of traffic.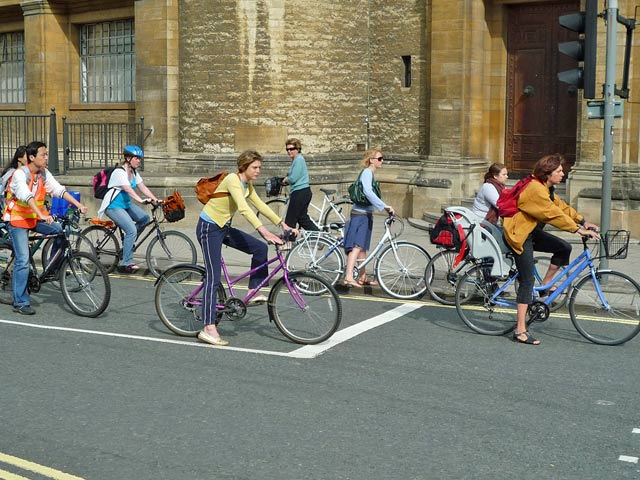 However, it is not a race, if you have a little patience, you can make the ride less stressful and safer. Running red lights is dangerous and can end up leaving you with a fine. You will also annoy a lot of people – both motorists and other cyclists. If you give yourself a little more time, you won't feel the need to push on regardless. Similarly, if you have a little patience, you won't take unnecessary risks like squeezing inside buses to save a few seconds. It's potentially very dangerous. Having a little patience also make the commute more enjoyable. If you treat the commute like a time trial, you are creating unnecessary stress, and you will probably end up riding like an idiot. I've nothing against cycling fast, but doing it up the High Street with buses and  innumerable traffic lights, is not the best of places.
2. Check different routes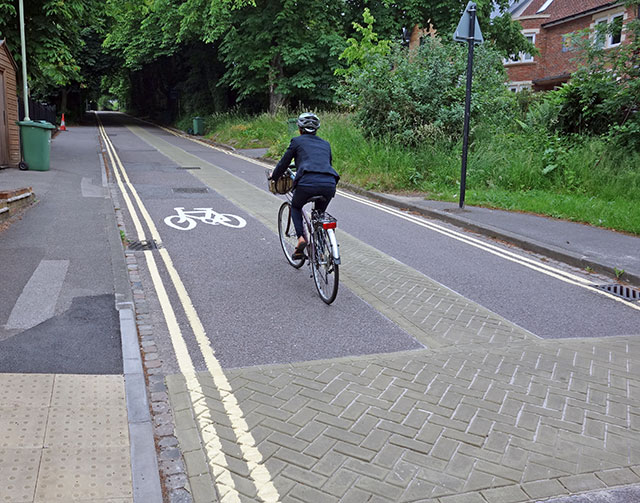 Any commute can be made a little safer and more enjoyable by seeking out quieter roads and better journeys. If there is a nasty section of road or junction, investigate whether it is worth a detour. Planning alternative routes may add a little to your journey distance, but if it makes it safer and less stressful, it is worth it.
Be seen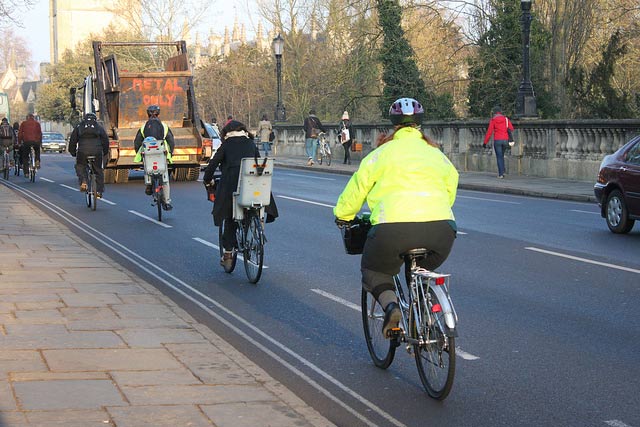 In an ideal world, cyclists wouldn't have to dress up like a Christmas tree to be seen. I'm not a fluorescent yellow evangelist, but it does worry me when I see cyclists wearing only dark clothes at night without lights. If you ride on the road without lights and in dark clothing, it really increases the risk of an accident. Also it annoys other road users. If you spend any time driving, you will understand the importance of cyclists being visible.
Be a considerate road user
In any commute, you will come across irritating and inconsiderate behaviour. This will be from any road user, be it pedestrian / car / bus / lorry driver / cyclist. You can not influence how other road users behave. But, the best thing is always to be considerate yourself. If you are considerate and use your common sense, you won't get into needless dispute, but find it is quite easy to obey the highway code.
Dealing with road rage
Unfortunately, being a considerate road user doesn't insulate you from all problems. If you commute anywhere in the world, you will face dangerous moments, which are out of your control. It is easier said than done, but there is a lot to be said for keeping calm and not getting drawn into arguments you can't really win. My general philosophy is generally to have low expectations and let little irritations go. Of course, it is different if you are involved in an accident. In that case, you should take down all the details you can. But, I never expect the advanced cycle boxes to be free. I expect cars to turn into the road, making you slow down. I'm half expecting cars to be on the wrong side of the road. This is all the downside of commuting into town. But, it's a lot easier to accept as long as you don't feel it is your responsibility to educate all the car drivers in your city because you won't be able to!
Maximsing safety
The perceived safety of cycling is often the biggest deterrent to cycling in cities. To some extent you can reduce certain dangers and risk. The big ones include:
– Avoid undertaking buses and lorries – unless you are very certain they are going to be stationary.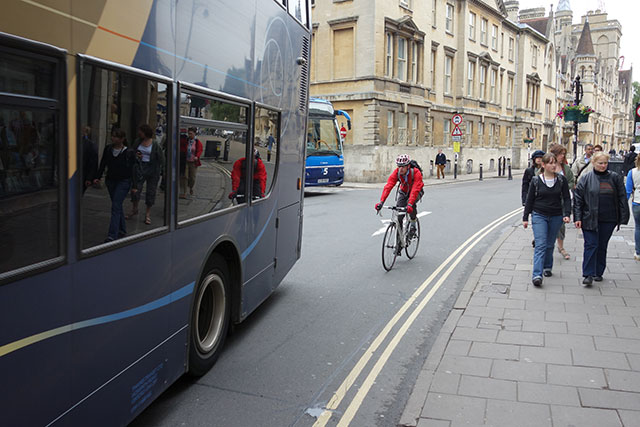 – Learn to look over your shoulder and signal before manoeuvring out into the road.