I started using Speedplay pedals back in 2006. I wrote the first review in 2008. This is an updated review after using them for nearly fourteen years.
Summary
Speedplay pedals are very good to ride on. They took a little bit of getting used to (like floating on ice is common feeling), but now I don't want to go to any other system. They are light, small and easy to use. I've never had any problems when actually cycling with them, and since pedalling is so important, this makes me want to like them and overcome any faults they may have.  The main drawback of Speedplay pedals is that they have been an expensive choice. In particular, they are more prone to long-term maintenance problems. Three times I've had to throw away a pair because the internal bearings seized up (it was always the left pedal which went. So I have three spare right pedals lying around).
I once complained to Speedplay and someone from America rang up to say they never get maintenance problems if you look after them and pursue regular maintenance – using grease gun and lube. I was disappointed I couldn't buy a spare left-hand pedal to match up my surplus right pedals.
If you do buy Speedplay, it is really essential, you learn to grease and lube regularly; I wish I had done earlier.
Why I Switched to Speedplay
My first clipless pedals were the more common Look pedals. The reason I switched to Speedplay pedals was:
I had some problems with my knees and (rightly or wrongly) I blamed the Look pedals and the way my movement was restricted. I liked the idea of having a large angle of float that comes with Speedplay
I wanted to save weight. Speedplay comes in at 205 grams and 150 grams for Titanium version. These were the lightest pedals on the market, at the time. However, the gap between the weight of Speedplay and Look has been reduced with the introduction of new models like the Look Keo. At 240 grams + cleats they offer good value for money at only £39.99
Very aerodynamic – pedal is small surface area.
Cleats are easy to set up. I always found the Look cleats a bit fiddly to get in the right position. If they were slightly out, it could cause problems. Speedplay are much easier to set up because of the greater degree of lateral movement.
Optimal power transference because the pedal is encased in the shoe with minimal stack height. Whether there actually is better power transfer, I don't know. But, it does feel good.
I like many aspects of  Speedplay Zero Aero – and may buy if I get back into racing.
Using Speedplay
I have been very happy with the Speedplay. They are definitely a little strange when you first test them. But, it is amazing how quickly you can get used to the large float. Cycling with Speedplay feels very natural. Some might feel the large degree of float makes it harder when sprinting.
Difference between Speedplay X and Speedplay Zero
The Speedplay Zero, are essentially the same as the X series, but you can control the amount of float, offering more adjustability than the Zero, which are always set to maximum float. With the X, I always end up brushing against the side of the cranks. It means my cranks look polished (removing any decals). Also, I wear through overshoes very quickly.
The two series are not interchangeable, which is a bit of a pain. Since I started with X, I don't want to make the transfer because it would be too expensive. But, if I could start again, I would choose the Zero series.
With Zero, Speedplay suggests one option is to use the 'Heel-In' adjuster so that it didn't hit the chainstay and to open the 'Heel-Out' to the full float. I have to say, I've never used the micro adjuster, but it makes sense to prevent heel hitting chainstay.
Speedplay  Zero Aero Pedals
Axle – titanium
Weight pair – 158 grams
Three precision cartridge and needle bearings
Designed for aerodynamics with small frontal area and dimpled cleats and underside for maximimum aero advantage.
Used by Bradley Wiggins in his successful World Hour Record of 54.526km on 7 June 2015 when he rode at 33.88mph to break hour record.
Speedplay Zero Aero at Wiggle
Drawbacks with Speedplay
1. Cleats Expensive The X Cleats are expensive to replace. £31 at wiggle. I think these are the most expensive cleats. To be fair they do last a long time. I've had to replace about three times in six years. I try and avoid walking on cleats, but I find that it is the metal spring in the cleat which wears away first. Speedplay are unique in having the attachment mechanism in the cleat itself rather than the pedal. Hence why they are expensive.
2. Bearing System. Speedplay say that they deliberately choose a more fiddly system to get better performance. They use three bearings and it needs more maintenance than standard pedals. But, they claim the cost of extra maintenance enables them to get a better performance. Because the bearings are more prone to have problems you need to do two things.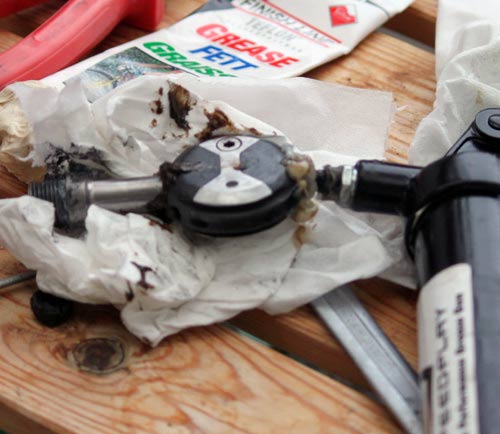 Grease at regular intervals. This means using a grease gun and squeezing in grease into the centre of the pedal.
Lube the pedal in between greasing. When it's wet, it's advisable to put lube into pedal and also squirt a bit on cleat.
3. Too much lateral movement. With the X Series, the lateral movement of your feet mean that you keep brushing against the cranks – On my cranks I always end up polishing off the outside
Speedplay X – Stainless Steel
Zero to 15 degrees of micro adjustable float
Easy cleat set up and adjustment no need to adjust any springs
Dual sided entry is good. Easy to get in and dismount. Never had any real problems either getting in or out. Though if you get mud on your shoes, it can become difficult until you get rid of the surplus mud. I once bought the coffee cleats, but found it required too much effort to remember to bring them and use them. They remained largely unused.
Very good clearance. Also, they have a low stack height, this means the shoes is closer to the pedal that many other pedal types.
206g total weight. (The titanium pair are 150grams) I use the Titanium pair for racing and the stainless steel for ordinary riding.
Speed play at Wiggle
Speedplay – Chrome-moly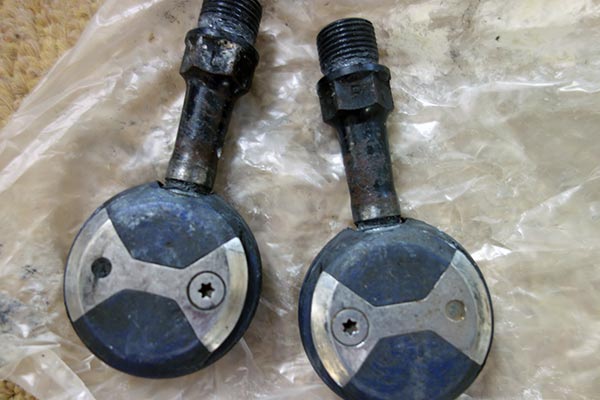 After losing a few speedplay pedals to ceasing up, I bought the cheapest Cromoly pedals, they are only a few grams heavier, but nearly £40 cheaper.
You can pick up a pair of X5 for £75 at Wiggle
The main advantage of the Stainless steel over the Chromoly is that they look better over time.
After a winter's use, they do look a little battered, the Stainless steel look better. But, for winter training bike, you don't worry about the shiny polish on your pedals.
Speedplay maintenance
Speedplay pedals need careful attention. These are the essential maintenance tips for Speedplays, I wish I had followed these from the first time I bought them. It has been expensive not following maintenance procedures.
Greasing Speedplay Pedals
The most important job is to add grease into the pedal every  500 -1,000 miles or after serious rain. I probably do it every month. After losing a few pedals, I'd rather err on the side of caution
For this job, you need
A small screwdriver to remove screw on outside of pedal
A grease gun, and grease. Speedplay have an expensive specific grease gun at Wiggle (£39) surprise Speedplay is expensive! I bought a speedplay specific grease gun and Speedplay grease lube, but you might be able to do the job with just a normal grease gun.
Alternatively use a 5ml syringe, which is perfect for fitting into the pedal and use a small tube of grease for refilling the syringe.
This is where you squirt the grease in.
Now comes the fun part. With a grease gun, force the grease through the pedal.
This was hard work, you need to keep the grease gun held against the pedal. I found a lot came out the wrong side.
Eventually, you should see some dark dirty grease coming out the other side. This is somehow very satisfying and makes you to start enjoying the job. When the thick dirt grease stops coming out, that means you have filled pedal with nice new fresh grease.
Now the pedal should spin without friction. They should be some resistance from the grease like liquid.
It's quite nice to have a pedal which is now spinning properly.
I find it easiest to fill up a syringe with a small tube of grease
Lubing Pedals
After wet or muddy rides, Speedplay advise adding lube to the pedals. They don't advise using wet lube like GT-40 because they attract dirt.
They have a specific SP lube – which they say dries quickly. Unlike most speedplay products, it's not too expensive $6. But, you should get the same results from a similar dry lube.
Lubing Cleats
I find it is less important to lube the cleats, but, if they get stiff or after a very wet series of rides, it's good to use some lube one the metal clip.
Overall
It's easy to have a bit of a love hate relationship with Speedplay. When they are good, they are very good. When they're bad, they are very bad.
If you want low cost, low maintenance bike equipment, I strongly advise against Speedplay.
If you want the best pedals and don't mind paying the cost and undertaking the necessary maintenance – Speedplay may be the best choice.
Pedal choice has always been a personal issue, and it's worth trying to test out pedals and see which work for you.
Would I buy again?
Yes, I've committed to the Speedplay option because in many ways it works for me, and I'm reluctant to start switching over to a new system.  I complain about the price of buying new pedals, but it just makes me more determined to apply the necessary maintenance schedule.
Which is better X or Zero?
Again, because I started with the X (full float) it never made financial sense to switch to zeroes. However, if I started again, I might prefer the Zeros because I would limit the amount of float inwards to stop shoes hitting chainstay.
Related