Yesterday's Prudential Ride London Classic was another great bicycle race. The course doesn't look too much, a few short sharp climbs, Box Hill and then 50km of flat to the finish. On paper it looks a boring sprint stage in the Tour de France. If it was the Tour de France with nine men teams – that is exactly what it would be. But, because there are only 6 man teams, it's much harder to control so it encourages attacking racing. Usually, the key breakaway goes on last or second to last climb. But, this year Team Sky launched an attack about 80km out. Thomas, Stannard and a Cannondale rider managed to link up with the lead breakaway and it seemed a tactical masterpiece.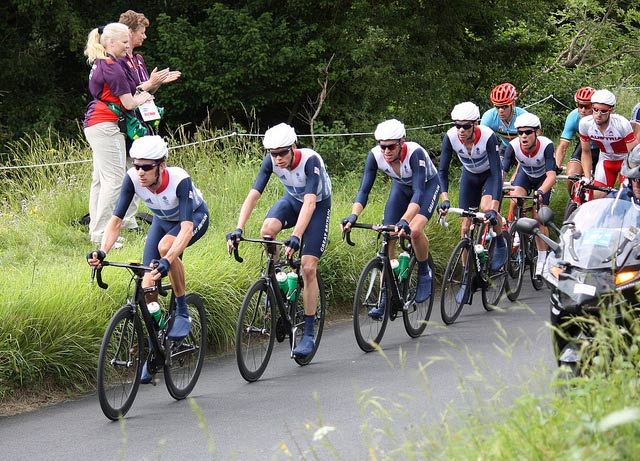 Then with 50km to go, Thomas stormed away up Box Hill and looked set for an epic lone victory. But, just when it looked a done deal, the peleton finally got its act together and cruelly started reeling in a tiring Thomas.
Just as much fun as watching the racing was watching David Millar zoom up and around the different groups on the road on a motorbike. He seemed to be having tremendous fun, but it also gave a great insight into how the race was progressing.
On Box Hill, I didn't understand why Froome was riding at the front – leading the remnants of the peleton towards his team mates 3 minutes up the road. But, I guess he was trying to prevent the Etixx domestiques get back on and keep the race fractured. Because when the peleton regrouped over the top of Box Hill, it seemed to be nine men against one, and even Thomas couldn't hold them off.
During the commentary, someone said Thomas was told by Team Sky his job was to win races not entertain. But, as a spectator, I enjoy watching a glorious near miss more than a predictable sprint finish. The only thing I would say about Geraint Thomas is that I would like to see him commit fully to classic one day races. I just can't see him ever winning a Grand Tour, but on the right day – the Tour of Flanders or even Paris Roubaix is a possibility.
An intriguing race, and in the end Etixx Quick Step had the last laugh. It looked like they were down and out – from about 100km to the last 1km – when the TV pictures finally came back. Boonen put his nose in front of the race just when it mattered, but you have to give credit to Team Sky for attacking 80km out and making it a really great race. Good job, by the breakaway too – especially the young Matt Holmes of Madison Genesis and Dexter Gardias (Pedal Heaven) up there too.
Why nine men Teams?
Ride London may in the future become a World Tour event, but if that means bigger nine men teams, the quality of the racing may suffer. Six men teams really help make it more finely balanced. For the Tour de France I'd like to see seven men teams.
Related