Motorists often give too little space when overtaking cyclists. It is potentially dangerous and an unpleasant experience. Often is just a combination of impatience and unawareness. But, once you have been a cyclist yourself, you would always approach overtaking a cyclist in a different manner.

Car overtaking on Oxford High Street very close
Big buses. Very often cars/ buses pass so close that if you put your arm out and signal right you will hit the vehicle.
Beware of lorries turning right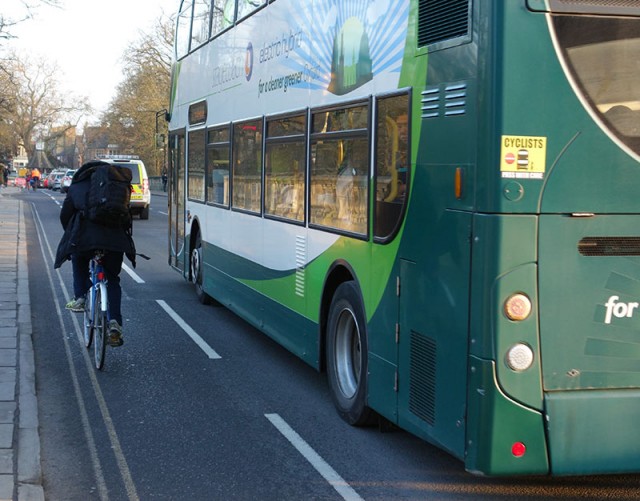 Cyclists – Pass with Care! – Buses overtake with Care!
How much room should you give a cyclist?
The Highway code states:
"give motorcyclists, cyclists and horse riders at least as much room as you would when overtaking a car (see Rules 211-215)"
"As much room as a car" leaves some discretion, but, I would have thought three feet would be a good minimum. My grandma used to think the law was enough space for cyclist to fall off, without hitting the overtaking car. The highway code doesn't quite say that but it seems a good rule of thumb.
Also the Highway code states:
"Motorcyclists and cyclists may suddenly need to avoid uneven road surfaces and obstacles such as drain covers or oily, wet or icy patches on the road. Give them plenty of room and pay particular attention to any sudden change of direction they may have to make."
This is an interesting one, as sometimes, if you deviate less than one foot from your line an overtaking car will beep aggressively. True, you should be looking over your shoulder, but, if a small deviation from line causes consternation, it is probably because the car is passing too closely.
Urban roads and Rural Roads
It is common for cars to pass closely on urban roads, but at least speeds are lower, and often cars are more ready to slowdown. It is a bigger problem on fast rural roads where cars can be doing 50-60mph + and motorists don't have the mentality to be ready to slow down. 50mph speed limits can become like minimum targets. If a motorist comes across a cyclist, they are loathe to slow down so just keep on ploughing on.
Speed of overtaking
There is a big difference between a car overtaking close at 20mph and a car overtaking close at 50mph. There is also a big difference when a lorry overtakes you and it is so close the drag pushes you around.
SPACE from carltonreid on Vimeo.
3 Feet Rule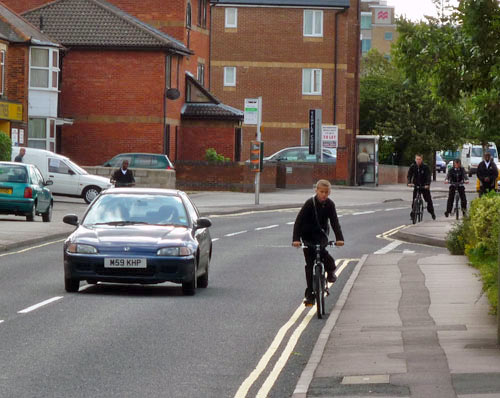 Some countries have toyed with the idea of passing a law that motorists should leave 3 feet when overtaking. If this was the case, 80% of drivers would break the law everyday.
Doesn't giving Cyclists Room mean an increase in congestion / time wasted?
I've lost count of the number of times a motorist has impatiently overtaken – squeezed through a gap which wasn't there and then had to slam on the brakes because he's approaching a traffic jam. There is a certain karma to then be able to undertake them whilst they are stationary in a traffic jam. But, you would think, people would look ahead. Squeezing through gaps which aren't there rarely get you any quicker anyway.
Generally, cars should give more space, but all rules need some discretion. As a motorist I find it quite easy to give space to cyclists because I always think empathise with the cyclist that I am overtaking. I would give the cyclist as much space as I would want myself.
I really don't understand why cyclists get such a bad press in the media. When I think of the 100,000 miles I've driven in the past 10 years – how much time have I lost by waiting for a good opportunity to overtake. It is completely negligible. Furthermore, I enjoy the process of slowing down and giving space – because I know the cyclist will appreciate it.
It's just a matter of perspective – Get mad because you have to wait 5 seconds, or take a bit more time and get to the back of the traffic jam in a calmer state of mind. Life isn't rocket science!
But Cyclists don't wear A Cycle Helmet / Cyclists don't pay road tax
Would you want to run-over a pedestrian because they don't pay an obsolete tax, no one pays?
Would you run over a pedestrian just because they are not wearing a safety helmet – to teach them a lesson?
Related
External link