KTM are better known as an Austrian motorbike manufacturer. They have been producing cycles abroad for quite a few years, but are now trying to crack the competitive British market. I took this for a test ride and was impressed at the value for money (£899) for a sub £1,000 road bike. It comes within that popular price bracket which makes it compatible with the 'Cycle to Work Scheme' potentially offering big tax discounts for UK workers (as long as company is signed up)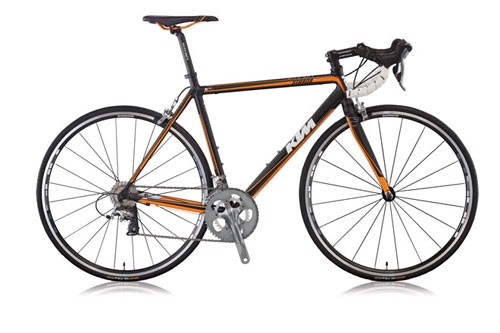 The bike is based on a 6061 Aluminium frame and carbon fork. The aluminium frame is well built and takes corners well avoiding any under or over steer.  It is well balanced and a good build for a first time road biker. The compact groupset give a good gear range, and the bike overall gives a solid road bike feel. There will be no problem in using this for long sportives and even first road races. A carbon fork is these days a real must for a bike sub £1,000. Generally, they add a lot to the riding experience. This feels a good quality carbon fork, which helps absorb shocks in the road and give a more comfortable ride experience.
The mixture of Shimano Tiagra and Shimano 105 make very smooth gear changing. I always find Shimano Tiagra / 105 to be a big step up from the (Sora) level below.
I'm not a big fan of black, but the black and orange trimming is pretty distinctive and overall they've done a good job. To keep costs low, there is only one colour choice. To get a different colour you would need to buy a different model. The Strada 2000, with better groupset is just another £200.
Groupset – Shimano Tiagra, with 105 shifters
Tyres – Conti Ultra Sport 23-622 folding
Compact gears 50-34. Rear cassette 12-25. Triple chainring option available.
Weight – 9.1Kg
Sizes from 46 to 62cm
Not the lightest at 9.1Kg, but it still felt fairly nimble, and is fairly average for this price rang
The Selle Italia X1 Man saddle is a good addition, and there are no really weak parts on the bike, which make you want to upgrade straight-away. The best thing about this bike is once you've bought, you're pretty much up and away.
One downside of the bike is that it's only for sale in limited places. It's a good bike, but given level of competition at this price range, it's not worth travelling a long way to buy. It holds its own in the important sub £1,000 price bracket, but more established names like the Focus Cayo or a Trek 1.2 are hard to beat.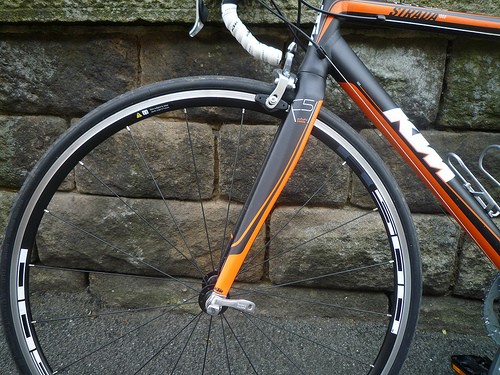 Smooth integration of carbon fork and aluminium frame.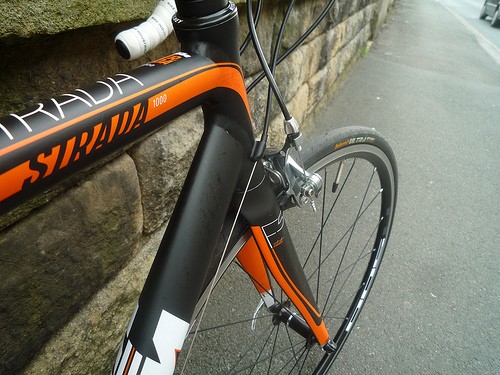 nice lines. Good job with paintwork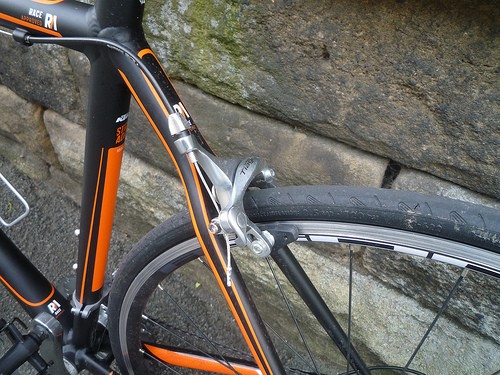 Tiagra brakes OK, but, there are stronger ones out there. One of the more underpowered aspects of the bike.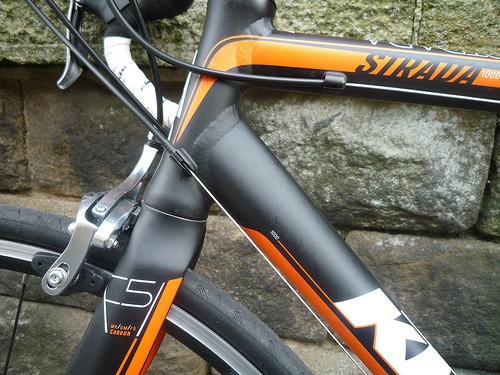 No internal cabling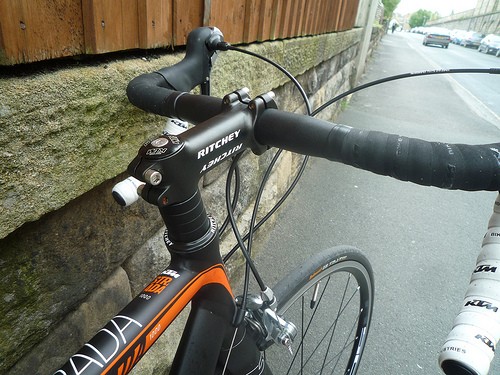 Ritchely stem and handlebar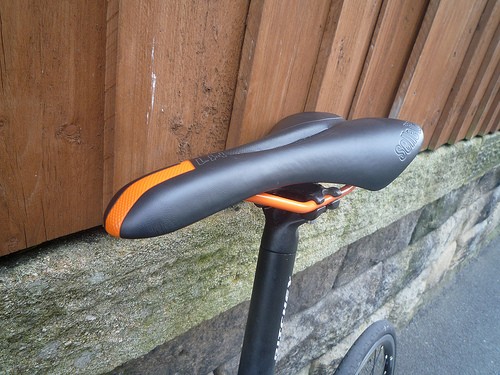 Selle Italia saddle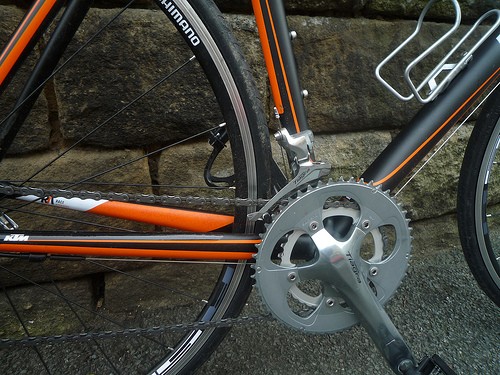 Tiagra compact chainset
105 rear derailleur.
Don't be put off my unknown name. The bike rides  well, and it comes equipped with a competitive groupset and nice features.
Thanks to J.D. Cycles of Ilkley for test ride.
Updated bike specification for 2015
Frame KTM Strada 2000 R:1302 TB
Alloy Frame 6061 TB
Colour White (Black+Red)
Size (cm) 46-49-52-55-57-59
Fork KTM F-5 Carbon Road Fork
Carbon Monocoque Design
Alloy Steerer
Headset Ritchey Comp Logic Zero Drop-In RR
Stem Ritchey OE-6°
Bars Ritchey Comp Road
Brakes Shimano Tiagra 4600
Shifters Shimano Tiagra 4600
Rear Derailleur Shimano Tiagra 4601
Front Derailleur Shimano Tiagra 4600 (Compact)
Shimano Tiagra 4603 (Triple)
Crankset Shimano Tiagra 4650 50-34 Compact
Shimano Tiagra 4603 50-39-30
Bottom Bracket Shimano BBR51-Unit BSA
Shimano Cassette Shimano Tiagra 4600 12-28 (Compact)
Shimano Tiagra 4600 12-28 (Triple)
Wheelset Shimano WH-R501
Front Hub Shimano 100/5 QR
Rear Hub Shimano 135/5 QR
Tyres Continental Ultra Sport 23-622 Folding
Saddle Selle Italia X1 Flow
Seatpost Ritchey OE 300/27.2
Weight 9.6kg