After riding in the Pyrenees, everything else seems a bit of an anti-climax. Today was a 100 mile time trial on the H100/8 over the A31. It meant five circuits of a dual carriageway circuit, which is quite rough and ready in places. As you might imagine -a bit different to climbing the high mountains.
There was a full field of 120 riders plus 10 reserves – a good field for another excellent Hounslow promotion.
My preparation was nice and relaxed. No need for an hour on the rollers before a 100. The main thing is checking food and hydration and get yourself sorted. I was able to lend a spare training wheel to number 92 Harry Walton from Cheltenham, who got a last minute rear wheel puncture.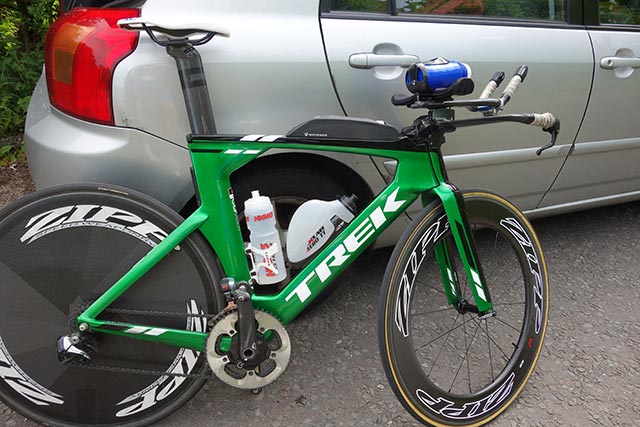 My bike was loaded with 2.1 litres of water and quite a few energy gels in that pouch on the top tube. (Though the gels were popping out of it on the A31 ridges – I lost one and caught another…)
It was the first time I was using a Bontrager water bottle for the Speed Concept stem.
Weather conditions were excellent and after the good 50 mile TT a couple of weeks ago, I was hopeful of a good time. I certainly hoped to beat my course pb of 3.44 set last year.
The first 15 miles were going great – a nice steady start. Just looking at power meter and trying to hold myself back. It's very easy to go off too hard in a 100. I circumnavigated the first stretch of the Chawton rough roads, but as I pulled the water bottle from the holder on the stem, my tribars on the top were loose. I knew that was going to be the end of the race because it was only going to get worse. I spent quite a bit of time on the side of the base tribars (this was fine – just the long extensions wobbling). But, it was hard and uncomfortable riding on the side of the basebars. I tried for a bit – one arm on try bar, one arm on the side. But, you can never get comfortable always switching position. When you can't get comfortable, the steady rhythm goes out of the window.
When you're sat up with arms out wide, it's amazing how much it slows you down – especially on the fast downhill. I was not quite free wheeling on the downhill, but I wasn't putting any real effort in. I did a big turn on the long uphill drag and caught a lot of people. They were probably confused as later they re-overtook me. I spent quite a bit of time trying to work out when to DNF. I didn't really want to stop straight away – as I would have to wait for my wheel. Part of me wanted to grin and bear it and make the finish. They did used to do 100 mile TT on road bikes – Ray Booty did it in under 4 hours back in the 1950s. But, when you're used to an aerodynamic position, it was surprising how uncomfortable anything else is.
I scrapped through 50 miles (1.53) but thought there's no way I'm going to do a 100. It's hard to motivate yourself in that situation. Finally I sat up and rode to the Hen and Chicken pub. Just as I sat up the day's winner Adam Topham caught me for 10 minutes (he went on to set a course record of 3.34).
I stopped at the Hen and Chicken pub, where there were quite a few spectators and helpers. I sat with the High Wycombe support crew and got a nice comfortable chair, a few biscuits and a banana. It was fun watching the other riders go past. I could get quite used to this DNF lark – I'd better not get too used to it though…
I went back to car, and fortuitously met Harry, who had just returned wheel after blowing at 75 miles. It was just one of those days.
I wasn't too dissappointed – at least I got a good 50 mile training ride in. It would have been much worse to have to stop after 5 miles completely (or not get to race at all because of last minute puncture). I think it's first time I've DNF in a TT in 10 years – so I can't complain too much. The bigger disappointment was not getting in the National 50 this week. I'd thought I'd entered, but perhaps I didn't complete the online entry properly.
I have entered the national 100, so I will need to do some more training or more 100s. Even this odd 60 mile effort is a reminder of how hard 100s are compared to 50s. They really are tough.
On the mildly positive side I got back to watch the mountain stage of the Giro d'Italia. Though to be honest, I find it hard to get too excited about watching Alberto Contador vs Astana.
Related