It is the third consecutive year I have ridden the Charlotteville 50 mile TT on the Bentley (A31) H50/8 course. It is also the first standard distance, 'non-sporting' time trial I've done this year.
Even for a relatively fast dual carriageway course, it's still a bit lumpy – 1,545 feet over 50 miles.
I finished in second with a time of 1.43.59. I was a little surprised with the time; it was quicker than expected. I have many memories of doing 50 mile time trials on this course and really struggling over the last couple of miles. Today, I seemed to have a little left in tank to go even harder in last 10 miles. I think it was a pb for a 50 mile TT, (if you exclude the superfast A50 course)
The forecast was for good weather, but fairly strong winds; it turned out to be less blustery than forecast. I used a Zipp 404 on front and discwheel on back.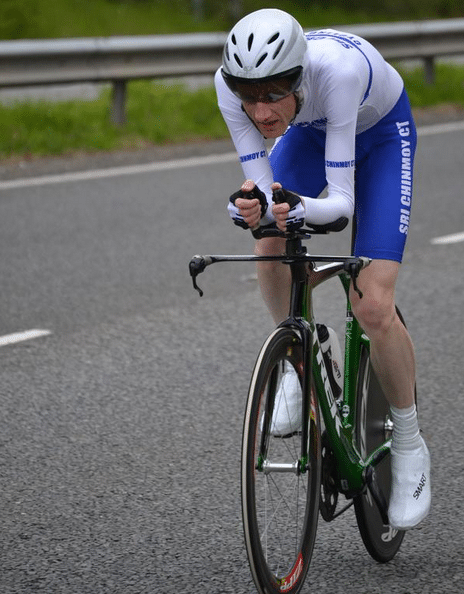 There was a headwind on the way out to the Chawton roundabout and then a bit of a tailwind on the way back. Nothing special, but I put more effort into the headwind and then enjoyed the speed of the tailwind on the way back.
The road surface was a bit of a grind in places. Lateral trenches across the road to give a bumpy ride. On the course, there are a couple of really smooth sections like on the slight downhill to the finish, which was so much more fun.
Adam Topham won with a 1.42.15 so I think it was a good fast day. Former national champion Richard Prebble was about 1.47 I think.
Average power for race was 287 watts. Rather unusually for a 50 mile TT, the biggest power was the last 10 miles. I averaged the last 10 miles at 29.3mph – which is a pretty good speed for a 10 mile TT! Possibly I could have ridden less conservatively and maintained a higher effort throughout the race. But, I have too many bad memories of blowing up on this course and struggling.
Power and speed for 10 mile laps
2014 comparison
By comparison in 2014, I did 1.54 at an average of 277 watts. With the first 10 miles much higher watts than next 40 miles.
Overall
It was a big field for the Charlotteville CC 50 with 130 riders and a separate women's race. It attracted some of the contenders for the BBAR and was well organised. Everything seemed to go well and everyone seemed pretty happy because it was a good day.
Men 
1 Adam Topham High Wycombe CC 1:42:18
2 Tejvan Pettinger Sri Chinmoy Cycling Team 1:43:59
3 Kevin Tye VeloRefined Aerosmiths 1:46:11
4 Richard Prebble Velosure-Giordana Racing Team 1:47:30
5 Peter Harrison G.S. Henley 1:49:43
6 Christophe Demoulin Rapha Cycling Club 1:50:36
7 Rich Hunt Army Cycling Union 1:50:37
8 Tom Glandfield Lewes Wanderers CC 1:50:51
9 Ian Greenstreet Newbury RC 1:51:08
10 Harry Walton Cheltenham & County CC 1:51:16
11 Phil Watts North Hampshire RC 1:51:27
12 Matthew Charlton Farnborough & Camberley CC 1:52:01
13 Steve Williamson …a3crg 1:52:11
14 David Shepherd G S Stella 1:52:50
15 David Emery Dulwich Paragon CC 1:53:13
16 Nick Andrews Portsmouth North End CC 1:53:31
17 Chris Herbert Redhill CC 1:54:05
18 Robert Taylor Trisportnews Racing 1:55:21
19 Richard Gifford In-Gear Quickvit Trainsharp RT 1:55:35
20 Tristan Davenne Newbury RC 1:56:14
20 Jonathan Hobby North Hampshire RC 1:56:14
20 Rupert Dickinson Velo Club Godalming & Haslemere 1:56:14
23 Gary Lock New Forest CC 1:56:28
24 Gary Allan G A Cycles 1:56:34
25 Mark Taylor VC Meudon 1:56:38
26 Stuart Stow Hounslow & District Whs 1:56:44
27 Richard Newey Thames Turbo Triathlon Club 1:56:53
28 Graham Giggs Bath Road Club 1:57:08
29 Mike O'Gorman Worthing Excelsior CC 1:57:17
30 Joel Garner …a3crg 1:58:04
31 Hamish Walker Hampshire RC 1:58:17
32 Martin Brown 7 Oaks Triathlon Club 1:58:19
33 Adrian Blacker Norwood Paragon CC 1:58:50
34 Martin Dickinson Deal Tri 1:58:53
35 Lawrence Wintergold Hounslow & District Whs 1:59:02
36 Robert Gilmour Hounslow & District Whs 1:59:07
37 Peter Moon Eastbourne Rovers CC 1:59:55
38 Keith Griffin Paceline RT 2:00:28
39 Robbie Richardson Chippenham & District Wheelers 2:00:41
40 Edward Nunn Berkshire Tri Squad 2:01:55
41 Jonathan Thomas Epsom CC 2:02:08
42 Daniel Edwards Sotonia CC 2:03:16
43 Kelly Miller Farnborough & Camberley CC 2:04:18
44 Barnaby Gray …a3crg 2:05:52
45 Derek Dowden Charlotteville Cycling Club 2:07:27
46 Richard Blake Antelope Racing Team 2:07:41
47 Paul Winchcombe Chippenham & District Wheelers 2:07:46
48 Andrew Caldwell Hounslow & District Whs 2:08:16
49 Nick McCormick Epsom CC 2:08:29
50 Mark Bernhardt G S Stella 2:08:37
51 John Lewis Charlotteville Cycling Club 2:09:13
52 Peter Rowe Southborough & Dist. Whs 2:09:26
53 Michael Draper Charlotteville Cycling Club 2:10:22
54 Mark Amon Rye & District Wheelers CC 2:10:41
55 John Beer Kingston Phoenix RC 2:10:53
56 Cliff Voller Newbury RC 2:11:03
57 Ian Neville Clarence Wheelers 2:11:11
58 Andrew Gibson Gravesend CC 2:11:34
59 Ben Fielden G S Stella 2:13:09
60 James Baggott Charlotteville Cycling Club 2:14:26
61 Pete Robins Kingfisher Triathletes 2:14:35
62 Quintin Wright Serpentine Running Club 2:14:47
63 David Phillips Old Portlians CC 2:15:34
64 Barry Quick Reading CC 2:16:12
65 Jorj James Maidenhead & District CC 2:19:36
66 Andrea Taborelli Berkshire Tri Squad 2:19:44
67 Ian Austin Alton CC/Owens Cycles 2:20:02
68 Graham Morrison Newbury RC 2:21:13
69 Marc Barfoot Velo Club Venta 2:21:30
70 Roger Chapman Farnham RC 2:21:55
71 Richard Claxton VC Elan- Harry Perry Cycles 2:22:26
72 Brian Smith North Hampshire RC 2:23:09
73 Stuart Jago G S Stella 2:25:13
74 John Levison Hillingdon Triathletes 2:25:50
75 Julian Brewer Charlotteville Cycling Club 2:26:13
76 Daniel Collins Farnham RC 2:31:44
77 Alan Robinson Central Sussex CC 2:31:57
78 Vernon Schutte Farnborough & Camberley CC 2:37:23
79 Huw Lloyd Farnham RC 2:38:38
Jason Pegler Dulwich Paragon CC DNF
Robert Royston Sydenham Whs DNF
Women 
1 Cynthia Kunschke High Wycombe CC 02:00:46
2 Alice Lethbridge gbcycles.co.uk 02:01:48
3 Mathilde Pauls Fusion RT Gear Club 02:03:18
4 Kate McNeill Berkshire Tri Squad 02:04:05
5 Parys Edwards 34 Nomads CC 02:05:06
6 Clare Campbell-Smith Born to Bike – Bridgtown Cycles 02:06:22
7 Madelaine Lee-Smith Oxted Cycle Club 02:07:03
8 Sophie Household Velo Club St Raphael 02:10:55
9 Elise Sherwell Look Mum No Hands! 02:11:13
10 Sophie Whitworth G.S. Henley 02:12:29
11 Jane Wiley 7 Oaks Triathlon Club 02:13:16
12 Philippa Jenkins Southborough & Dist. Whs 02:14:01
13 Eva Nyirenda …a3crg 02:15:02
14 Teresa Goddard Kingston Wheelers CC 02:15:22
15 Mandy Hibberd North Hampshire RC 02:18:02
16 Harriet Somers VC Meudon 02:19:43
17 Suzanne Sisson Pearson Cycling Club 02:20:33
18 Jackie Dodd Kingston Phoenix RC 02:22:34
19 Sarah Yates Pearson Cycling Club 02:22:39
20 Vikki Filsell Les Filles Racing Team 02:23:43
21 Virginia McGee Charlotteville Cycling Club 02:24:13
22 Glenda Goscomb 7 Oaks Triathlon Club 02:24:21
23 Emma Williams Ful-on Tri 02:26:12
24 Hilary Hillhouse Kingston Wheelers CC 02:26:59
25 Carolyn Swan Kent Velo Boys/Girls 02:29:55
26 Lucy Francis London Dynamo 02:42:13
My Previous Results for Charlotteville CC 50 mile TT
2015 – 1.43.59 (2nd) (1st Adam Topham)
2014  – 1.54 (2nd) (1st Stephen Whitewick 1.52)
2013 – 1:52:16 (3rd) 1st – Nick Dwyer