Wonder Wheels is the autobiography of British cyclist Eileen Sheridan. Originally published in 1956, it was republished in 2009 by Mercian Manuals.
Eileen Sheridan was a female cyclist who turned professional in the 1950s and successfully broke all 21 long distance time trial records – including a new record for Land's End to John o' Groats.
This is an excellent cycling book and gives an insight into the spirit of amateur time trials and the 'golden age' of British cycling in the 1940s and 1950s. Sheridan's autobiography is fairly short, but it conveys her love of cycling, intrepid determination and cheerful disposition.
Like many people in that era, Sheridan got into cycling after becoming a leisure cyclist – joining a local club, taking part in touring rides and then graduating to racing. It was on these long club rides that she started to surprise both herself and other male cyclists with her unexpected capacity for maintaining high speed on these long rides through the Warwickshire countryside and beyond.
At the moment, there is a good degree of nostalgia about the 1950s, a nostalgia which can be misplaced. But, reading Sheridan's book you do get a glimpse of a simpler time, where the joy of cycling and the Corinthian ethos of club life were well embedded. It's hard not to read without an appreciation for the old style Sunday Club Run and touring – even if it is hard to relate to the austerity of the age.
After outperforming many male club members on long rides, Sheridan was encouraged to enter her first time trial – a club 10 mile TT. She almost wasn't allowed to start (failing to meet strict the RTTC rules about all black clothes) Fortunately, a club mate lent her a regulation black jacket. And despite the oversize jacket billowing in the wind, Sheridan won her first time trial. From there, she made rapid progress becoming 25 mile and 50 mile champion in 1950. She won the newly created Best All Rounder 1950/1951; set a new record at 12 hours and was given the prestigious Birdlike Memorial Prize in 1950.
It was at this point that Sheridan was offered a contract by Hercules, to sign professionally to target all the long distance Road Race records, such as London to Portsmouth, Lands End to John o' Groats. Just last week, I happened to see Eileen Sheridan in a documentary about Raleigh (v. good documentary on BBC 4). She said how Raleigh offered her contract but the money was very small so she signed for rivals Hercules instead.
In this age, it's hard to image cycle records which went from the centre of London to the General Post office of Oxford and back. But, the records attracted a lot of media interest from major newspapers (after the event) Pre-publicity wasn't allowed in another anachronism of a rule-bound sport.
Sheridan doesn't make a big deal out of it – but she was very much a groundbreaking pathfinder for female athletes, in an era where barriers to female competition where starting to come down. She relates one story how on a sports panel in Coventry an audience member asked in all seriousness 'isn't a women's place in the kitchen?' Or as Sheridan writes:
"I suppose I was fair game for the sort of question one member of the audience asked. He considered it wrong for women to participate in sport, particularly professionally. Women's place, he said, was in the home at the kitchen skin."
She talks about such attitudes without rancour or even sense of injustice, but with good humour and simply stressing how her career helped show how women could combine family life with sporting excellence. Sheridan could have been justified in writing a chapter complaining of lingering sexist attitudes or the anachronistic rules of the sport, but her life philosophy and natural disposition seem very much to see the glass half full.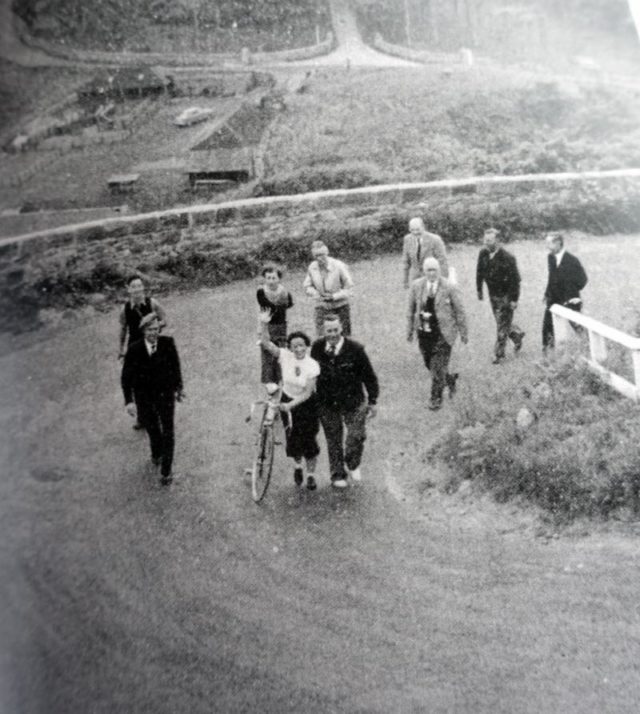 The highlight of her career was probably taking Lands End to John 'O Groats and then completing the 1,000 mile record all at once. It is not a record for the feint-hearted and Sheridan gives some indication of the severe challenge of the ride, hunger-knock, getting lost in the dark, hallucination, over-powering fatigue – yet Sheridan succeeded and kept her trade-mark cheerfulness even in this event. The events required a large team of volunteers, clubs would organise members to marshall a town and allow Sheridan to ride through the red traffic lights (try that today). After completing all 21 records on the Women's Road Records Association books, she paid tribute to these volunteers who helped her on the rides.
"No sport, no movement, no organisation of any kind can produce finer friends, or inspire greater understanding, loyalty, and unselfish enthusiasm than the great game of cycling. I thought of the thousands of unknown friends who had helped and encouraged me and knew that I hadn't let them down."
**
My Dad often buys cycling books from a second-hand book shop – many remain unread but this particular book I devoured quite quickly. It is a celebration of a genuine cycling spirit – combining both self-transcendence with an appreciation for the 'game of cycling' and all the characters who make up the sport.
Wonder Wheels at Mercianmanuals.co.uk
Records of Eileen Sheridan
British Best All-Rounder – 1949 and 1950
237.32 miles – amateur 12 hour TT  1949 (a national record with behind only four men)
National 50 and 100-mile championships in 1950.
Professional career
1954, the 12 hour record where she covered 250 and a half miles
24-hour record in 446.5 miles
She broke all 21 of the women's records by large margins. Five have yet to be beaten, including the London-Edinburgh record of 20h 11m 35s, set in 1954.
Her 1,000-mile record of 3 days and 1 hour stood for 48 years until it was broken in 2002 by Lynne Taylor.
Lands End to John o' Groats – 2 days 11 hours.
External links