I have owned several pairs of DeFeet gloves in the past years, and like to race with them on. A new version has been brought out – DeFeet e-touch dura gloves – so have bought two pairs.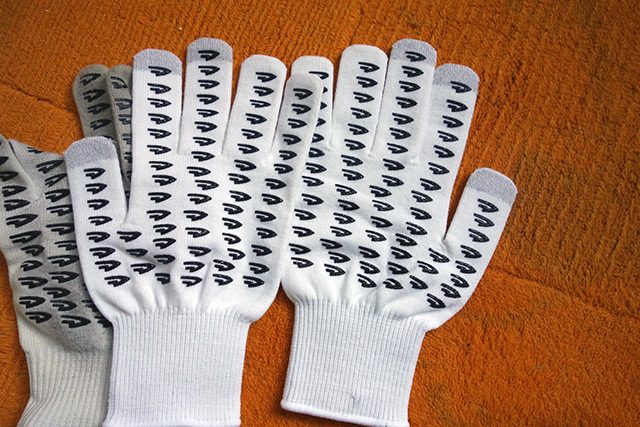 Advantages of the DeFeet e-touch gloves
Grip is very good. A big benefit of these gloves is the rubber type grip on the inside of the gloves. This is particularly useful for riding with my Trek Speed Concept bars (without any bar tape). Other wooly gloves can be really quite slippy on these carbon bars, so it is a useful addition.
Warmth. I get cold hands so am quite sensitive to warmth of gloves. These are quite warm without the bulk of a big ski glove. I can wear them down to 5 or 6 degrees for racing. The temp guide by manufacturer is 6-16 degrees.
Long cuffs. In theory, the gloves go down to the end of your wrist helping to cover up that gap between the end of gloves and the start of arm warmers. Keeping your wrists warm definitely helps keep your hands warm too.
Breathable. They are quite breathable and I can wear into early summer, even in double digits temperatures (10 degrees plus) without getting too hot.
E-touch. I do sometimes use iPhone whilst riding, the e-tap at the end of thumb and forefingers means you can leave your gloves on to swipe away. This is a useful addition to the old version.
Aerodynamics. Most cyclists won't worry too much about aerodynamics of gloves, but it is an issue for me. Better than bigger stockier gloves, but it is no aero glove. Yesterday, when racing I put a pair of large aerogloves over the top of these.
Disadvantages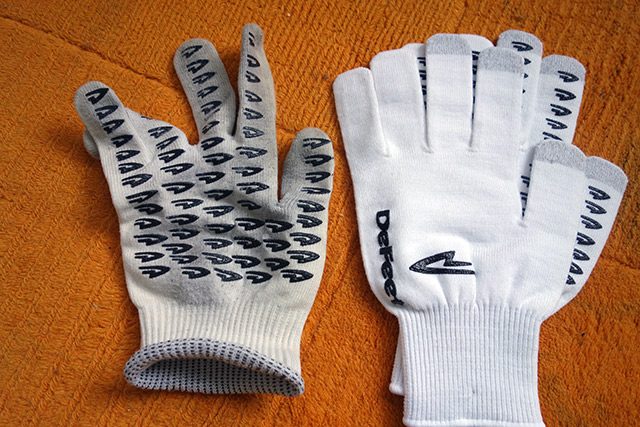 The big disadvantage is that over time (perhaps six months) the wrist area curls up meaning that the good idea of wrist warmth is lost, and also it is an aerodynamic disaster. It reveals that gap between glove and armwarmer which is a pain.
It remains to be seen whether the new e-touch dura gloves have been improved in this area. I have only bought last week, so it is too early to say, but I'm not optimistic. This fault is a big shame, because it goes from getting 5/5 to only getting 4/5.
Tejvan's current rating
4/5
I will try to remember to update this review in due course.
Value for money
At £15 it's more expensive than a bog standard glove, but I feel justified for extra features. The downside is that wrist curl which makes you want to get a new pair, when really they should last longer. Mind you I manage to lose gloves after an average life-span of about one year.
Buy online
Related
Random Photo of gloves
A small selection of some of the gloves I've used over the years.