It is important to get the correct saddle height, otherwise you will be more prone to injury. Also if the saddle height is wrong your cycling will be less efficient.
When making adjustments to the saddle position it is best to make small adjustments at a time.
When you have found the correct saddle height and you are happy with it, make sure you keep this same saddle height for all your bikes. This is especially important if you do a lot of cycling and have different bikes for racing and training.
One difficulty I have when measuring the saddle height is – what actually is the top of the saddle? It depends where you take the measurement on the saddle. – e.g. saddle is unlikely to be perfectly flat I try to take the measurement of the saddle in line with the down tube and the heighest part of the saddle (i.e. in the centre of the saddle).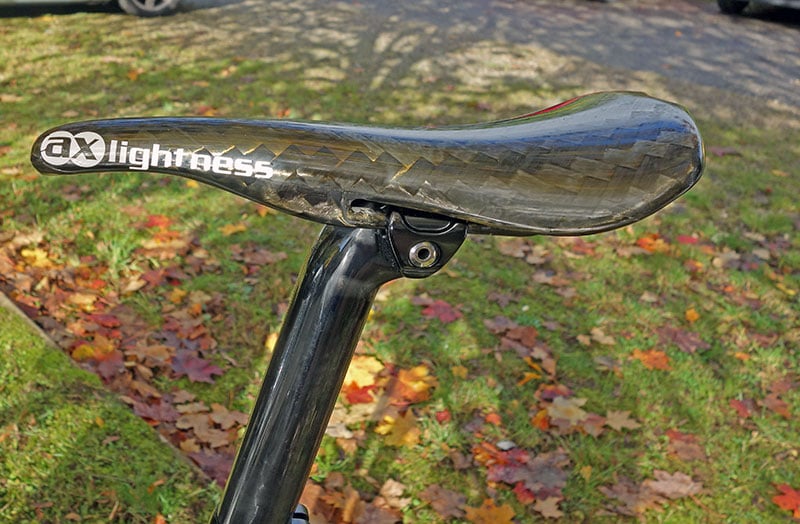 A very rough guide to saddle height
There should always be a small bend in the knee. When your pedal is at its lowest position, there should be a small bend (roughly 25 -30 degrees) If your leg is perfectly stretched the saddle is too high.
When you sit on the saddle, you should be able to touch the ground with your toes.
Most people begin cycling with the saddle height too low. This is often a legacy of childhood cycling and also a feeling that a lower saddle height makes it easier to get on and off the bike.
There are different formulas and methods for getting the correct saddle height. Initially I used a formula below. I then went to a professional bike fit in London (Cycle Fit). They were happy with this saddle height and didn't change it.
One formula for saddle height = 88.5% of inner length
The distance from the heart of the bottom bracket to the upper part of the saddle = 0.885 x inner leg length.
To measure your inner leg length. It is the distance from your crotch to the floor,
This method was developed by Claude Genzling during the Tour de France of 1978. He measured saddle heights and the length of cyclists inner legs to arrive at this average formula.
I have used this formula myself. It seems to work fine for me. It means whenever I set up a bike, I know the saddle height is going to be roughly 83.5c m. (Though since 2007 it seems to have fallen to 83.1 cm.)
109% method
This again involves measuring your inner leg length.
Then multiply the inner leg length measurement by 1.09. This figure will be the distance from the top of the saddle to the pedal axle.
The Holmes Method
This uses a different approach altogether and involves measuring the angle of the knee when at the bottom of the pedal stroke. The angle of the knee is measured by a goniometer. It will require someone to help measure and make sure your hips do not rock. It is also important to get the right places to measure the knee angle.

This is a good video. The suggested angle here is 30 degrees.
The formula used for correcting saddle height is 1mm per degree. If you find you have an angle of 40 degrees (saddle too low). Then to reduce degree to 30 degrees, it involves increasing saddle height by 10mm (1cm)
Observing knee under load
This article on saddle fitting takes a different approach. Arguing formulas rely on averages and a better solution is to do an observation when the knee is under-stress. To be honest I couldn't follow what you were really looking for from the article. But, one piece of advice is do you feel like you a riding a step machine or do you feel the pedal stroke is fluid  Saddle height at Steve Hogg.
Saddle Height – a cautionary tale
Finding the correct saddle height and sticking to it is very important. I found I'd written an article on this in 2007, – 8 years ago! One reason for reposting the article is that this week I had a bad experience with saddle heights. For some reason, the saddle height on my training bike (which I took on plane to Croatia) and fallen by 10mm. This was carelessness. My time trial bike saddle height was nearly 15mm higher than my training bike, The saddle fore-aft position was also quite different. I mentioned on Tues, I went out on time trial bike for the first time of the year – it felt uncomfortable (as you expect TT bike's to be for the first time of the year. But, I also had this difference in saddle height. IT was fine when riding on Tues, but the day after, I had some discomfort in knee. On the pain scale, it would have been 1/10. It lasted two days, and I'm sure it's related to the shock of getting on a TT bike with different saddle heights. I spent a couple of hours yesterday getting all my three bikes to the same height. As well as using tape measure I was also riding on feel until I couldn't tell any difference between the saddle height. I left my road bike exactly the same. Training bike saddle went up 12 mm, TT saddle down a couple of mm and also pushed further forward.
Saddle height and knee pain
Wrong saddle heights or sharp changes in saddle height can cause knee problems.
If your saddle is too high you may develop knee pain in the back of the knee. When the saddle is too high, you are more prone to tilting and imbalanced pedal to compensate for over height.
If the saddle is too low the knee pain will be at the front of the knee.
After changing saddle height it is not the time to do very long rides. But, get used to it.
Knee pain can be due to many factors(e.g. left-right leg imbalance), not just saddle height. It maybe you need physiotherapy rather than changing saddle height. But, saddle height is definitely an important thing to look at first.
Article on knee pain by Steve Hogg.
Other factors to consider
Some time-trialists may take aerodynamics into account when setting saddle height. A lower height possibly increasing aerodynamics.
It also depends on shoe depth. For example, if your shoes are very thin, you can have a lower saddle height. Some aerodynamics shoes are specifically designed to get you closer to the pedal so you can reduce saddle height and improve aerodynamics.
Professional cycle fit
Getting the correct saddle height is worth spending money to help getting professional advice. There is always risk that doing it yourself could be inaccurate.
Related pages