In the past several years, I've had recurrent knee problems. It usually starts to occur at the end of a long winter training season. This year I'm trying hard to prevent the problem rather than wait for pain to develop.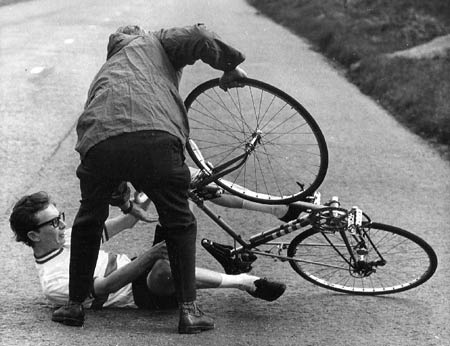 In previous years, I've visited a good sports physio in Oxford (David Jones, Oxford Sports Rehabilitation) who has helped diagnose why there is knee pain and what to do about it. In a nutshell, the problem was related to having one leg significantly weaker than another. Therefore, by the end of a long ride, the weak leg is struggling to keep up. Rather than move up and down in a straight line, the weak leg starts to flop around. It is this unnatural movement which causes pain in the knee to develop.
There was nothing intrinsically wrong with the knee. The problem was in the cycling action which was causing the knee joint to move in a way that caused friction.
The physio had a good model of a leg. When it works properly the leg is like a lever moving up and down in a straight line. When the leg moves at an angle you can see how it causes problems for the knee.
Solution to weak leg
Having a correct diagnosis of the problem is an important starting point. It was a relief to learn that I didn't have a fundamental problem with my knee, and that it could be solved.
The solution was then to increase strength in the weak leg so it would be able to keep up with the other leg. This was a simple collection of exercises, which involved standing up from a chair on one leg, leg squats on one leg.
I have a series of leg exercises, I try and do them for 20 minutes or so on off days for the bike. I make a particular effort to do these exercises if I'm having a period of time off the bike.
Checking left leg – Right leg imbalance
A good way to check leg strength is to use a leg press machine.
In February 2013, I could only lift 25kg with my left leg. With my right leg I could lift 40kg. It was a huge imbalance in strength. To be honest, I was shocked at how weak that left leg was. 25kg is not very much, when you considered how much I was cycling.
When I tested in April 2009, we didn't use a leg press machine, but my legs were weaker than in 2013. I couldn't do a proper leg squat without my legs wobbling all over the place.
Joining a Gym
I've always felt a gym is a waste of money. I've never been inspired to go to a gym and join a few other sweaty participants with horrible music blaring out. But, I thought that testing my legs could help to self-diagnose any weakness and work to prevent leg imbalances before the problem returns.
I finally joined a gym in Oxford, £100 for four months is about as cheap as you can get. Though still expensive given how little I will use it. But, they have a good leg press machines which enables you to increase weights by 2kg at a time. My test on a leg press machine for Dec 2013 was:
left leg 56 kg. Right leg 64 kg.
That was significantly stronger than 10 months ago. The imbalance is much reduced, but still there. It is quite encouraging that even a small amount of leg squats and core-strength exercises can increase leg strength quite considerably. I will continue to do exercises over winter, doing 15% more exercises on the left leg. Perhaps once a month I will go to gym and test leg strength.
Does greater strength make you go faster?
The interesting thing is that cycling a lot didn't necessarily make my legs strong. I'd done 4,000 miles in four months by Feb 2013, but me left leg could only lift 25 kg. 30 minutes a week doing simple squats, and it's doubled in strength.
I'm not quite sure of the physics. But, if you're legs are twice is strong, it must have some benefit to cycling faster. I don't really know how much, but it can't hurt. It is probably more important for sprinters. Cycling remains an aerobic discipline, some climbers have really spindly legs. But, if you have a choice between lifting 25kgs and 50kgs, which would you take?
Things I wish I'd known 20 years ago
If you get pain from cycling, don't just wait and hope it goes away. Try various strategies, such as physiotherapy to see if you can overcome the problem.
Don't be tight in paying £50 an hour to see a good physio. There's no point spending £1,000 on a bike and then not being able to ride it because you don't want to part with £50.
Core-strength exercises are really worth the time. You don't need to spend a long time doing it. Even once or twice a week, can make a big difference in helping to avoid injury.
Prevention is the best.  I've had knee problems for as long as I can remember, but was always in a rush just to ride the bike. Core strength and going to a gym seemed boring and they are. But, a bit of preventative work, would have been the best thing for cycling.
Sometimes,  we really need to put on hold the advice 'just ride a bike' Yes, this is true for 90% of the time. But, don't take it as a rule.
Related