Today was the Circuit of Ingleborough (L271) organised by Pendle Forest CC. It is a 27 mile hilly time trial from Ingleton to Settle – Ribblehead and back to Ingleton. I did it in 2014 and finished 4th.
The weather was cold, with an Easterly wind. But, this Eastery wind, seems to make the course quicker. I'm not sure why, but it made a big difference not having a head wind around Ribblehead.
The start is just to the east of Ingleton, and you climb a hill into the wind. I went quite hard here as I thought it would be the hardest part of the course. After going up and down Buck Haw Brow – you reach Settle; here the headwind changed to a side wind, making the rolling roads to Ribblehead a bit quicker than usual.
It is quite a technical course, with frequent changes of gradient. I was using a big range of gears from 39*23 to 56*11. On this kind of hilly course, electronic gears (Di2) make quite a difference; it is easier to keep the momentum going. There were a lot of marshalls out on the course, helping to navigate through tricky sections of the course, like narrow bridges and pinch points. It's an interesting course and one of the more scenic. Every now and then you look ahead and see a wonderful scene of a snow capped hill in the distance; it doesn't last for long though, as you have to put your head down and concentrate on riding.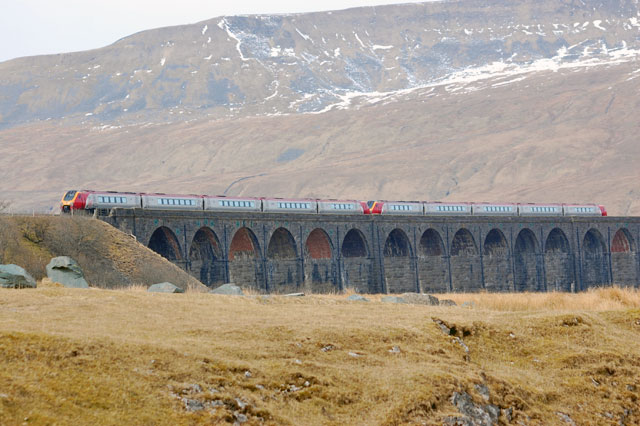 At Ribblehead, you turn left under the railway line. I barely noticed the viaduct this time, as I put the last big effort to get up the final climb of the course. Once, this final climb was out of the way, it was all downhill with a tailwind. I did the last five or six miles in my top gears 56*11 or 56*12 – it was really fast, though I did have to slow down for some cars. I averaged the last five miles at 36.5mph. I stopped the clock in 1.00.52, which turned out to be a new course record – beating Gethin Butler's time from 1998. It must have been a good day because there were many quick rides. Adam Hartley PH-MAS Cycling did a very good ride to finish quickest junior and 4th overall in 1.04. I think Simon Bridges (Manchester Wheelers) was 2nd 1.03.20 and fastest lady Rebecca Rimmington 1.15.15 Ikon-Mazda RT. 1st Team was Ilkley CC. 2nd fastest junior was Tom Cullen of Otley CC – who after the race told me about all the different kinds of racing he is doing at moment.  – Very different to when I was a lad!
I averaged 296 watts for the 27  hilly miles (25.9mph). Though when I looked at the power meter, it always seemed to be a lot higher like 360 watts, 400 watts. I think I always end up looking at my power meter when I making the most effort. When I'm cruising at faster speed, but lower power, I never look.
It's hard to ride to power on a course like this because you have to make such a big variation in effort. But, this is why I like this kind of hilly time trial – it suits a climber like me, who does this kind of ride in training all the time.
I really enjoyed the race today, and not just for coming first. It's a great shame I'll be in the US for this year's edition of the Circuit of the Dales (on April 12th this year). It would have been good to do that race with current form.
Out of interest, last year's winner of the Circuit of Ingleborough (Hugh Carthy) went on to sign for Spanish pro team Caja Rural for 2015. This was quite possibly due to more than just winning the Circuit of Ingleborough time trial! (e.g. 1st Tour of Korea, 2014)
External links
Circuit of Ingleborough photos 2015
Results 2015
1 60 Tejvan Pettinger Sri Chinmoy Cycling Team M 1-00-52
2 70 Simon Bridge Manchester Wheelers Club M40 1-03-20
3 80 Richard Bideau Pendle Forest CC M40 1-04-53
4 46 Henry King Ilkley CC M 1 4 54
5 40 Adam Hartley PH-MAS Cycling JUN 1 4 55
6 50 Ewan Farrow Ilkley CC M 1 5 11
7 30 Mark Haydock North Lancs RC M 1 7 19
8 55 Doug Hart Ilkley CC M40 1 7 21
9 45 Mark Nulty Glossop Kinder Velo M 1 7 25
10 35 Duncan Mullier Harrogate Nova CC M40 1 9 10
11 20 Peter Greenwood Team Swift M60 1 10 5
12 79 Andy Ashurst Manchester Wheelers Club M50 1 10 38
13 25 Hamish Graham Green Jersey Race Team M 1 11 3
14 43 Thomas Brook Lancaster CC M 1 11 22
15 64 Chris Dyke Manchester Wheelers Club M 1 12 13
16 51 Andy Brown The Endurance Store M 1 12 14
17 15 Richard Hamilton Harrogate Nova CC M40 1 12 28
18 83 Austin Foy North Lancs RC M 1 12 39
19 65 Duncan Orme Kent Valley RC M40 1 12 52
20 75 Ged Millward Ilkley CC M50 1 12 56
21 81 Ian Cliffe Ilkley CC M40 1 13 26
22 42 John Gibson Wigan Whs CC M40 1 13 47
23 82 Roy Flanagan Rossendale RC M50 1 13 48
24 32 Mark Brearton The Endurance Store M41 1 14 37
25 71 David Hargreaves North Lancs RC M6+F250 1 14 39
26 38 Mark Summerson Ilkley CC M40 1 14 41
27 78 Ian Wilcock Nelson Wheelers CC M40 1 14 57
28 21 Tom Cullen Otley CC JUN 1 15 6
29 5 Rebecca Rimmington Ikon-Mazda RT W 1 15 15
30 11 John Murfin Settle World Wide Wheelers M40 1 15 35
31 72 William Belcher Clayton Velo M50 1 16 15
32 10 Ian Stott Blackburn & District CTC M 1 17 16
33 59 Alan Gibworth Manchester Wheelers Club M 1 17 29
34 31 Ian Cullen Otley CC M40 1 17 51
35 62 Martin Ralph Pendle Forest CC M40 1 18 14
36 6 Gary Murfin Settle World Wide Wheelers M40 1 18 21
37 1 Paul Emmott Pendle Forest CC M40 1 18 31
38 61 Derek Schofield Rossendale RC M60 1 18 31
39 22 Mark Stickland Settle World Wide Wheelers M40 1 18 46
40 2 Paul Blackburn Leigh Premier RC M 1 19 0
41 57 Eamonn Quinn Lakes Road Club M50 1 19 17
42 67 Chris Miller Clayton Velo M60 1 19 17
43 16 Nikola Butler Pearl Izumi Sports Tours Int. W 1 19 30
44 52 Nina Benson Ilkley CC W40 1 19 49
45 28 David Pratt Pendle Forest CC M40 1 20 17
46 34 Jamie Kirk Ilkley CC M43 1 20 25
47 74 Peter Heywood Nelson Wheelers CC M40 1 20 37
48 41 Matthew Cox Ilkley CC M40 1 20 51
49 73 Paul Braithwaite Pendle Forest CC M 1 21 3
50 36 Simon Lester Team Jewson – MI Racing M60 1 21 22
51 33 Simon Dowson Settle World Wide Wheelers M42 1 21 59
52 23 Phil Wilkins Pendle Forest CC M 1 22 29
53 48 Neil Hughes-Hutchings Morden CRC M 1 23 19
54 56 Dave Horton Lancaster CC M40 1 23 44
55 49 David Deakins Lancaster CC M60 1 23 48
56 68 Dave Hunt Rossendale RC M50 1 24 17
57 17 Robbie Pollard Otley CC JUV 1 24 24
58 14 Ian Ratcliffe Settle World Wide Wheelers M40 1 24 30
59 18 Dave Bateson Horwich CC M60 1 24 32
60 39 Chris Wilson The Endurance Store M40 1 24 48
61 7 Andrew Dent Pendle Forest CC M50 1 25 28
62 29 David Hilditch Ribble Valley CRC M60 1 26 10
63 69 Steve Wilkinson Nelson Wheelers CC M50 1 26 53
64 8 Gareth Howard Leigh Premier RC M 1 26 57
65 27 Dean Marshall Settle World Wide Wheelers M50 1 28 17
66 3 Sue Cheetham North Lancs RC W50 1 28 43
67 13 Harry Haseley North Lancs RC M70 1 36 29
68 24 Bill Smith Cleveleys RC M60 1 41 49
69 19 David Tinker Clayton Velo M50 1 50 43
70 9 Peter Knott Kent Valley RC M70 1 52 5
Related