Saturday was the Circuit of Ingleborough organised by Pendle Forest CRC. It is a tough hilly circuit, on a triangle of roads between Ingleton, Settle and Horton in Ribblesdale. There are plenty of long drags, changes of gradient and some very fast descents – where you quickly lose any hard-won altitude gain. The course record is 1.01, set by Gethin Butler in very good weather conditions. In 2014, in more difficult conditions, Hugh Carthy of Rapha CC set a very good time of 1.03.24, just pipping his Rapha team-mate Richard Handley 1.03.44. Third was Ian Bibby (Madison Genesis 1.07.07) First women was Rebecca Rimmington 1.17.40 (Trainsharp) and first junior was Tom Cullen 1.21.55 of Otley CC.
My race. I actually thought I was entering the Tour of Pendle (because it is organised by Pendle Forest CRC), and expected to be racing around Barnoldswick and Pendle hill. I was surprised when I got the start sheet and saw the HQ was Ingleton – the same as the Circuit of the Dales. I didn't mind though, it looked suitably hilly and the roads around Horton in Ribblesdale are amongst by favourite. Recently, I'd had problems with front mech, so yesterday took it into a bike shop to get fixed. There seemed to be a miscommunication problem because when I looked 30 mins before driving off to the race, they hadn't done anything. It meant I had to rely on my very limited bike maintenance skills to try and get my bike ready. There's no way you can do the Circuit of Ingleborough stuck on your 56 chainring. By dint of trial and error and pushing something very hard and hoping for the best, I got a solution of sorts. In the race it later slipped a little so there was a rubbing of chain, but in the wind and effort, I could barely hear.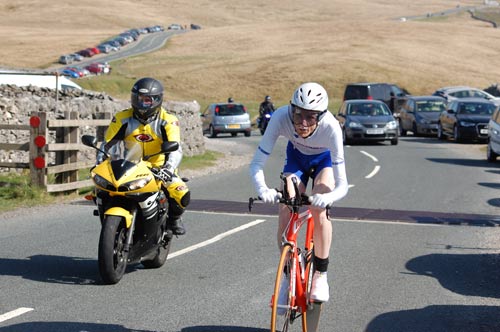 The car thermometer said 9 degrees, but if I my sound unscientific, it felt a very cold 9 degrees. There was also a strong westerly wind, definitely a day to leave the Zipp 808 in the loft. The start is quite hilly, but with a strong tailwind I was making good progress. There was then a fast (and muddy) descent  into the village of Clapham. Unfortunately, I had to go through the streets of Clapham free wheeling behind a slow moving car. It took a while to get back on A65 and get back up to speed. After undulating terrain, there is a fast descent into Settle down Bucker Brow. Bucker Brow brought back memories from 30 years ago, before the Settle bypass when we used to drive to Morecambe in my Mum's old mini (the classic old mini used to really struggle going up Bucker Brow at about 25mph) Anyway, before you knew it you were in Settle. Generally I took the descents fairly cautiously because there was a lot of farmyard muck on the road, and also my tribars worked a bit loose on the bumpy road surface, so I kept having to move them back up. At Settle, the nature of the course changes as you begin the long slog up the valley to Horton. The helpful tailwind also evaporated. The road runs parallel to the Settle-Carlisle line, but its definitely not engineered to be as smooth a gradient as the railway. There are numerous false tops, where you keep climbing, followed by a short fast descent. You were needing frequent gear changes. I've decided I'd really like Shimano Dura Ace Di2 (electronic shifters). It has to save time on a hilly time trial circuit like this. It was hard to get into a rhythm with all the changing gradients and dodgy bike equipment not quite working.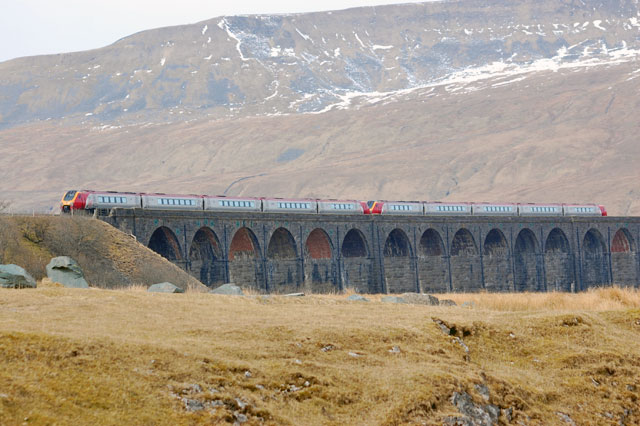 As the road veered round to Horton, you hit the full force of the Westerly wind and it was pretty hard going.  It was kind of relief to get back on the road going south from Ribblehead viaduct towards Ingleton. But, although in theory it was downhill, it didn't feel like that. There were also some very strong sidewind gusts which made handling the bike tricky. I finished in 1.07.21, which was OK, but I definitely found the ride hard much harder than the previous race. It was quite a different experience to last week, where in warm temperatures, I seemed to be able to float around. The course was always going to be a challenge, which I guess is why it is a classic early season time trial. There was a good entry of over 90 riders, including some of the top road riders. In fact, I didn't see too many time trial regulars. I suppose it's as far removed from your fast dual carriageway as you can get! At least the body held up – the back didn't trouble at all, but the bike was a bit more troublesome. Unfortunately, in the rush to do a fix of the bike, I forgot my Garmin. It would have been interesting to see the power file, I can guess it was all over the place. Very hard to get into a rhythm. Well, now I know what the Circuit of Ingleborough is, I'll be keen to come back and try and improve my time. It was also a good taster for the Circuit of the Dales in a couple of weeks time. It was a well organised event, with many marshals. It must have taken a good percentage of the club's 50 members to put it on.  Interesting fact of the week – Pendle Forest CRC was formed in 1931 by a small group who worked together at a local Pendle mill. Well, the mill is probably no longer there, but the cycle club is still going strong! Results page 1
Results part 2 a bit fuzzy
Spotted at the  HQ
Long Vehicle
Rusty trophies. One trophy was for unluckiest rider. I saw one rider coming back to start after hitting a pothole and bending his wheel, I wonder if he got it.
A very neat looking roller-turbo. Would like one of those.
Ingleton Car park. Settle 12 miles.
Full Results
| | | | |
| --- | --- | --- | --- |
| Pos | Rider | Club | Time |
| | | | |
| | | | |
| | | | |
| | | | |
| | | | |
| | | | |
| | | | |
| | | | |
| | | | |
| | | | |
| | | | |
| | | Settle World Wide Wheelers | |
| | | | |
| | | | |
| | | Ouseburn Coffee Co./Legend | |
| | | | |
| | | | |
| | | | |
| | | | |
| | | | |
| | | | |
| | | | |
| | | | |
| | | | |
| | | | |
| | | | |
| | | | |
| | | | |
| | | Settle World Wide Wheelers | |
| | | | |
| | | | |
| | | | |
| | | | |
| | | | |
| | | | |
| | | | |
| | | | |
| | | | |
| | | | |
| | | Border City Wheelers Club | |
| | | | |
| | | | |
| | | | |
| | | | |
| | | | |
| | | | |
| | | | |
| | | VTTA North Lancs and Lakes | |
| | | Settle World Wide Wheelers | |
| | | | |
| | | Settle World Wide Wheelers | |
| | | | |
| | | | |
| | | | |
| | | | |
| | | | |
| | | | |
| | | | |
| | | | |
| | | | |
| | | | |
| | | | |
| | | | |
| | | | |
| | | | |
| | | | |
| | | Settle World Wide Wheelers | |
| | | | |
| | | | |
| | | | |
| | | | |
| | | | |
| | | | |
| | | | |
| | | | |
| | | | |
| | | | |
| | | | |
| | | | |
| | | | |
| | | | |