The British Time Trial Championship 2015 was held at Cadwell Park motor racing circuit. It had an impressive entry list with around 180 riders entering the Men's, Women's and Under – 23 championship. Former World Hour record holder – Alex Dowsett (Movistar) underlined his world class form to take a fourth national title. In the women's event Hayley Simmonds (Team Velosport) won, and Scott Davies (100% ME) retained his under-23 title.
The race started on the Cadwell motor racing circuit before heading out to some local Lincolnshire lanes, which were closed to traffic. The men did 28.7 miles with women and under-23 men doing 2 laps of the big circuit for around 21 miles.
The growth in British Cycling
I did my first British time trial championship in 2005. It was held near Penistone on open roads to traffic, with a typical local school for HQ. I'm not sure how  many people entered in 2005, but it wasn't that many and only a handful of women and under 23's. Fast forward nine years, and you can see in a microcosm how British Cycling has changed. There is much more interest from across the board and a real strength in depth. Cadwell Park and the closed roads made a very impressive setting for the Championship.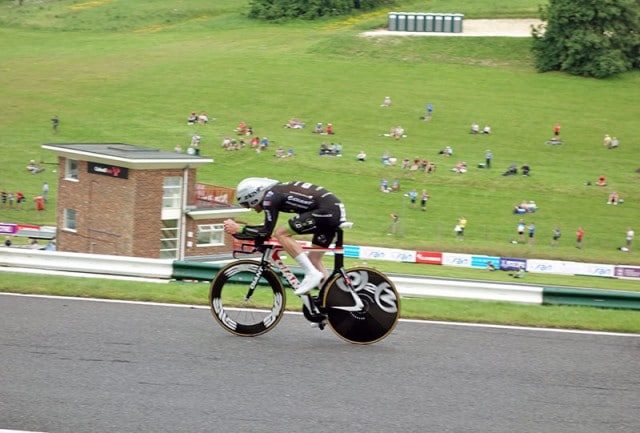 Compared to 2005, it was a bit like moving from Sunday league football in the local park, to suddenly finding yourself in the Premier League playing at Old Trafford. Sunday league football and the the village HQ retain a certain charm for domestic time triallist like myself, but it is really good for the opportunity to race on a bigger circuit, with banks of spectators and wonderful curves of a motor racing circuit. I enjoyed it a lot.
My Race
For various reasons, getting to the race was pretty hard work – it was expensive and time consuming to get bike UCI legal, and then I had trouble with not having stuff because I drove up north on Sunday after ECCA 100. To cut a long story short I should thank:
Ian Cullen (of Otley CC) for loan of aerohelmet
Anonymous friend who mailed in post my racing license from Oxford.
Also, thanks to Beeline bikes for help with getting UCI legal forks and the like (and being persistent in tracking down Trek).
UCI directives
I understand why UCI have regulations on bike sizes, but it can still be a bit of pain – at least for someone not used to riding UCI events. Before the race, with Beeline, we did make a great effort to meet regulations on tribar length, given my height of 190.5cm – I've been riding this UCI position for a couple of weeks. Today, I got there early hoping to get conformation from a commissaire the bike was legal and OK to go. Unfortunately, the bike checking place had a rig, but no commissaire to confirm. I asked several people, and I got several different answers! Confusion reigned supreme, and I couldn't go to start area. From what I could make out, the rig didn't show the maximum extension for people with higher than average height allowances. In the end, I took the safe option and moved my tribars inward as much as possible. I thought it better to be short, than not ride at all. In the end, when I was able to get to the start area 20 mins before race, the bike passed, though I'm still none the wiser about the whole process.
I was going to write a blog post on how to get your time trial bike UCI legal, but I can never summon the effort to do it.
Racing
After the minor equipment stress, it was a relief to get to start line and get on the circuit. No start ramp, just a nice steep hill to start off with. I got into good rhythm and felt I was doing OK. During the first lap, I was a bit worried about going off too quick because of the adrenaline of competing in a very different setting. But, I seemed to be able to hold it together for all three laps.
The course was quite technical, though not overly. I hadn't ridden the course beforehand so was riding every corner blind. By the end of the third lap, I had just about learned how to nail the sharp corner at the bottom of the descent before the steep hill (my times up the hill got quicker as the laps went on – because of more speed from the downhill). It definitely rewarded the rider who could maintain a bit of momentum up the really steep bit. It wasn't a massive hill, but enough to get you in the lowest gear. I did it all seated in the saddle twiddling a lowest gear of 39*25. Then elsewhere on the circuit, there were also quite a few fast bits when you were in your 56*11.
Coming back in to the motor racing circuit I was well spent and took some really bad corners, as I wasn't sure what was coming next. I also started to get a bit of cramp, which is very rare for me. A bit of dehydration possibly. It was great to finish with a lot of spectators around and the swooping last corner. I did a 1.06.07
I was pleased to finish 7th, though it was slightly inflated by the number of dns and dnf's which seems to happen quite a lot in national TT championships. But as one of the oldest clichés in cycling goes – 'you have to be in it to win it'. Perhaps if people aren't on absolute top form, they don't want to race, but save their legs for the road race on Sunday – or perhaps they are preparing for that little race across the English channel. It's a bit of a shame the likes of Bradley Wiggins and Geraint Thomas didn't ride – but they have been collecting very impressive palmeres to give themselves a good excuse. And I'm not going to complain too much, 7th sounds much better than 9th.
The only thing is that given how close it was in the top 10, it was a shame my super fast new skinsuit still hasn't arrived and also another company let me down in not sending a new (possibly) super fast aerohelmet. Any good tester has to have a few excuses though, and I couldn't use traffic volumes today…
Nat 100
After going to all the trouble of entering the BTTC, I decide a few weeks ago to prioritise the national 100 (that's why I did ECCA 100 on Sun). But, I think training for the national 100 had no ill-effects, and possibly helped for the hilly 28 mile circuit.
I really enjoyed the day and the time trial (excepting minor UCI rule stress). It was very well organised, with a lot of enthusiastic people to help organise; the event had a real championship buzz. It felt a bit of treat for a domestic tester – more used to a 6am start in an anonymous dual carriegeway layby. For all the hassle and cost of getting bike ready, I'm glad to have done the big championship.
Other photos I took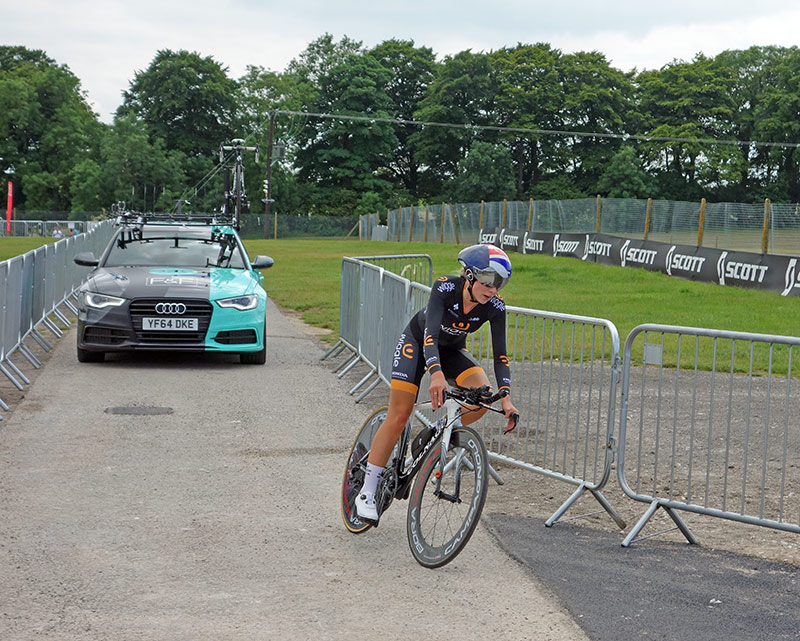 External links
Men's results

1 Alex Dowsett Movistar Team 01:00:11.13
2 Edmund Bradbury NFTO 01:03:42.25
3 Ryan Perry SportGrub KUOTA Cycling Team 01:04:02.28
4 Matthew Bottrill www.drag2zero.com 01:04:31.50
5 Lloyd Chapman Richardsons – Trek RT 01:05:43.02
6 Ashley Cox CC Luton 01:05:52.70
7 Tejvan Pettinger Sri Chinmoy Cycling Team 01:06:07.64
8 Jason Bouttell Velopro 01:06:15.57
9 Josh Williams Revolutions Racing 01:06:23.50
10 Gruffudd Lewis Pedal Heaven RT 01:06:31.07
11 Dean Robson Somerset RC – The Bicycle Chain 01:06:36.34
12 Ian Smallwood Cardiff Ajax CC 01:06:46.84
13 James Gullen Velosure Starley Primal 01:07:08.93
14 Rhys Howells Richardsons Trek RT 01:07:25.89
15 James Lowden Neon – Velo Cycling Team 01:07:35.56
16 Adam Gascoigne Pedal Power Loughborough 01:07:43.24
17 Adam Kenway SportGrub KUOTA Cycling Team 01:07:52.39
18 Daniel Halksworth Velo Sport Jersey 01:08:06.60
19 Daniel Bigham Be eline Bicycles RT 01:08:14.68
20 Pete Dyson East London Velo 01:08:20.71
21 Peter Murdoch Neon – Velo Cycling Team 01:08:22.47
22 Chris McNamara Pedal Heaven RT 01:09:07.97
23 William Bjergfelt SportGrub KUOTA Cycling Team 01:09:11.08
24 Robert Moore Pedal Heaven RT 01:09:23.77
25 Jamie Pine Pedal Heaven RT 01:09:49.07
26 Ewan Farrow Ilkley Cycling Club 01:09:57.74
27 Keith Murray Pioneer Scott Syncros 01:10:34.76
28 Simon McNamara Southdowns Bikes â Casco 01:10:55.26
29 Michael Guilford VC Meudon 01:11:46.52
30 Greig Burt Beeston Cycling Club 01:11:57.80
31 Mark Nulty Manchester Bicycle Club 01:12:09.64
32 Christophe Demoulin Rapha Cycling Club 01:12:19.01
33 Benjamin Allen Dulwich Paragon CC 01:12:30.56
34 Ian Russell Arrow Cycles 01:13:18.94
35 John Brearley City RC (Hull) 01:13:51.28
36 Christopher Bates Beeston Cycling Club 01:15:25.30
WOMEN
1 Hayley Simmonds Team Velosport 51:39.89
2 Molly Weaver Matrix Fitness 52:58.18
3 Dame Sarah Storey Pearl Izumi Sports Tours Int'l 53:00.61
4 Lucy Coldwell Unattached 53:37.14
5 Ciara Horne Pearl Izumi Sports Tours Int'l 53:38.31
6 Katie Archibald Pearl Izumi Sports Tours Int'l 53:41.78
7 Hannah Barnes Unitedhealthcare Pro Cycling Team 55:29.68
8 Abby -Mae Parkinson Team Giordana -Triton 55:35.93
9 Julia Shaw www.drag2zero.com 56:11.57
10 Anna Christian Wiggle Honda 56:22.44
11 Rebecca Rimmington Aprire Bicycles/HSS Hire 56:56.77
12 Natalie Grinczer Fusion RT Gearclub Bike Science 57:03.49
13 Annasley Park Team Giordana – Triton 57:44.75
14 Alice Cobb Aprire Bicycles/HSS Hire 58:00.14
15 Chloe Fraser Team Rytger 58:02.28
16 Hayley Jones Bicycle Superstore. 58:29.94
17 Anna Turvey Pearl Izumi Sports Tours Int'l 58:38.35
18 Mathilde Pauls Fusion RT Gearclub Bike Science 58:51.49
19 Julie Erskine IKON – Mazda 58:59.94
20 Elizabeth Stedman University of Sheffield CC 59:24.34
21 Faye Faber Unattached 59:30.07
22 Bethany Hayward Pearl Izumi Sports Tours Int'l 59:35.59
23 Henrietta Colborne Team Jadan 59:40.11
24 Amy Gornall Aprire Bicycles/HSS Hire 59:44.54
25 Ruth Summerford PMR@Toachim House 59:51.69
26 Claire Munton Malteni Race Team 01:00:18.02
27 Nikola Butler Pearl Izumi Sports Tours Int'l 01:00:22.94
28 Annabel Fisher Bonito Squadra Corse 01:00:41.34
29 Josephine Gilbert Velosure Starley Primal 01:00:46.73
30 Vanessa Whitfield Team 22 01:00:59.45
31 Emma Lewis Adalta Cycling Club 01:01:27.96
32 Lorna Ferguson Glasgow Green Cycle Club 01:02:57.32
33 Keira McVitty Team Giordana – Triton 01:03:46.51
34 Jennifer McAndrew Team Jadan 01:06:27.72
35 Laura Cheesman Velosure Starley Primal 01:07:07.93
36 Helen McKay Les Filles Racing Team 01:10:22.56
UNDER 23
1. Scott Davies 100% ME 47:20.32
2 Owain Doull Team Wiggins 47:26.53
3 Tao Geoghegan Hart Axeon Cycling Team 47:37.90
4 Thomas Baylis One Pro Cycling 48:04.42
5 Joshua Teasdale Prorace Cycling Team 48:15.43
6 James Shaw Lotto Soudal 48:26.11
7 Mark Stewart 100% ME 48:37.24
8 Gabriel Cullaigh 100% ME 48:40.72
9 Matt Gibson 100% ME 48:56.51
10 Ben Hetherington Achieve Northside Skinnergate 49:03.57
11 Christopher Fennell Catford CC Equipe/Banks 49:07.13
12 Andy Leigh Team Handi Ness 49:13.90
13 Christopher Lawless Team Wiggins 49:24.85
14 Oliver Wood 100% ME 49:31.20
15 Charlie Tanfield Easton Ritte 49:37.80
16 Connor Swift Polypipe Cycling Team 49:41.45
17 Chris Latham 100% ME 49:50.62
18 Alistair Slater An Post ChainReaction 49:54.74
19 George Wood Richardsons Trek RT 50:13.31
20 Luc Hall Team Wiggins 50:16.21
21 Jake Kelly 100% ME 50:21.24
22 Joe Evans Madison Genesis 50:31.76
23 Germain Burton 100% ME 50:35.20
24 Lawrence Carpenter Catford CC Equipe/Banks 50:39.35
25 Jack O'Neill Mike Vaughan Cycles 50:43.63
26 Stephen Williams Pedal Heaven RT 50:49.53
27 Sebastian Baylis Champion System VCUK Racing Team 50:55.15
28 Simon Alexander Richardsons Trek RT 50:55.72
29 James Garratt Welland Valley CC 51:02.57
30 Ashley Dennis Catford CC Equipe/Banks 51:13.30
31 Jacob Scott ILLI – Bikes Cycling Team 51:19.97
32 Tom Bracegirdle Team Handi – Ness 51:29.27
33 Edward Clemens Team Handi Ness 51:54.04
34 Cameron Woolsey Spirit Bikes Racing Team 51:54.65
35 Joel Lewis Rhino Racing 52:01.62
36 Cameron Jeffers Bill Nickson Cycles RT 52:19.65
37 Harry Godding Catford CC Equipe/Banks 52:21.24
38 Liam Yates Catford CC Equipe/Banks 52:25.50
39 Joseph Andrews Eden Veranda Racing 52:37.43
40 Will Houghton Hillingdon Cycling Club 52:41.61
41 David Bolland Clay Cross Road Team 52:55.22
42 Peter Hitt VC Meudon 53:10.55
43 Sean McGovern Teamwallis Racing Team 54:05.03
44 Jack Donaldson Neon – Velo Cycling Team 54:06.35
45 Sean Townsend Radeon Cycle Coaching 54:39.51
46 Oliver Blagden High Wycombe Cycling Club 55:44.88
47 Jason Hales Unattached 55:51.99
48 Gethin Llewelyn Swansea University RT 55:58.00
49 Joshua Haasz VC Londres 55:58.62
50 Jacob Nicholson TBW Bottecchia Wigmore RT 56:27.84
51 Conor Palliser East Bradford CC 56:41.16
52 Max Sahota St Ives CC 56:54.19
53 Peter Cocker Pedal Pushers 01:00:50.89
STARTSHEETS (PROVISIONAL)
Under 23 Men
12:00 1 Sean McGovern Teamwallis Racing Team
12:01 2 Charlie Tanfield Easton Ritte
12:02 3 Alex Minting Neon-Velo Cycling Team
12:03 4 Ashley Dennis Catford CC Equipe/Banks
12:04 5 Joel Lewis Rhino Racing
12:05 6 Ben McIntosh Xeltextiel-VDBG Steenhouwerij
12:06 7 Cameron Jeffers Bill Nickson Cycles RT
12:07 8 Edward Clemens Team Handi-Ness
12:08 9 Cameron Woolsey Spirit Bikes Racing Team
12:09 10 Jack O'Neill Mike Vaughan Cycles
12:10 11 Christopher Fennell Catford CC Equipe/Banks
12:11 12 Andy Leigh Team Handi-Ness
12:12 13 Connor Swift Polypipe Cycling Team
12:13 14 Jacob Scott ILLI-Bikes Cycling Team
12:14 15 James Garratt Welland Valley CC
12:15 16 Conor Palliser East Bradford CC
12:16 17 David Bolland Clay Cross Road Team
12:17 18 Gabriel Cullaigh 100% ME
12:18 19 George Wood Richardsons-Trek RT
12:19 20 Germain Burton 100% ME
12:20 21 Gethin Llewelyn Swansea University RT-LeisureTime
12:21 22 Ben Hetherington Achieve Northside Skinnergate
12:22 23 Harry Godding Catford CC Equipe/Banks
12:23 24 Jack Donaldson Neon-Velo Cycling Team
12:24 25 Jacob Nicholson TBW Bottecchia Wigmore RT
12:25 26 Jake Kelly 100% ME
12:26 27 James Falconer Ferryhill Wheelers CC
12:27 28 Jason Hales Unattached
12:28 29 Joe Evans Madison Genesis
12:29 30 Jonathan Wears Team Jewson-M.I.Racing-Polypipe
12:30 31 Joseph Andrews Eden Veranda Racing
12:31 32 Joshua Haasz VC Londres
12:32 33 Liam Yates Catford CC Equipe/Banks
12:33 34 Simon Alexander Richardsons-Trek RT
12:34 35 Luc Hall Team Wiggins
12:35 36 Mark Stewart 100% ME
12:36 37 Max Sahota St Ives CC
12:37 38 Oliver Blagden High Wycombe Cycling Club
12:38 39 Sebastian Baylis Champion System VCUK Racing Team
12:39 40 Peter Cocker Pedal Pushers
12:40 41 Peter Hitt VC Meudon
12:41 42 Ryan Witchell University of Bristol CC
12:42 43 Sean Townsend Radeon Cycle Coaching
12:43 44 Stephen Williams Pedal Heaven RT
12:44 45 Thomas Baylis One Pro Cycling
12:45 46 Chris Latham 100% ME
12:46 47 Thomas Wood Paul Milnes – Bradford Olympic RC
12:47 48 Tom Bracegirdle Team Handi-Ness
12:48 49 Tristan Robbins Madison Genesis
12:49 50 Christopher Lawless Team Wiggins
12:50 51 Will Houghton Hillingdon Cycling Club
12:51 52 James Shaw Lotto Soudal
12:52 53 Henry Latimer Catford CC Equipe/Banks
12:53 54 Oliver Wood 100% ME
12:54 55 Joshua Teasdale Prorace Cycling Team
12:55 56 Alistair Slater An Post – ChainReaction
12:56 57 Zachery May NFTO
12:57 58 Alexander Royle Army Cycling Union
12:58 59 Samuel Williams One Pro Cycling
12:59 60 Matt Gibson 100% ME
13:00 61 Alex Peters SEG Racing
13:01 62 Lawrence Carpenter Catford CC Equipe/Banks
13:02 63 Jonathan Dibben Team Wiggins
13:03 64 Harry Tanfield JLT Condor
13:04 65 Tao Geoghegan Hart Axeon Cycling Team
13:05 66 Owain Doull Team Wiggins
13:06 67 Scott Davies 100% ME (defending champion)
Women
13:30 1 Alice Cobb Aprire Bicycles/HSS Hire
13:31 2 Alice Lethbridge GB Cycles.co.uk
13:32 3 Mathilde Pauls Fusion RT Gearclub Bike Science
13:33 4 Bethany Hayward Pearl Izumi Sports Tours Int'l
13:34 5 Ciara Horne Pearl Izumi Sports Tours Int'l
13:35 6 Ellie Coster Team USN
13:36 7 Amy Gornall Aprire Bicycles/HSS Hire
13:37 8 Emily Kay Team USN
13:38 9 Emma Lewis Adalta Cycling Club
13:39 10 Faye Faber Unattached
13:40 11 Annabel Fisher Bonito Squadra Corse
13:41 12 Henrietta Colborne Team Jadan
13:42 13 Nikola Butler Pearl Izumi Sports Tours Int'l
13:43 14 Abigail Dentus Team Velosport
13:44 15 Jennifer McAndrew Team Jadan
13:45 16 Josephine Gilbert Velosure Starley Primal
13:46 17 Julie Erskine IKON – Mazda
13:47 18 Katie Curtis Pearl Izumi Sports Tours Int'l
13:48 19 Laura Cheesman Velosure Starley Primal
13:49 20 Amy Hill Team Rytger
13:50 21 Lindsey Ackland Zappi's Racing Team
13:51 22 Lorna Ferguson Glasgow Green Cycle Club
13:52 23 Manon Lloyd Team USN
13:53 24 Chloe Fraser Team Rytger
13:54 25 Melissa Lowther Matrix Fitness
13:55 26 Natalie Grinczer Fusion RT Gearclub Bike Science
13:56 27 Suzetta Guerrini London Dynamo
13:57 28 Helen McKay Les Filles Racing Team
13:58 29 Adel Tyson-Bloor Team Mulebar Girl – Sigma Sport
13:59 30 Anna Turvey Pearl Izumi Sports Tours Int'l
14:00 31 Annasley Park Team Giordana- Triton
14:01 32 Claire Munton Malteni Race Team
14:02 33 Elizabeth Stedman Fusion RT Gearclub Bike Science
14:03 34 Emily Nelson Team USN
14:04 35 Emily Robertson CC Luton
14:05 36 Hayley Simmonds Team Velosport
14:06 37 Keira McVitty Team Giordana- Triton
14:07 38 Molly Weaver Matrix Fitness
14:08 39 Rebecca Raybould Poole Whls CC
14:09 40 Natalie Creswick Team Mulebar Girl – Sigma Sport
14:10 41 Gabriella Shaw Pearl Izumi Sports Tours Int'l
14:11 42 Ruth Summerford PMR@Toachim House
14:12 43 Vanessa Whitfield Team 22
14:13 44 Nicola Juniper Team Giordana- Triton
14:14 45 Hayley Jones Bicycle Superstore.
14:15 46 Abby-Mae Parkinson Team Giordana- Triton
14:16 47 Rebecca Rimmington Aprire Bicycles/HSS Hire
14:17 48 Amy Roberts Wiggle Honda
14:18 49 Hannah Barnes Unitedhealthcare Pro Cycling Team
14:19 50 Genevieve Whitson WV Avanti
14:20 51 Anna Christian Wiggle Honda
14:21 52 Julia Shaw www.drag2zero.com
14:22 53 Lucy Coldwell Unattached
14:23 54 Dame Sarah Storey Pearl Izumi Sports Tours Int'l
14:24 55 Elinor Barker Matrix Fitness
14:25 56 Katie Archibald Pearl Izumi Sports Tours Int'l
Elite Men
16:00 1 Adam Gascoigne Pedal Power Loughborough
16:01 2 Christopher Bates Beeston Cycling Club
16:02 3 Adam Kenway SportGrub KUOTA Cycling Team
16:03 4 Benjamin Allen Dulwich Paragon CC
16:04 5 James Lowden Neon-Velo Cycling Team
16:05 6 Charlie Emery Unattached
16:06 7 Chris McNamara Pedal Heaven RT
16:07 8 Jason Bouttell Velopro
16:08 9 Christophe Demoulin Rapha Cycling Club
16:09 10 Ashley Cox CC Luton
16:10 11 Daniel Bigham Beeline Bicycles RT
16:11 12 Daniel Halksworth Velo Sport Jersey
16:12 13 Chris Opie One Pro Cycling
16:13 14 David Allonby Cleveleys RC
16:14 15 Dean Robson Somerset RC – The Bicycle Chain
16:15 16 Ewan Farrow Ilkley Cycling Club
16:16 17 Greig Burt Beeston Cycling Club
16:17 18 Ian Russell Arrow Cycles
16:18 19 Ioan Smallwood Cardiff Ajax CC
16:19 20 Andrew Hastings Richardsons-Trek RT
16:20 21 James Local Neon-Velo Cycling Team
16:21 22 Simon McNamara Southdowns Bikes â Casco
16:22 23 Jamie Pine Pedal Heaven RT
16:23 24 John Brearley City RC (Hull)
16:24 25 John Findley High On Bikes
16:25 26 Jonathan Gildea SportGrub KUOTA Cycling Team
16:26 27 Jonathan Mould One Pro Cycling
16:27 28 Josh Williams Revolutions Racing
16:28 29 Joshua Hunt One Pro Cycling
16:29 30 Peter Murdoch Neon-Velo Cycling Team
16:30 31 Joshua Lawless Team Moda-Anon
16:31 32 Elliott Porter Team 3M
16:32 33 Lloyd Chapman Richardsons-Trek RT
16:33 34 Mark Nulty Manchester Bicycle Club
16:34 35 Michael Guilford VC Meudon
16:35 36 Pete Dyson East London Velo
16:36 37 Rhys Howells Richardsons-Trek RT
16:37 38 Robert Moore Pedal Heaven RT
16:38 39 Ryan Perry SportGrub KUOTA Cycling Team
16:39 40 Simon Bridge Manchester Whlrs Club
16:40 41 Simon Wilson Polypipe Cycling Team
16:41 42 Sam Harrison NFTO
16:42 43 Steven Burke Team Wiggins
16:43 44 Tejvan Pettinger Sri Chinmoy Cycling Team
16:44 45 Keith Murray Pioneer Scott Syncros
16:45 46 James Gullen Velosure Starley Primal
16:46 47 Edmund Bradbury NFTO
16:47 48 George Atkins One Pro Cycling
16:48 49 William Bjergfelt SportGrub KUOTA Cycling Team
16:49 50 Peter Williams One Pro Cycling
16:51 51 Rob Partridge NFTO
16:53 52 Andrew Tennant Team Wiggins
16:55 53 Gruffudd Lewis Pedal Heaven RT
16:57 54 Russell Hampton Polypipe Cycling Team
16:59 55 Stephen Cummings MTN – Qhubeka
17:01 56 Mark Christian Team Wiggins
17:03 57 Matthew Bottrill www.drag2zero.com (5 times podium)
17:05 58 James McLaughlin Madison Genesis
17:07 59 Alex Dowsett Movistar Team (three time champion)
17:09