This is a repost of an old blog from my previous website. I'll repost it here as I have lost access to editing site.
The main point of interest is the top three riders. Who would have predicted the top three would go on to win the Tour de France. 4th Michael Hutchinson was commentating on tv today.
1 Bradley Wiggins Sky Pro Cycling 1:04:55
2 Christopher Froome Sky Pro Cycling 1:06:17
3 Geraint Thomas Sky Pro Cycling 1:06:30
It wasn't my best race, the only thing I remember was Geraint Thomas talking to me after the race. Seemed a nice chap.
Very happy for Geraint Thomas to win the 2018 Tour de France. A very well deserved victory. Hope he gets lots of cheers on the Champs Elysees!
My race report from 2010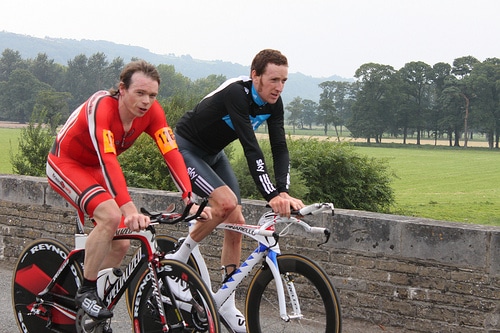 Michael Hutchinson and Bradley Wiggins chat, just after the finish.
Yesterday was the 2010 British Time Trial Championships in Llandeilo, Wales. Apart from closing roads to traffic, it was as close as you can get to a real pro race. The course was testing, for the senior men 52km. For the Masters, Women and juniors – 32km. The women's race was won by Emma Pooley, just ahead of Julia Shaw and Wendy  Houvenaghel.
In the Men's race, Bradley Wiggins was the clear winner averaging a phenomenal 30mph for the 52 km. He led in a Sky One, Two, Three, with top domestic rider Michael Hutchinson just edged out of the podium place. In the Senior Men category, I was 24th place in a time of 1:14:24 (26.2mph). At one point Chris Froome (Sky) came flying past me. I was doing 33mph, so he must have been really going fast.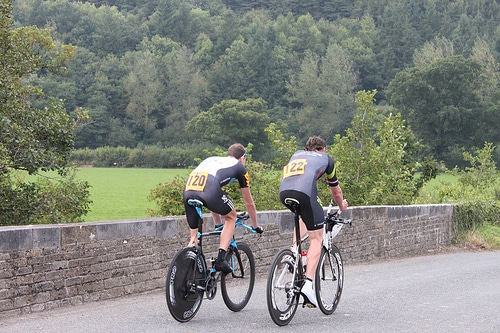 Chris Froome and Andrew Tennant (I think)
There was a short climb through the village of Llandeilo, which was a great buzz as a large crowd were there to cheer on the riders. After finishing, I took my camera and nipped back to the finish to take a couple of photos of the top riders who went off last. I ended up riding back to HQ with Geraint Thomas, who finished 3rd. He seemed a very nice, modest guy, quite at ease talking about cycling. I forgot for a few minutes, this was the guy who at one stage was second in this years Tour. I'm sure he has a great career ahead of him, I'd like to see him do well. Funny, next week he has the Tour of Britain, I have the start of the school term. Later in the year, he has the Commonwealth Games, I will have a few hill climbs. But, it's a great sport when you can race in the same event as the best athletes in the sport.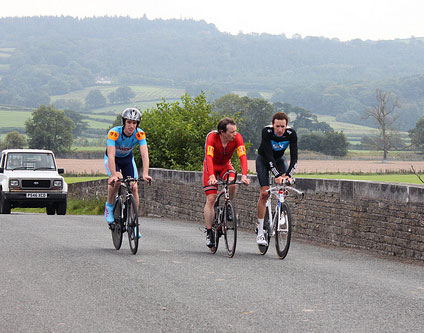 After getting back from New York, I felt somewhat demotivated from racing. On Saturday, I did my slowest 10 of the year (21:44). I toyed with not starting the BTTC championships, but, glad I made the long trek down to south Wales, a very well organised event and it was good to take part.
Related
2010 BTTC – Elite Men results
1 Bradley Wiggins Sky Pro Cycling 1:04:55
2 Christopher Froome Sky Pro Cycling 1:06:17
3 Geraint Thomas Sky Pro Cycling 1:06:30
4 Michael Hutchinson In Gear/Quickvit/Trainsharp RT 1:06:58
5 Matthew Bottrill I-Ride.co.uk 1:09:34
6 Robert Partridge Endura Racing 1:10:10
7 Andrew Tennant Motorpoint/Marshalls Pasta 1:10:31
8 Jerone Walters Sigmasport/Specialised 1:10:35
9 Matt Clinton Mike Vaughan Cycles 1:10:50
10 Ashley Cox Team Corley Cycles 1:10:56
11 Rob Hayles Endura Racing 1:11:03
12 James Wall Team Echelon Spiuk 1:11:13
13 John Tuckett Activ Cycles Fentimans RT 1:11:16
14 Dale Appleby Team Raleigh 1:11:43
15 Alistair Robinson Team Leslie Bikes 1:12:02
16 James Sampson Motorpoint/Marshalls Pasta 1:12:13
17 David Mclean Frezza/Pasta Montegrappa 1:12:20
18 Jeff Jones Chippenham & District Whs 1:12:20
19 Neil Coleman Bahati Foundation PCT 1:12:24
20 Adrian Lansley Pedalon.co.uk 1:12:34
21 Jesse Elzinga Beeline Bicycles RT 1:13:37
22 Phill Sykes Sigmasport/Specialised 1:13:57
23 Hugh Wilson Team Qoroz 1:14:04
24 Tejvan Pettinger Sri Chinmoy CT 1:14:13
25 Rhys Payne Porth & District CC 1:14:59
26 Kieron Davies Bynea CC 1:15:28
27 Xavier Disley University of Birmingham 1:15:57
28 Silas Goldsworthy Sandy Wallace Cycles 1:16:06
29 Graeme Hatcher Manx Viking Whs 1:16:22
30 Steve Daintith Warrington RC 1:17:03
31 Geoff Loveman Fareham Whs 1:17:24
32 Arwel Davies Bynea CC 1:17:52
33 Andy Hudson Dulwich Paragon CC 1:18:52
34 Alastair Wareham Team Swift 1:19:00
35 Sam Hayes Team Lutterworth Cycle Centre  1:19:02
36 Simon Smart www.drag2zero.com 1:19:18
37 Paul Jones Ystwyth CC 1:24:37
38 Dan Henchy Pbscience.com 1:24:56
39 David Hawkins Pembrokeshire Velo 1:31:25
40 Mark Gibson Chester RC 1:32:16
Women
1 Emma Pooley Cervelo Test Team 0:44:30
2 Julia Shaw Utag Yamaha 0:44:49
3 Wendy Houvenaghel Bike Chain Ricci 0:44:57
4 Sharon Laws Cervelo Test Team 0:45:34
5 Emma Trott  Moving Ladies 0:46:00
6 Sarah Storey Horizon Fitness RT 0:46:48
7 Claire Galloway Team Zappi's 0:46:57
8 Mathilde Matthysse Ferryhill Whs/Mountain High RT 0:47:29
9 Michelle King Cult Racing 0:47:41
10 Claire Newland Welwyn Whs 0:48:58
11 Jenny Lloyd-Jones London Dynamo Prologue 0:50:01
12 Paula Moseley Climb on Bikes CC 0:50:46
13 Charlotte Easton Cyclefit RT 0:50:48
14 Emma Grant  Rapha Condor 0:50:54
15 Bronwen Ewing Rye & Dist Whs 0:51:01
16 Emilie Fisher Orbea/For Goodness Shakes! 0:51:11
17 Lesley-Anne Walkling Pbscience.com 0:51:33
18 Lynn Patchet Stone Whs 0:51:45
19 Ruth Middleton PCA Ciclos Uno 0:51:46
20 Michelle Parsons Team Echelon Spiuk 0:51:59
21 Sue Fenwick Crest CC 0:52:06
22 Alexandra Grzegorczyk Leamington C&AC 0:52:40
23 Susan Semple Stafford RC 0:53:08
24 Victoria Ware  VC Moulin 0:53:19
25 Rachel Mcgranaghan VC St Raphael 0:56:33
26 Alana Collis Ashfield RC 0:56:48
27 Sara Dias-Ayton …a3crg/SIS 0:58:05
Under 23 Men
1 Andrew Grifiths New Heebra Lombarden 0:42:41
2 Matthew Jones COC Fougeres 0:43:33
3 Douglas Dewey GWR Team 0:43:43
4 James McLaughlin Pendragon/Le Col/Colnago 0:43:45
5 Samuel Parker Team Zappi's 0:44:07
6 Will Fox Team Zappi's 0:44:29
7 Richard Handley Team Raleigh 0:44:32
8 Matthew Cronshaw Rapha Condor 0:44:42
9 Mike Cuming Team Raleigh 0:45:14
10 James Gullen Wallis Cycles 0:45:24
11 Joe Skipper Team Zappi's 0:46:03
12 Adam French East London Velo 0:46:26
13 Charles Rees Raleigh RT 0:46:27
14 Simon Thomas ASFRA Flanders RT 0:46:59
15 Andrew Jones Royal Dean Forest CC 0:47:08
16 Nathan Russell Pbscience.com 0:48:07
18 Mark Brown University of Birmingham 0:49:18
17 Robert Ward VC St Raphael 0:50:19
Junior Men
1 Conor Dunne Glendene CC 0:44:02
2 Daniel McLay Hargroves Cycles 0:44:14
3 Ryan Mullen * Planet X 0:44:15
3 Oliver Rossi PCA Ciclos Uno 0:44:34
4 Alexander Royle I-Ride.co.uk 0:45:19
5 Jack Green VC St Raphael 0:45:57
6 Tom Stockdale Team Qoroz 0:46:11
7 Lewis Balyckyi Team Wallis CHH 0:46:22
8 Michael Barnes Team Larkfield Cycles 0:46:44
9 Josh Teasdale Team Endura-MI Racing 0:46:50
10 Matthew Hamilton Team Leslie Bikes 0:46:55
11 Alexander Murison Glendene CC 0:47:01
12 Luke Grivell-Mellor Mid Shropshire Whs 0:47:03
13 Sam Connolley Maldon & District 0:47:12
14 Jake Martin Onelife Development Squad 0:47:24
15 Andrew Brind-Surch VC St Raphael 0:47:26
16 Rob Yeatman Team Zappi's 0:47:59
17 Luke Cornish Cwmcarn Paragon CC 0:48:02
18 Hugh Carthy scienceinsport.com 0:48:31
19 Matt Woods Swindon RC 0:48:49
20 Jack Lear Pembrokeshire Velo 0:48:52
21 Freddie Lewton Giant CC 0:48:57
22 Max Webber VC St Raphael 0:49:09
23 Kristian Woolf Kings Cliffe Flyers 0:49:20
24 Callum Rogers Scunthorpe Poly CC 0:51:29
25 Matt Gittings ANCycles.co.uk 0:52:27
26 Dan Colman Pembrokeshire Velo 0:53:45
27 Hywel Stredwick Bynea CC 0:54:15
Masters
A
1 Stuart Dodd www.drag2zero.com 0:43:53 A
2 Nicholas English Reading CC 0:44:37 A
3 James Perkins Zenith CC 0:44:40 A
4 Colin Parry VC Montpellier 0:44:42 A
5 Ben Anstie Chippenham & District Whs 0:44:56 A
6 Scott Walker I-Ride.co.uk 0:45:10 A
7 Patrick Brennan …a3crg/SIS 0:45:27 A
8 Dave Griffiths Paramount RT 0:45:54 A
9 Luke Moseley Climb on Bikes CC 0:46:06 A
10 David Williams Fibrax Wrexham RC 0:46:40 A
11 Nicolas Hutchings CS Grupetto 0:46:48 A
12 Warren Gell Lancashire RC 0:47:02 A
13 Alex Peterson awcycles.co.uk 0:47:13 A
B
1 David Evans Royal Dean Forest CC 0:44:46 B
2 Sebastian Ader …a3crg/SIS 0:44:47 B
3 David Crawley Fibrax Wrexham RC 0:44:55 B
4 Steve Golla Sigmasport/Specialised 0:45:00 B
5 Peter Kench GWR Team 0:45:10 B
6 Jason White Cyclepremier/Metaltek 0:45:31 B
7 Peter Weir Maidenhead & District CC 0:47:06 B
8 Andrew Campbell Fibrax Wrexham RC 0:48:03 B
9 Mark Hiddlestone Bynea CC 0:48:49 B
10 Mark Andrews Merthyr CC 0:50:34 B
11 Edward Dursley Worcester St Johns CC 0:50:46 B
12 Martin Wallis Wallis Cycles 0:51:39 B
C
1 Jon Sturman Activ Cycles Fentimans RT 0:44:02 C
2 Adam Topham High Wycombe CC 0:44:23 C
3 Alan Warburton LeisureLakesBikes.com 0:44:28 C
4 Martin Smith Army CU 0:44:49 C
4 Simon Tout Velocity Bikes CC 0:44:49 C
6 David Wheeler In Gear/Quickvit/Trainsharp RT 0:45:09 C
7 David Watson Coventry RC 0:45:16 C
8 Graeme Stirzaker …a3crg/SIS 0:45:21 C
9 Stephen Walkling VC St Raphael 0:45:35 C
10 Nicholas Sayer Peterborough CC 0:45:41 C
11 Earl Smith Royal Dean Forest CC 0:47:16 C
12 Chris Long Team Velo Sportif 0:48:24 C
13 Alastair Semple Stafford RC 0:48:28 C
14 Jeremy Roberts Ross-on-Wye & Dist. CC 0:48:31 C
15 Matthew Heaman Royal Dean Forest CC 0:49:39 C
16 Wayne Morgan Bynea CC 0:50:29 C
17 Richard Birkin Nottingham Clarion CC 0:51:58 C
18 Stuart Payne Central Sussex CC 0:53:30 C
19 Aled Hughes Bynea CC 0:53:42 C
20 Mary Mason Manx RC 0:55:31 C W
D
1 Kevin Tye Datateam Allstars 0:44:38 D
2 Colin Wallace Merthyr CC 0:46:03 D
3 Stephen Marchant Swindon RC 0:46:34 D
4 Peter Georgi Epic Cycles RT 0:47:14 D
5 Daniel Thorogood Ystwyth CC 0:47:17 D
6 Tim Booth Newark Castle CC 0:47:28 D
7 Angus MacInnes RAF CA 0:48:27 D
8 Peter Lloyd Pembrokeshire Velo 0:49:10 D
9 Simon Painter Bynea CC 0:50:02 D
10 Jeremy Chandler-Smith Welwyn Whs 0:52:11 D
E
1 Stephen Whitewick Utag Yamaha 0:44:30 E
2 Rob Weare Leamington C&AC 0:45:40 E
3 David Pollard In Gear/Quickvit/Trainsharp RT 0:45:46 E
4 Christopher Baldwin Eagle RC 0:46:23 E
5 Jim Moffatt Spirit RT 0:46:34 E
6 Gawie Nienaber Farnham RC 0:47:14 E
7 Pete Smith Team Endura-MI Racing 0:48:07 E
8 Geoff Powell High Wycombe CC 0:48:27 E
9 Gary Weir RSG Frankfurt/VW 0:48:54 E
10 Paul Colman Pembrokeshire Velo 0:50:27 E
11 James Singlehurst Rockingham Forest Whs 0:50:43 E
12 Edward Green Royal Dean Forest CC 0:54:11 E
13 Lyndon Lewis Bedfordshire Road CC 0:56:37 E
F
1 Roy Brook Epsom CC 0:48:15 F
2 John Herring Leamington C&AC 0:48:31 F
3 Simon Greenland Maidenhead & District CC 0:49:59 F
4 Tom Cox Northover VT 0:50:29 F
5 Paul Griffiths Acme Whs 0:57:28 F
G
1 Robert Parry Royal Dean Forest CC 0:48:43 G
2 David Jones Zemblanity RT 0:51:56 G
3 David Francis Sid Valley CC 0:52:41 G
4 John Shehan Bynea CC 0:53:55 G
5 Richard Stannard Welland Valley CC 0:55:40 G
6 John Eames Corsham RC 0:55:59 G
7 David Barry sport.fagley 0:58:00 G
8 Stuart Stanton CC Blaenau Gwent 0:59:57 G
H
1 Mike Cotgreave Westmead Team 88 0:50:13 H
2 Paul Durrant M&D Cycles/Specialized 0:52:56 H
3 Allan Renyard Guernsey VC 0:57:06 H
I
1 Michael Ives Team Endura-MI Racing 0:51:37 I
2 Vince Jenkins LeisureLakesBikes.com 0:53:00 I
3 David Driver Yeovil CC 0:53:04 I
4 Jack Brown …a3crg/SIS 0:54:34 J
5 Gordon Butler M&D Cycles/Specialized 0:55:28 J
6 Robin Maclagan VTTA (N Mids) 0:59:04 I