After a hard couple of days racing, it was nice to be able to put the feet up and watch other people suffering for a change. This year's road race was held on the roads of the Lincoln Grand Prix – featuring the infamous cobbled climb of Michaelgate. Just two minutes long, the climb may not seem too much on itself, but ridden nine times with many miles in the legs, the cobbled climb is guaranteed to break up a race and create an intriguing race.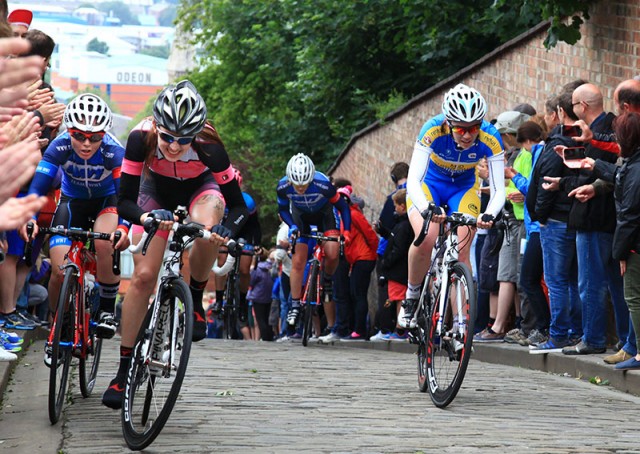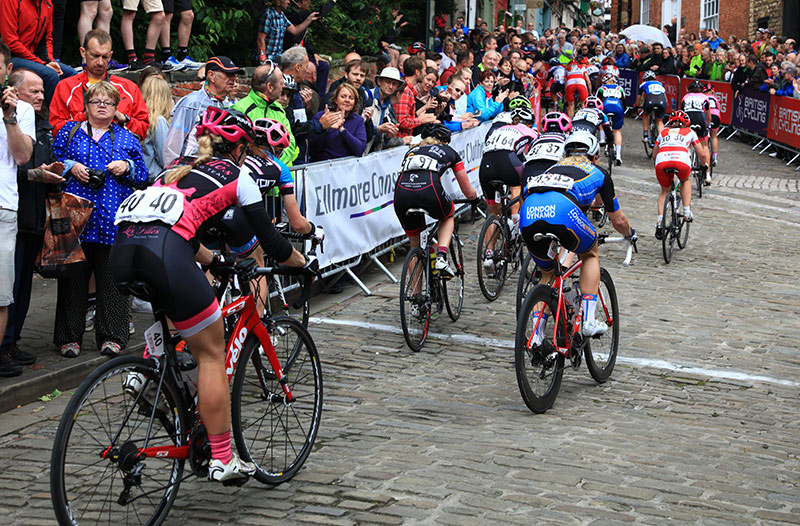 Michaelgate
Distance: 0.2 miles
average gradient: 6% (last 0.1 mile of cobbled climb 11%)
max gradient: 20%
Height gain: 110ft / 33 m
cobbled
100 climbs: no. 28
The women's race was good. It was an iconic moment seeing Lizzie Armistead float away up the Michaelgate climb (on her big ring the commentators said). As many remarked, she was clearly the strongest rider – which is unsurprising since she must be one of the strongest in the world at the moment.
The men's race was also fascinating. It was only a bit of a shame that the tough nature of the course, meant the UCI world tour teams could blow the race apart so quickly. But, still it was good to see the initial break of 20 including a mix of domestic and World Tour teams. After that, it was a real race of attrition, with the strongest guys coming to the fore.
It is a good job Team Sky riders were allowed to race for individual glory. Otherwise, it would have failed as a spectacle and just been an easy Sky 1,2,3. But, when Luke Rowe finally agreed to help Mark Cavendish in getting back to the two leaders of Ian Stannard and Peter Kennaugh, it really spiced up the finale. Cavendish certainly deserved a little help in getting back on terms. I've seen Cavendish win many bunch sprints, but I've never seen him working so much on the front of chasing groups. You could see the real effort from all riders.
As it was the number of laps Cavendish did on his own, perhaps told come the final dash up Michaelgate. But, it was a great race, and Kennaugh a worthy winner after looking the strongest rider for most of the race.
I know Sky riders were allowed to ride for individual glory, but it would have been interesting if Cavendish had won (and done a 'Stannard' like Het Nieuwsblad – where Stannard outfoxed three Etixx riders.
Lincoln Grand prix. Source: Velo UK