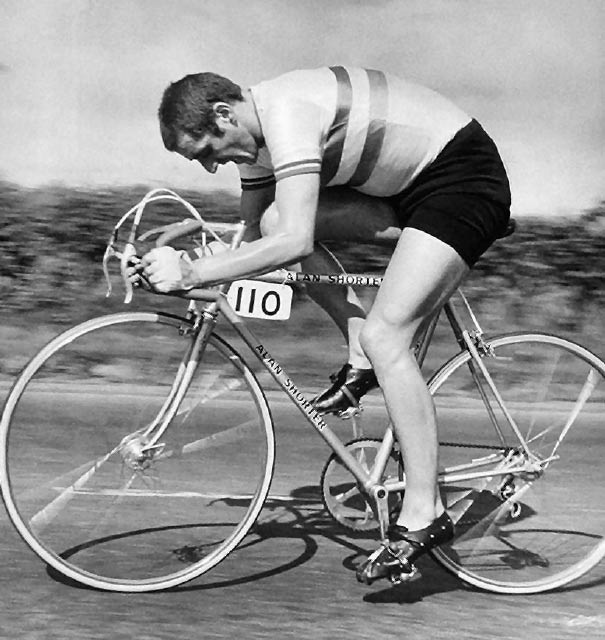 Alf Engers – set a competition record of 49 minutes 24 seconds for the 25 mile TT  in Sept 1978. (before tribars)
There was a time when breaking the hour for 25 miles / 40km was a very prestigious target for time triallists. A 25mph barrier for 1 hour was a benchmark which required considerable effort to break.
Modern technology – tri bars, aero frames, discwheels aero helmets have all helped bring the goal of a sub 1 hour 25 mile TT within the reach of more club cyclists. Also, riding on courses with passing traffic helps because there is a positive drag effect from passing cars. In fact you could argue that a sub 50 minute 25 mile TT is the new hour challenge.
But, nevertheless, the one hour barrier remains an important goal for many and breaking the hour for the first time is definitely a good feeling.
There is some dispute about the first person to actually cycle under an hour for 25 miles. Some suggest the first person to break the hour for 25 miles was Alo Donegan in 1934. However, because of uncertainty over course distances e.t.c. it doesn't have the lustre of say Ray Booty's sub four hour 100 mile TT. Since 1934, the 25 mile record has steadily fallen. Just this weekend, Movistar Pro Alex Dowsett broke the 3/4 of hour barrier setting a new course record of 44:29 – 33.72 mph on fast course of the E2/25. That's an average speed of close to 34 mph.
Old school challenge breaking hour
Also, if you wanted to go old school and use just a road bike and rode on roads without any traffic, the sub one hour 25 mile would still be a real challenge. Aerodynamic aids and modern training aids have radically altered average speeds in time trials.
---
Readers Question how can you cycle fast under 1 hour in 40km?
Training for a sub one hour 25 Miles
Base Level.
There needs to be a base level of fitness. For a couple of months over winter, I advise riding at a steady tempo and not worry about any interval training. To race 25 miles, you don't need a huge mileage; you can probably get away with 100 miles a week – sometimes less. Doing 300 slow miles a week, won't do a huge amount to improve your speed in a 25 mile / 40km race. Even during the race season, you want to set aside one or two days for steady recovery rides. It is in these recovery rides that  you give you muscles chance to recuperate after being damaged. Even if you train on a turbo in winter, make sure you have a couple of months off doing intervals – it is not something you want to be doing for 12 months a year…
Threshold Training
Threshold training is that level just before you start accumulating lactic acid. It is comfortably hard. Just below the level for a 25 mile time trial. The advantage is that it doesn't fatigue too much, but helps improve your aerobic capacity. See: Threshold training
Lactate tolerance intervals
With a base level of fitness, you can begin to work on speed work. Early season, I advise intervals of 5 minutes at race pace, with 5 minutes break in between. You need to get used to riding at race intensity. The recovery time will enable you to have more quality training in the higher thresholds. When you become confident with intervals, you want to try and ride these intervals at a pace which would be uncomfortable to maintain for one hour. It means you're stretching your capacity and forcing yourself to increase your lactic tolerance, and general speed. If you have a power meter you can train at those power levels necessary to break the hour. If you like training on a turbo, you can do these 5 minute intervals on a turbo during late winter/ spring.
Ride 10 mile time (16km) trials
If you can ride 10 miles in 23 minutes (av speed 26mph), you should be able to break the hour at 25 miles. Often my average speed for a 25 mile TT is about 0.5mph slower than for a 10 mile time trial. The basic principle is to be able to ride fast for relatively short distances; once  you have this basic principle, it becomes easier to keep this speed for longer rides. You don't train for a fast marathon by racing lots of marathons – you get a fast time by being able to run fast 10km and fast half marathons. See: training for 10 mile time trials
If you can't ride 10 miles at 25mph +. Try riding for 5 or even 3 miles at 25mph+ av speed. This will give you the confidence to ride fast.
Race
Racing is an excellent way to get faster. Graeme Obree was asked how he trained for breaking the world hour record. People may have expected complicated interval sessions, power output rations. Graeme replied – riding as fast as I could for an hour on my turbo ! This year I have not raced very much, and my times have been slower.
Other Tips to Break the Hour
Aero equipment makes it much easier!
My time trial bike is roughly 2mph faster than my road bike. It costs money, but, it will make a difference. Note, you don't have to worry about spending money on ultra light carbon fibre components – they will make little difference in flatish time trials. What is important is  your position. But, also even with a time trial frame, you can make huge improvements in time from tweaking your position. I've listed many things which can help here. Note: some of them are quite cheap!
See also: tips for getting more aerodynamic
Pacing in a Race
It is important not to set off too quickly, but, maintain a constant pace throughout the race. Whilst maintaining a constant pace, make sure you push yourself hard enough. You shouldn't be able to sprint for the line. You should feel the lactic acid building up in your legs.
Also, there will be points on the course where you should make more effort. Uphill into a headwind, you should go a bit harder and use downhill / tailwind to ease off a little on power.
My Personal Best for 25 miles is 49.36. (average speed 30.5 mph) August 2011 on the R25/13L
Fast 25 Mile Time Trial Courses
Some 25 mile course are much faster. The R25/13 in Wales is the fastest, because the first 5 miles is down hill! In 2012, I did a 49.36 on a similar power output to another course, where I did a 54.49.
Fastest 25 Mile Time Trial Courses in UK
R25/13 – South Wales – Dave McCann 45-54* 20/09/2009
E2/25 – South East – Alex Dowsett 44-35 09/04/2011
A25/11 – Midlands – fastest time Matt Bottrill 47-32 13/08/11
F1/25 – North London, A1
H25/8 – A31 Bentley. Too hilly to be really fast, but I did a 50.49 on here similar date to doing a 49.39 on the Wales course, so it quite quick.