100 greatest cycling climbs of the Tour de France is the 4th book in the popular series of books by Simon Warren. This book includes 100 climbs which have featured in the Tour de France, including famous climbs of the Alps and Pyrenees, such as Alpe d'Huez and the col du Tourmalet.
A while back I saw a survey in Cycling Weekly that said something like 40% of all riders consider themselves 'climbers' – it was by far the most popular type of cyclist – (Perhaps this means we will be seeing bumper entries in the hill climb season this autumn…)
There is definitely an enduring fascination with climbing up hills. It is the thing we love to hate. Pictures of sweeping hairpin bends and looming vistas just make you want to go out and ride them. As a cyclist, there are few challenges as rewarding as conquering difficult hills. And it is the mountains of the Alps and Pyreenes which are the most iconic aspect of cycling.
Quite often you read a book – and that's it. It sits on the bookshelf until you give it away to a charity shop to make more space. But the 100 Greatest climb books are the kind you want to keep going back to – Looking for a new hill to ride, looking at the hills you've just done.
I've probably looked at my 100 UK climbs books more than any other book in past few years (with notable exception of complete works of William Shakespeare, King James Bible e.t.c.)
The problem with 100 climbs of the Tour de France is that it make British hills look rather feeble in comparison. I know we have Great Dun Fell and Hardknott Pass, but the Tour de France is just littered with mind blowing climbs complete with beautiful hairpins and stunning scenery. I'm just jealous of all those hills and I haven't ridden even one. Reading the book does gives me pangs of inadequacy – I haven't conquered even one Pyrenean pass.
A while back I was researching climbs which would give maximum higher gain in minimum time frame. The magic gradient is a steady and consistent 10%. In the UK this is virtually impossible to find. But, in the Pyrenees, it seems every climb was perfectly engineered to give this magic gradient for a high Vertical Ascent per Meter.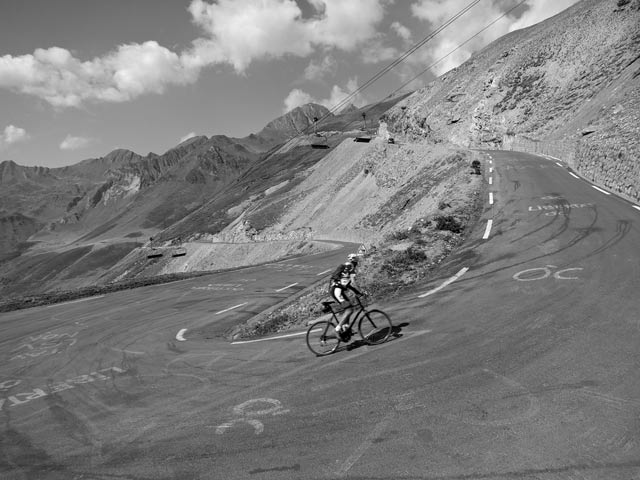 col du Tourmalet. Photo Will J
Col du Tourmalet 1,404 metres of height gain over 19 km. Average gradient 9%
To me, it was just a joy to read all the statistics of these climbs – 10%, 13% gradients for miles and miles! (admittedly some people find this a little worrying, but don't let it put you off the book, it's not a stat fest.)
Notes
One limitation of the first 100 greatest climbs was missing data on average gradient and maximum gradient. This has been added for the Tour de France climbs, with handy, easy to access data on length, max gradient, and average gradient. This gives you all the info you need to know to get a rough idea of the climb.
I find the short descriptions of the climb quite engaging and always interesting. In some sense, I could read a lot more about each climb. But, as a short reference book, this makes a nice combination of the different factors.
The photos are very good. They just say came and ride me. Reading the book, I'm torn between admiring the beauty of the climb and wishing I lived at the foot of the Col du Telegraph.
I'm biased because I like nothing more than riding up hills.  But I know this is a book I will frequently refer to – especially if I ever make it to France to actually ride them.
Photo Grand Tourmalet
Overall
Simon Warren definitely found a good niche for a series of reference books on cycling up hills. I think the success of the first three volumes says a lot about the appeal of these pocket books. In one sense, I prefer the UK books because I've got to ride a fair number of the climbs. But, though I haven't done any in France, the climbs of the Tour de France are the real giants of cycling. They are amongst the greatest climbs in the world; and I'm sure as I watch the Tour de France on tv this year I will be reading this book quite often.
It may even be the nudge I need to book Eurostar to the south of France and see what I can do up these Alpine climbs.
Related